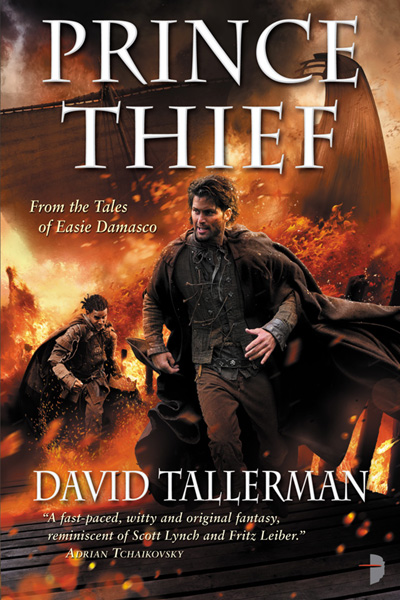 Prince Thief
"A fast-paced, witty and original fantasy, reminiscent of Scott Lynch and Fritz Leiber."
– Adrian Tchaikovsky, author of the Shadows of the Apt series, on Giant Thief
---
Unlikely hero Easie Damasco launches a desperate plan to kidnap a bastard prince in order to prevent a war.
---
File Under: Fantasy [ A Royal Pardon | Uncivil War | Illegitimate | Here We Go Again ]
---
The Third Tale of Easie Damasco
Buy the ebook version now – only
£

6.99
SKU: AR9780857662699
Altapasaeda, capital of the Castoval, is under siege by its own King.
Far to the north, rebels have set a bastard prince up as a figurehead.
Yet again, Easie Damasco finds himself roped into a desperate scheme to preserve the Castoval, And kidnapping the Prince seemed like such a good idea at the time…
"This is a fantastic story for its realism. The tale might not tie up conveniently, or with huge epic fanfare, but it *feels* authentic, and that's what counts. Lovely characterisation, awesome dialogue and an overall solid fantasy read."
– This is my World
For Giant Thief:
"Damasco resembles a landlocked version of Jack Sparrow … The atypical backdrop, self-aware style and downplaying of magics bring to mind the contemporary fantasies of Scott Lynch and Joe Abercrombie."
– SFX Magazine
"David Tallerman's first novel is a gripping yarn, one that is difficult to put down once started, and this reviewer is eagerly awaiting the next tale of Easie Damasco."
– Starburst Magazine
"If you're up for a fun, fast-paced adventure featuring rogues, giants and lots of fighting, you won't want to miss it!"
– Mieneke van Der Salm, A Fantastical Librarian
For Crown Thief:
"It's a fun romp in a dark fantasy world and when you add to this great prose, top notch prose and combat to keep you glued, all in all this is a great second book for the reader to enjoy."
– Falcata Times
"I enjoyed Crown Thief very much. It was an interesting read, very quick and easy to get through. Ending with a bit of a cliffhanger, it leaves you wanting for more."
– Becca Lovatt, The Arched Doorway
"If you haven't met Easie Damasco, you should. You'll be glad you did."
– Keith West, Adventures Fantastic