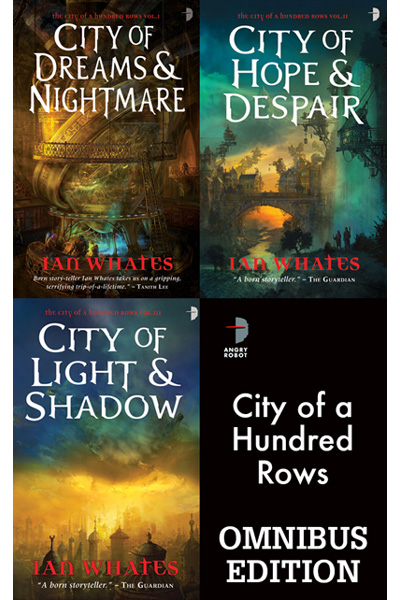 City of a Hundred Rows
"Whates's assured prose, slick pacing and inventive imagination make for a gripping read. His first novel is the work of a born storyteller."
– Eric Brown, The Guardian
---
An ebook-only omnibus edition, collecting all three volumes of Ian Whates's urban fantasy series City of a Hundred Rows
Buy the ebook version now – only
£

8.99
SKU: AR9780857663504
An ebook-only omnibus edition, collecting all three volumes of Ian Whates's urban fantasy series City of a Hundred Rows.
Includes the three novels:
1. City of Dreams and Nightmare
2. City of Hope and Despair
3. City of Light and Shadow
They call it the City of a Hundred Rows. The ancient city of Thaiburley is a vast, multi-tiered metropolis, where the poor live in the City Below and demons are said to dwell in the Upper Heights.
Having witnessed a murder in a part of the city he should never have been in, Tom, a lowly street-nick, has to run for his life through the City Below, Thaiburley's unsavoury basement world. Accused of committing the murder himself, he is pursued by sky-borne assassins, Kite Guards, and agents of a darker force intent on destabilising the whole city. His only ally is Kat, a renegade like him, but she proves to have secrets of her own…
| | |
| --- | --- |
| Publication date | |
| Cover Art | Greg Bridges |
| Ebook | 26th February 2013 | 9780857663504 | Epub & Mobi | RRP £9.99 / US$11.99 |
"Born story-teller Ian Whates takes us on a gripping, terrifying trip-of-a-lifetime, through the heights and depths of the exotically grim city of Thaiburley, in this excellent fantasy thriller."
– World Fantasy Award-winning author, Tanith Lee
"City of Dreams & Nightmare grabs you pretty much from the first page and then you really do not want to put it down since it just twists and turns and the threads following the main characters above are all deftly handled with very smooth jumps and several crucial interludes following the 'true movers and shakers' of the novel… Highly recommended as a strong A and a fun, page turning sff adventure that will enchant all fans of such."
– Fantasy Book Critic
"There is such a great deal to recommend about this book from the imaginative elements like the cyborg type creatures and common use of magic and the incidental touches that Ian describes, to the strange city with it's myriad levels and unusual inhabitants. There is also a real sense of a living, breathing city with insights into the various ways [the city of] Thaiburley works… :City of Dreams & Nightmare is a brilliantly executed novel, perfectly paced, beautifully described and a true joy to read."
– ScienceFictionandFantasy.co.uk