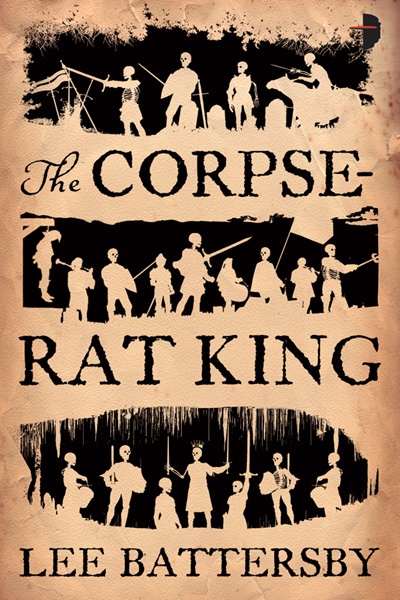 The Corpse-Rat King
"A stunning debut novel, well-crafted and grotesquely inventive. With its madcap story, unforgettable characters and fine balance between humour and pathos, The Corpse-Rat King ticks all the boxes. Fans of Joe Abercrombie will love this."
– Juliet Marillier, award-winning author of the Sevenwaters series
---
Marius don Hellespont is having a really bad day. For starters, he's just been killed. Turns out that's the least of his problems.
---
File Under: Fantasy [ Royal Prospect | Looting & Fishing | The Living Dead | Keep On Running ]
---
The First Marius don Hellespont Novel
Buy the ebook version now – only
£

2.99
SKU: AR9780857662880
Marius don Hellespont and his apprentice, Gerd, are professional looters of battlefields. When they stumble upon the corpse of the King of Scorby and Gerd is killed, Marius is mistaken for the monarch by one of the dead soldiers and is transported down to the Kingdom of the Dead.
Just like the living citizens, the dead need a King — after all, the King is God's representative, and someone needs to remind God where they are.
And so it comes to pass that Marius is banished to the surface with one message: if he wants to recover his life he must find the dead a King. Which he fully intends to do.
Just as soon as he stops running away.
| | |
| --- | --- |
| Series | Marius don Hellespont |
| Publication date | |
| Cover Art | Nick Castle |
| Ebook | 28th August 2012 | 9780857662880 | Epub & Mobi | RRP £5.49 / US$6.99 |
| US Print | 28th August 2012 | 9780857662873 | Massmarket Paperback | RRP US$7.99 / CAN$9.99 |
| UK Print | 6th September 2012 | 9780857662866 | Paperback | RRP £8.99 |
| Goodreads URL | Discuss and Review The Corpse-Rat King |
"The Corpse-Rat King is rugged, muscular fantasy, sure to please those who like their adventures rough around the edges, with wit and style to burn."
– Karen Miller, author of The Innocent Mage and the Godspeaker trilogy
"One of the best books of 2012, nailed on. Brilliant."
– Steven Savile, author of London Macabre, Black Chalice and many more.
"Wry, absurdist, and pleasantly cynical, Battersby's debut will appeal to fans of Scott Lynch's The Lies of Locke Lamora and Terry Pratchett's Going Postal."
– Publishers Weekly, Starred Review
"This is a tale of con-men, their victims and the undead, and will appeal to fans of Scott Lynch or Mark Lawrence, or anyone who likes a not-so-loveable rogue." 8 out of 10.
– Ed Fortune, Starburst Magazine
"If you had a wish list every time you read a book – great characters, story, pace, writing – that you ticked off every time you came across one of them, you'd soon wear out your pencil while reading The Corpse-Rat King."
– Katy O'Dowd for The British Fantasy Society
"…the last three-fourths of this book are beyond spectacular. Lee Battersby definitely saved the best for last in this unforgettable tale of death, dead things, and more awesome dead stuff."
– Liam at The Troubled Scribe
"This was a novel that I thoroughly enjoyed and will gleefully recommend, without reservation."
– Bob Milne, Beauty in Ruins
"The Corpse Rat King is fast, furious, and Fun. In a genre that can so often take itself far too seriously it's a hugely refreshing read. Battersby is a wonderfully fresh new voice."
– Zoe Oliver, Fantasy Bytes
"The Corpse-Rat King is the very definition of a great story; the perfect concoction of old world fantasy, intrigue, adventure and full-bodied characters that sweep you deeper into the story with each turn of the page."
– Greg Chapman, Thirteen O'Clock
"This book was outstanding! The author, Lee Battersby should be proud to have written such an amazing masterpiece of imagination, sarcasm and fantastic inventiveness"
– Melinda le Baron, Melinda's Bibliophile Blog
"The Corpse-Rat King is different enough to appeal to most readers while the engaging, intelligent and wildly different narrative should keep any reader glued to the pages, a brilliant début from a promising talent."
– Ant, SFBook.com
"I like my humor like I like my chocolate… dark. The Corpse-Rat King gave me plenty of those laugh out loud moments. I could imagine the main character played by Bruce Campbell. The story marched along at a fast pace with plenty of gags."
– Barry Huddlestone, Gnostalgia
"If you're looking for an interesting new voice in fantasy and an entertaining read, look no further than Lee Battersby and his debut The Corpse-Rat King."
– Mieneke van der Salm, A Fantastical Librarian
"A very unusual and inventive examination of the age old fantasy and mythology staple, the Realm of the Dead"
– Gav at Mass Movement Magazine
"There are a lot of things to like in this debut novel from Battersby. If you are into weirdness and / or reprehensible knaves, I think you will get a real kick out of this story."
– Ryan Lawler, Fantasy Book Review
"The Corpse-Rat King is an absurd and fantastical tale of a man about to learn the error of his ways the hard way."
– Hannah Mariksa, My Book Journey
"Bawdy, inventive, and often darkly funny, The Corpse-Rat King is an entertaining and surprising fantasy adventure."
– Scott Pearson, The Pacific Northwest Writers Association's Author Magazine
"A word about a part of this book that I really appreciate in books, it's its humour: impertinent, pungent and grotesque found throughout the story. Whether in dialogue or in situations, there is always something to smile or laugh. This is not just a book of undead (or living dead for Marius) but a true adventure book, funny and epic. I give it 4/ 5."
– Vanessa S Bookshelves