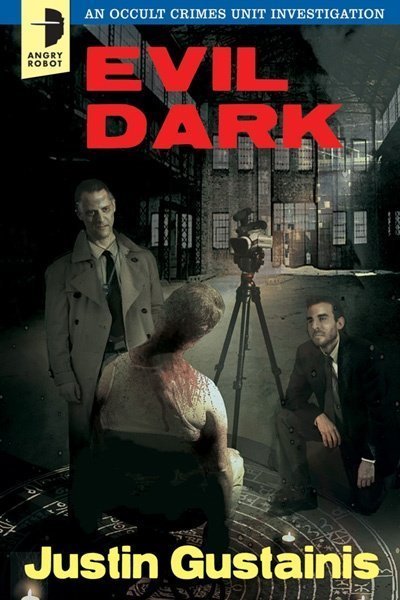 Evil Dark
"Justin Gustainis is a first-class writer; he's smart and he's fun, he moves quickly and he takes corners at speed. Every time you think you know where he's going, he makes a point of going somewhere else."
– Simon R Green
---
Stan Markowski of the Scranton P.D. Occult Crimes Unit returns in the second Occult Crimes Investigation. When a mysterious vigilante targets the supernatural community, Markowski must hunt him down, and bring him in.
---
File Under: Urban Fantasy [ Unnatural Law | Thicker Than Water | The Bite Stuff | Duty Calls ]
---
The Second Book in the Occult Crimes Unit Investigations Series
Buy the ebook version now – only
£

3.99
SKU: AR9780857661371
"My name's Markowski. I carry a badge. Also a crucifix, some wooden stakes, big vial of holy water and a 9mm Beretta loaded with silver bullets."
A series of seemingly motiveless murders of supernatural creatures points to a vigilante targeting the supe community of Scranton.
Markowski wouldn't normally have much of a problem with that, but his daughter may be next on the killer's list…
| | |
| --- | --- |
| Series | Occult Investigations |
| Publication date | |
| Cover Art | Timothy Lantz |
| Ebook | 24th April 2012 | 9780857661371 | Epub & Mobi | RRP £5.49 / US$6.99 |
| US Print | 24th April 2012 | 9780857661364 | Massmarket Paperback | RRP US$7.99 / CAN$9.99 |
| UK Print | 3rd May 2012 | 9780857661357 | Paperback | RRP £8.99 |
| Goodreads URL | Discuss and Review Evil Dark |
"Fans of TV shows like Supernatural and Grimm will find this worth a read, and it's a lovely mix of real world nightmare and fantastic horror."
– Ed Fortune, Starburst Magazine
"If you enjoyed the first Occult Crimes Unit investigation, you're going to love this … Another hit for Sergeant Stan!"
– Paul Simpson, Sci-Fi Bulletin
"I'll admit that this kind of story is not usually my cup of tea, but Gustainis, with Markowski as a guide, truly sucked me into this unique world of fantastical creatures and police procedural. It's a fun book, with lots of treats along the way to differentiate that world from ours."
– Scott D. Parker, Criminal Element
"Great writing, well paced, with twists and turns at every angle, it throws a spotlight on our own society, making you question your own choices in life."
– Montoya of the Geek Syndicate
"Gripping hardly covers it. I simply couldn't put the book down until I'd finished it."
– David Brzeski, British Fantasy Society
"Gustainis has proved himself time and time again, and it is no surprise to me that Evil Dark is another cracking novel."
– Theresa Derwin, Terror-Tree
"I thought the debut in the series, Hard Spell, was amazing but this sequel ROCKED!"
– Amberkatze's Book Blog
"Rich and diverse, this gritty noir thriller will leave you thirsting for more!"
– The Bibliophilic Book Blog
"Evil Dark was a terrifically entertaining read, which kept me invested in its characters from beginning to end."
– Mieneke, A Fantastical Librarian
"[Evil Dark is] non-stop Paranormal cop drama/action. From the very first page, I was sucked right back into the author's gritty world."
– Sara's Urban Fantasy Blog
"Recommended for fans of Ben Aaronovitch and Kevin Hearne. 8.5 out of 10."
– Mel's Random Reviews
"I thoroughly enjoyed Evil Dark and would recommend it to those readers that enjoy paranormal crime novels. Justin Gustainis has made it onto my must-read-author list and I look forward to what he has in store for us next."
– Sheila at Dark Faerie Tales
"If you like supernatural detective stories with 3D characters and inventive plots, you'll have a great time."
– Sherly Tongue, I Wish I Was a Book
"There's a lot to like in this series. With a protagonist who is urban fantasy's answer to Joe Friday and a cast of characters that literally jump off the page, HARD SPELL and EVIL DARK are must reads for anyone that's tired of the same old books with the same tired, old story lines."
– Sean Cummings, author of Poltergeeks and Student Bodies