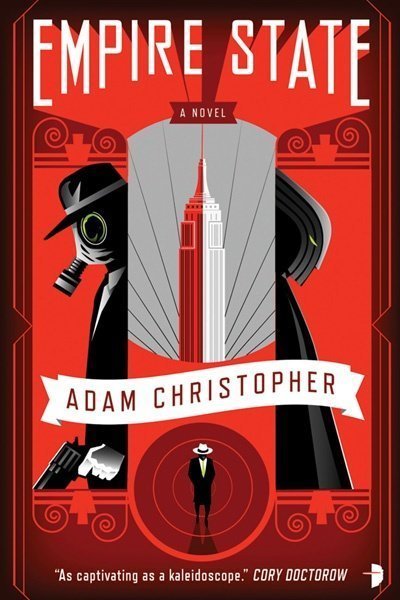 Empire State
The stunning superhero-noir fantasy thriller set in the other New York. 
---
"Adam Christopher's debut novel is a noir, Philip K Dick-ish science fiction superhero story… a novel of surreal resonances, things that are like other things, plot turns that hearken to other plot turns. It's often fascinating, as captivating as a kaleidoscope… just feel it in all its weird glory."
— Cory Doctorow, author of Makers and Little Brother
---
File Under: Science Fiction [ Pocket Universe | Heroes or Villains | Speak Easy | Loyalties Divided ]
---
The First Empire State Novel
Buy the ebook version now – only
£

2.99
SKU: AR9780857661944
The stunning superhero-noir fantasy thriller set in the other New York.
It was the last great science hero fight, but the energy blast ripped a hole in reality, and birthed the Empire State – a young, twisted parallel prohibition-era New York.
When the rift starts to close, both worlds are threatened, and both must fight for the right to exist.
Adam Christopher's stunning debut novel heralds the arrival of an amazing new talent.
| | |
| --- | --- |
| Series | Empire State |
| Publication date | |
| Cover Art | Will Staehle |
| Ebook | 27th December 2011 | 9780857661944 | Epub & Mobi | RRP £5.49 / US$6.99 |
| US Print | 27th December 2011 | 9780857661937 | Trade Paperback | RRP US$12.99 CAN$14.99 |
| UK Print | 5th January 2012 | 9780857661920 | Paperback | RRP £7.99 ; April 2013 | 9780857663771 | Hardcover | RRP £20.00 |
| Goodreads URL | Discuss and Review Empire State |
"Christopher's tightly plotted novel is a truly original debut that, while subtly referencing
Orwell, Kafka, Marvel comics and Philip K Dick, manages to maintain its own distinctive
tone – a genuine pathos and longing for something elusively other. Recommended."
— Eric Brown, The Guardian
"As it happens, I'm a sucker for hard-boiled retro sci-fi stories; rocket-powered superheroes, spunky dames, fedoras, Studebakers slewing round gritty Gotham street-corners on two wheels, and Adam Christopher sure knows his way around a tightly spun yarn – I was a pig in poop from page one! As they say: This story? She's a real sweater-full, with a great pair'a getaway sticks… Watch out for this Adam kid, he's nobody's sap. He's got a sharp nib and a sharper wit. He'd steal your last few hours before you could say 'cat's pajamas', and you'd thank him for it."
— Billy Campbell, star of The Rocketeer
"Adam Christopher maintains a punchy, bestseller prose style that keeps the action rocketing along, and protagonists that seem right both in their own setting, and appropriate to what we already recognise as super heroes. Empire State is an excellent, involving read, and it fully deserves to be the start of a new universe."
– Paul Cornell, Doctor Who scriptwriter, and author of Stormwatch and Demon Knights
"A daring, dreamlike, almost hallucinatory thriller, one that plays with the conventions of pulp fiction and superheroes like a cat with a ball of yarn."
– Kurt Busiek, Eisner Award-winning writer of Astro City and Marvels
"Down these steam driven streets a man must go… straight into a pocket universe of trouble. Brutal, knowing and deft, Adam Christopher delivers."
– Jon Courtenay Grimwood, author of The Fallen Blade
"Stylish, sinister, and wickedly fun, Empire State is not your average sexy retro parallel universe superhero noir."
– Lauren Beukes, Arthur C. Clarke Award-winning author of Zoo City and The Shining Girls
"From the first explosive rat-a-tat-tat of bullets to the very last twist and turn, Empire State surely cannot be a début novel. Adam Christopher must be playing with us, as this bears all the skill and patience of an experienced master craftsman at work. The fantastical dreams of Verne and Wells mixed with the noir reality of Spillane or Chandler, this is a book that doesn't play by the rules – and is all the better for it."
– Tony Lee, New York Times bestselling author and Doctor Who comic writer
"From first to last page, Adam Christopher's Empire State careens along at a furious pace. Along the way, he beautifully meshes the best noir tropes with science fiction and wraps it up in a world (or two) that rivals some of the classics of speculative fiction. Rad Bradley is an unforgettable character and you'll breathlessly follow his journey, unraveling the mysteries and revelations contained in this brilliant debut. Empire State marks Adam Christopher as an author to watch! Would somebody give this guy a comic book to write, already?"
– John Hornor Jacobs, author of Southern Gods
"Empire State doesn't screw around. Murders, mysteries and multiple realities are just the icing atop this pulp noir cake: the action starts on the opening page but it isn't long before you fall in love with the characters and the unique world Adam Christopher has built for them. Trust me when I say: you want to visit Empire State."
– Chuck Wendig, author of Blackbirds, Mockingbird and The Blue Blazes
"Adam Christopher's Empire State is a fascinating debut novel that meshes noir sensibilities and science fiction together and keeps the reader guessing throughout. Empire State challenges the nature of reality and what it means to be a human being. Adam Christopher handles in intricacies of parallel worlds, time travel and suspense with a skill lacking in many more-seasoned authors."
– Michael Stackpole, New York Times bestselling author of I, Jedi
"Empire State is an exuberant homage to the superhero genre powered by a fabulous noir plot and wrapped up with a retro science fiction sensibility. It's effortlessly inventive and thoroughly entertaining. I'm already looking forward to the next work from this assured new writer."
– Maura McHugh
"Destined to be a science fiction classic, Empire State is a breathtakingly original noir tale of intrigue, mystery, and quantum physics, deftly played out in storytelling so brilliant I'm finding it hard not to hate the author."
– Diana Rowland, author of My Life as a White Trash Zombie
"Complex and creative, Empire State introduces the reader to a world of noir superheroes and multi-dimensional conspiracies. An engaging, entertaining read."
– Nicole Peeler, author of the Tempest series.
"A double shot of jet-noir steampunk nitroglycerine – a startling, throat-grabbing novel that echoes Chandler, Auster and Miéville while blazing its own mind-bending trail and searing itself onto your memory."
– Will Hill, bestselling author of Department 19
"Fast-paced and intricately woven, Adam Christopher's debut mixes Sam Spade noir with the comic book superheroes we all grew up loving. Packed with action and a secret that could unravel the world,Empire State will keep you turning the pages and cheering on the most unlikely of heroes. With a debut this exciting, I can't wait to see what Adam comes up with next."
– Joelle Charbonneau, author of Skating Over The Line
"With Empire State, Adam Christopher has crafted a story both old-fashioned and modern in its sensibilities, where hard-boiled detectives meet pulp superheroes in a science fiction mystery that keeps you guessing until the very end. Christopher has channelled Mickey Spillane, Jules Verne, and Gardner Fox to tell a story that would be perfect for Joe Johnston to direct on the big screen. All in all, a fantastic and thrilling read that takes off running and never stops – long live the Empire State!"
– Professor Mark D. White, co-editor, Batman and Philosophy: The Dark Knight of the Soul
"With Empire State, Adam Christopher takes the noir genre and gives it a sexy gritty makeover that will make your head spin…"
– Philippa Ballantine, author of Geist and Spectyr
"With his debut novel, Adam Christopher creates a dark and gritty world, complete with with Prohibition-era gangsters, Tommy guns, and superheroes. Empire State is a story deeply rooted in noir tradition that hits you in the throat like a sucker punch."
– Matthew McBride, author of Frank Sinatra in a Blender
"This is simply one of the greatest science fiction books I have ever read… So if you are looking for a super stylish, utterly engrossing, fast paced, smart and quirky read, I couldn't recommend this highly enough. 9/10"
– Cara Fielder, Starburst Magazine
"Empire State is highly recommended to those who like their sci-fi dark, pacey and woven tight by multiple threads of intrigue."
– SciFiNow
"The novel's mounting chaos is effectively noir-ish and Christopher paints an effective protrait of a bleak, confused, subdued city."
– Eddie Robson, SFX Magazine
"[Empire State's] concept and setting are fascinating. The book's atmosphere and premise occasionally reminded me of Philip K. Dick. That's never a bad thing. There's a grey emptiness to both the characters and the setting that's somehow a bit Kafkaesque … If you're looking for atmosphere and concept, Empire State is definitely worth a look."
– Tor.com
"A heady mix of superheroes (who aren't so unambiguous), noir detectives (who really aren't cut out for metaphysics), and science fiction – which really works … Empire State is a fast, likeable novel which aims not only to surprise, but frequently to confound – with intrigue, superheroic subversion, and a few robots playing into the mix! There's also an airship. I mean, who doesn't love airships?"
– Drying Ink
"An almost Alice in Wonderland feel of enjoyable insanity … Beautifully, almost cinematically written"
– FantasyNibbles.com
"Fantastic prose. Christopher keeps the reader hooked from the beginning to end with his original storyline that will only leave you wanting more. Not to be missed."
– Bane of Kings, The Founding Fields
"… [Empire State] gives the same sense as Jeter or Harland in their steampunk novels – the feel of a society that's fundamentally strange and careening into disaster."
– Gill Polack's Livejournal
"Adam Christopher is another great new voice in the genre. It'll be interesting to see where he goes next."
– Justin Landon, Staffer's Musings
"If you like a good noir tale, Empire State is a book you won't want to miss."
– Mieneke van der Salm, A Fantastical Librarian
"I thoroughly enjoyed the story as it unfolded. Many times as the story progressed I thought I could see the driving forces behind the plots within plots, only to discover things weren't quite what I was thinking."
– Laith Preston, DragonPage.com
"…a delight to the literary palate with a richly woven narrative, interesting ideas and above all a great story."
– SF Book Reviews
"…a fast paced revelation-fest that will continue to surprise even the most savvy readers."
– Michelle at RantingDragon.com
"It's a complex and intriguing novel: offering more puzzles every time the answers to each mystery are unlocked."
– Ros Jackson, Warpcore SF
"Keep an eye out for Adam Christopher. He's a talented one…"
– Wesley Chu, Famous Monsters of Filmland / Chu For Thought
"It is not very often I read a book which just keeps on surprising me, but this is the case with Empire State. It's a really nice situation to be in for a reader, and an excellent reason to keep turning those pages."
– Erik Lundqvist, I Will Read Books
"Pick this book up … I urge you to do so. If these wild ideas keep running through Christopher's head and he gets them down on paper he's going to be a superstar."
– Dave White, Do Some Damage
"Within the structure of the noir, Christopher creates a comic-book sensibility with enough ideas in this book to fuel a long run of subsequent tales, after all there are a million stories in the Naked City or Empire State."
– Red Rook Review
"Overall this is an excellent first novel for Angry Robot and Adam Christopher and shows that there are some publishers out there willing to take a chance on original concepts and ideas that expand and compliment the genre."
– The Geek Syndicate
"It's a very impressive debut. The sequel, Seven Wonders, is due out from Angry Robot Books in September 2012. Based on what I've read here, it's going to be brilliant."
– Mark Yon, SFFWorld.com
"Adam Christopher has created one noir, pulpy piece of epic science-fiction the likes of which I have not read before."
– Traveler's Steampunk Blog
"I highly recommend this novel to everyone, no matter what your taste or preference."
– Shadowhawk, TheFoundingFields.com
"Christopher plays with the conventions of the noir genre, in particular its clever use of descriptive prose … Add in superheroic battles, quantum physics, cyborg soldiers, and a ticking clock counting down the characters' very existence, and you've got yet another book from Angry Robot that will keep you enthralled."
– Paul Simpson, Sci-Fi Bulletin
"Readers, I suggest you run out now, pick up a copy of Empire State, embrace the uniqueness of the novel, the initial confusion and trust Mr Christopher to take you on a thrilling journey that will have a more than satisfying ending."
– Marc Aplin, Fantasy Faction
"I can tell that Adam Christopher had a great time while writing this novel. You can almost feel that in every part of the story and it is an infectious feeling."
– Floyd Brigdon, She Never Slept
"…a cunningly crafted mystery with more plot twists and deceptive reflections than a funhouse mirror maze."
– Graham Edwards
"Adam Christopher creates a fantastic atmosphere reminiscent of the movie Dark City and since all this is wrapped around interesting noir pulp detective story, Empire State works on many levels and in the end provides very satisfying read."
– Upcoming4.me
"Empire State is an incredibly satisfying read, with a strong plot and original universe , interesting characters and great writing."
– Sci-Fi and Fantasy Reviewer