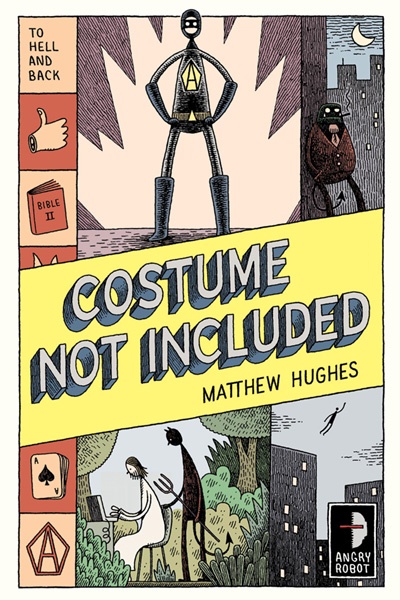 Costume Not Included
"Hughes continues to carve out a unique place for himself in the fantasy-mystery realm.
A droll narrative voice, dry humor and an alternative universe that's accessible
without exposition make this a winner."
– Publishers Weekly
---
Chesney continues to fight crime with the aid of his demonic sidekick, but Boss Greeley is gunning for him – and he has the Devil on his side!
---
File Under: Fantasy [ Everything's Meta | Britney's Peers | Dance With The Devil | The Demonic Duo ]
---
The Second Book in the To Hell and Back Series
Buy the ebook version now – only
£

3.99
SKU: AR9780857661401
Chesney's efforts to 'Save the Day' and 'Win the Girl' make slow progress. This superhero lark is a bit more complicated than he thought.
But even as Chesney is trying to learn the ropes, Boss Greeley has made a deal with the Devil. A deal that is making Greeley stronger by the minute. Soon he will be untouchable. Meanwhile Reverend Hardacre digs deeper and finds that not everything in reality is quite what it seems…
Now Chesney, the one-time actuary-turned superhero must continue the fight.
| | |
| --- | --- |
| Series | To Hell and Back |
| Publication date | |
| Cover Art | Tom Gauld |
| Ebook | 23rd April 2012 | 9780857661401 | Epub & Mobi | RRP £5.49 / US$6.99 |
| US Print | 23rd April 2012 | 9780857661395 | Massmarket Paperback | RRP US$7.99 / CAN$9.99 |
| UK Print | 5th April 2012 | 9780857661388 | Paperback | RRP £8.99 |
| Goodreads URL | Discuss and Review Costume Not Included |
"Costume Not Included is a great book and one of the must-reads in modern fantasy and superhero fiction this year."
– Larry at 42 Webs
"Part mystery, part comic book, part religious treatise, and part crime drama, Hughes manages to work in entertaining twists and character confrontations on a regular basis without overloading his story."
– Sacramento & San Francisco Book Review