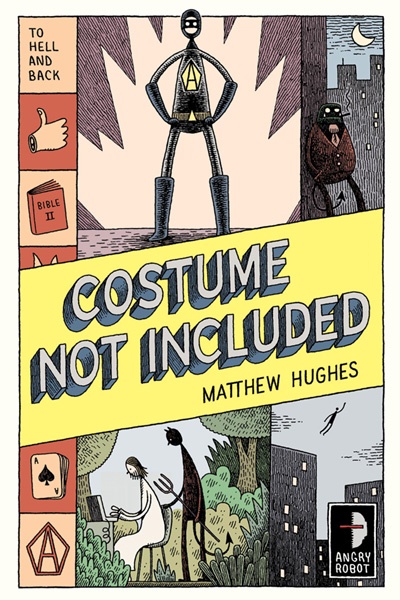 Costume Not Included
The Actionary Rides Again!
The second book in the fantastical To Hell and Back series – a trilogy that does for autism what Flowers for Algernon did for intellectual disability.
---
"Hughes continues to carve out a unique place for himself in the fantasy-mystery realm.
A droll narrative voice, dry humor and an alternative universe that's accessible
without exposition make this a winner."
– Publishers Weekly
File Under: Fantasy [ Everything's Meta | Britney's Peers | Dance With The Devil | The Demonic Duo ]
---
The Second Book in the To Hell and Back Series
Buy the ebook version now – only
£

3.99
SKU: AR9780857661401
Chesney Arnstruther, high-functioning autistic actuary turned crime-fighting superhero, is adjusting to the idea that reality is a book being written – and rewritten – by a deity who wants to explore the concepts of good and evil. His quest for the truth takes him into a discarded draft to meet up with the historical Jesus – or Joshua Josephson, as the Messiah calls himself – when Chesney brings him into the current draft and puts him on TV.
Meanwhile, he's (literally) digging up the evidence of a decades-old murder that threatens the power of the corrupt cabal that runs his city. And he has a new problem: contact with Joshua Josephson has "healed" his autism, and Chesney is not at all sure he likes being "normal."
| | |
| --- | --- |
| Series | To Hell and Back |
| Publication date | |
| Cover Art | Tom Gauld |
| Ebook | 23rd April 2012 | 9780857661401 | Epub & Mobi | RRP £5.49 / US$6.99 |
| US Print | 23rd April 2012 | 9780857661395 | Massmarket Paperback | RRP US$7.99 / CAN$9.99 |
| UK Print | 5th April 2012 | 9780857661388 | Paperback | RRP £8.99 |
| Goodreads URL | Discuss and Review Costume Not Included |
"Costume Not Included is a great book and one of the must-reads in modern fantasy and superhero fiction this year."
– Larry at 42 Webs
"Part mystery, part comic book, part religious treatise, and part crime drama, Hughes manages to work in entertaining twists and character confrontations on a regular basis without overloading his story."
– Sacramento & San Francisco Book Review