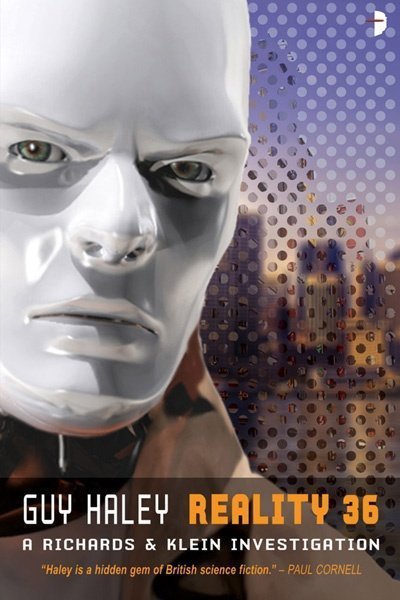 Reality 36
"Reality 36 presents fascinating characters in a very believable future."
– Mike Resnick
---
Something is amiss in the renegade digital realm of REALITY 36 and only Richards and Klein can save the worlds.
---
File Under: Science Fiction [ The Great Firewall | Net Profit | Don't Upload | Remurder ]
---
The first Richards and Klein Case
Buy the ebook version now – only
£

2.99
SKU: AR9780857661470
Meet Richards and Klein – the Holmes and Watson of the 22nd century.
Except that Richards is a highly advanced artificial intelligence, and Klein his German ex-military cyborg partner.
Their first case takes them into the renegade digital realm known as Reality 36 and through the Great Firewall of China, in search of a missing Artificial Intelligence Rights activist.
What they find there will threaten every reality.
"Haley's wit is both laugh-out-loud and sharp as a sword."
– John Whitbourn
"It's an actual glimpse into the future as much as it's a mystery yarn and an action thriller. Isn't that what Science Fiction is all about? While Robopocalypse is this year's hottest robot release … Reality 36 is a superior novel in almost every way."
– Staffer's Musings
"Guy Haley is the new author I have been waiting for. It has the intense action of a Neal Asher book, you can almost feel the shockwave of explosions and the impact of blows. Unless you hate fun, stop what you are doing and pick up Reality 36. It's an action packed book, riddled with armour-piercing wit and incredibly entertaining."
– I Will Read Books
"It is excellent. I really loved it. Even when I was a couple chapters in I was still sceptical. Then, suddenly, it didn't matter. I was got used to acronyms, learnt who was who, and was immersed in a gripping storyline that was part Blade Runner, part I, Robot and part Sherlock Holmes."
– I Wish I Was a Book
"Haley does a brilliant job of bringing these former game characters to life… The worlds Haley builds are easy to buy into and the plot is so compelling that it would be hard not to be swept into its pull."
– examiner.com
"It feels believable and well thought out. It is a world I would like to learn more of. As you understand by now I really liked Reality 36. It got a fast pace, is humorous in tone, filled with action, combat and robots a great debut. Guy Haley is a writer to watch."
– Cybermage
"The book is very much a post cyberpunk detective story and one that has been written by an incredibly talented author – this is another Angry Robot publication and boy can they pick their novels!"
– SF Book Reviews
"Watching them run through the 'maze' is a fantastic introduction to the new universe that Haley has created."
– Reading Reality
"The worlds Haley builds are easy to buy into and the plot is so compelling that it would be hard not to be swept into its pull."
– Laure Davis, LA Examiner
"The action sequences are exciting, the mysteries intriguing, the characters people whose conversations I enjoy, people I'd like to read more about."
– Theaker's Quarterly and Paperbacks
"It's all very complicated and glorious."
– Kate of Mind
"With a brilliantly-realised world, great characters, and nice plot, this is a book that provides entertainment by the barrel load. Fun, exciting, entertaining, and unique. Haley is a visionary."
– Adrian Brady, Morpheus Tales
"…what makes the story exceptional is Haley's vision of the future and the thought provoking questions he asks … there should be more Science Fiction writers like Haley"
– Ken Wong, Paperless Reading