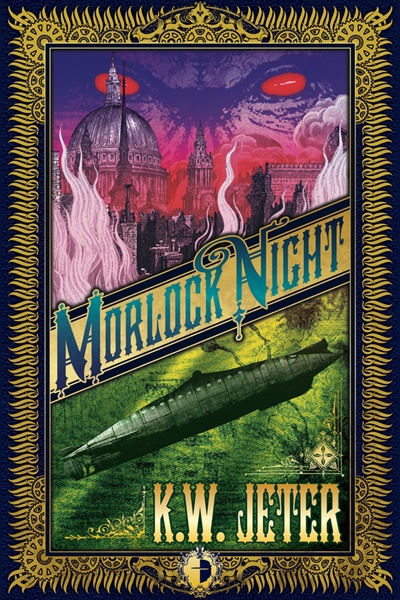 Morlock Night
"One of the three foundational Steampunk texts."
– Retrospeculation
---
One of the original steampunk novels – from the man who invented the term. The mind-blowing steampunk sequel to H.G. Wells' The Time Machine.
---
File Under: Steampunk [ Coming Back | It's About Time | Old Gods | Classic Steampunk ]
Buy the ebook version now – only
£

3.99
SKU: AR9780857661012
Just what happened when the time machine returned?
Having acquired a device for themselves, the brutish Morlocks return from the desolate far future to Victorian England to cause mayhem and disruption.
But the mythical heroes of Old England have also returned, in the hour of the country's greatest need, to stand between England and her total destruction.
With a foreword by Tim Powers and an afterword by Adam Roberts.
| | |
| --- | --- |
| Publication date | |
| Cover Art | John Coulthart |
| Ebook | 7th April 2011 | 9780857661012 | Epub & Mobi | RRP £5.49 / US$6.99 |
| US Print | 26th April 2011 | 9780857661005 | Massmarket Paperback | RRP US$7.99 / CAN$9.99 |
| UK Print | 7th April 2011 | 9780857660992 | Paperback | RRP £8.99 |
| Goodreads URL | Discuss and Review Morlock Night |
"Insane it might be, but that is what makes Morlock Night so bloody good. Combining all of the wonderful elements found in Steampunk; historical characters and settings, infernal devices such as submarines and rolling adventure, this novel is indeed a stunning example of Steampunk and a veritable visual feast."
– Terror Tree
"Each chapter is a cliffhanger, each stands alone in such a way that it is difficult to put the book down. The action pulls you forward, waiting to see what happens next."
– The Secret Lair
"Morlock Night grips you with the tension and action in it, it makes you laugh with all the bad tropes and clichés and shows you how much development has been in the scene in the last 20-odd years."
– The Traveler's Steampunk Blog