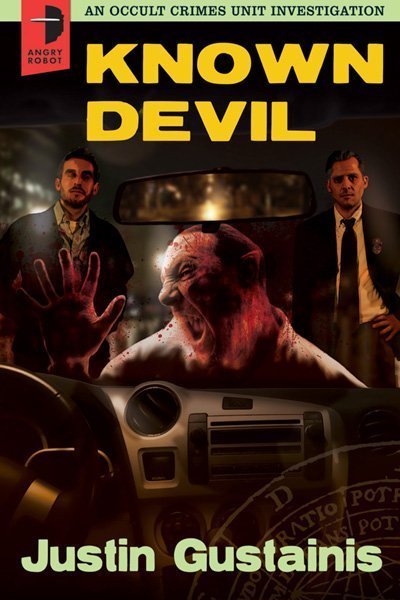 Known Devil
"Whipcrack-fast, hellishly smart, and wonderfully noir—Known Devil is a marvellous ride."
– Lilith Saintcrow, New York Times bestselling author
---
The third book in the Occult Investigations series, starring Scranton P.D.'s officer Stan Markowski
---
File Under: Urban Fantasy [ Fang Warfare | Invading Forces | Uneasy Alliances | The Devil You Know ]
Buy the ebook version now – only
£

3.99
SKU: AR9780857661678
Meet Stan Markowski or the Scranton PD's Occult Crimes Unit.
"My name's Markowski. I carry a badge. Also, a crucifix, some wooden stakes, a big vial of holy water, and a 9mm Beretta loaded with silver bullets.
"A new supernatural gang is intent on invading Scranton and it looks like I'm going to have to work with the current mob to prevent a demonic gang war.
"If there's one thing I hate more than living with supernatural scumbags, it's working with them! But you know that they say, better the devil you know…"
| | |
| --- | --- |
| Series | Occult Investigations |
| Publication date | |
| Ebook | 28th January 2013 | 9780857661678 | Epub & Mobi | RRP £5.49 / US$6.99 |
| US Print | 28th January 2014 | 9780857661661 | Massmarket Paperback | RRP US$7.99 CAN$9.99 |
| UK Print | 6th February 2014 | 9780857661654 | Paperback | RRP £8.99 |
| Goodreads URL | Discuss and Review Known Devil |
"The story is both dark-edged and breezily amusing, which get thumbs from me…"
– Laura Anne Gilman, author of the 'Paranormal Scene Investigations' series
"Its quirky, has a great overall arc and when added to a criminal element goes on to show how tricky policing the unusual can be. Its definitely something that I would recommend to others and a series that has done nothing but entertain since its original release."
– Falcata Times
"Known Devil is a fun book. It is exactly the entertaining, action packed, supernatural beings filled novel I was hoping for. Whether you're familiar with the supernatural detective genre or new to this style of noir detective fiction, Known Devil by Justin Gustainis is a pleasurable read."
– Luxury Reading
"It was an enjoyable and well-written read in the series. I like that Stan is changing and adapting to the changes in the world around him, even if it's making him color outside the lines a little. I highly recommend this to people who want something a little gritty, a little dark, a bit nostalgic and different from the average Urban Fantasy novel."
– Fangs Wands and Fairy Dust
"I like Stan and Karl a great deal, the sarcasm that is more of a native tongue throughout the story lending the entire narrative a gritty, yet resignedly amused feel that I really appreciated. With this many different kinds of creatures in play there seems to be no end to the possibilities in this series, and I would very much like to see what Mr. Gustainis might have in store for Stan and Karl in the future."
– That's What I'm Talking About
"I had a great time with Known Devil and tore through it in a single sitting – with a break for food and putting the kids to bed – chuckling all the while and reading out good bits to my husband. Like Evil Dark, Known Devil stands alone quite well and you don't have to read the previous books to enjoy this one. However, if you haven't read any of these books before then you are in for a treat as they are hugely enjoyable."
– A Fantastical Librarian
"I love the mix of genres that Justin Gustainis has created in the Occult Crimes Unit Investigation Series, and Known Devil, continues his trend of smart, dark, fun reads. These are not just crime/detective stories and they're not just urban myth stories – they're excellent stories about relationships and diversity. I'm a complete fan and I can hardly wait for book #4!"
– Popcorn Reads
"Gustainis writes page turners; once I start I cannot stop. His characters have enough of the classic archetypes mixed with the new of the supernatural to create highly entertaining reads. Humor, action, and magic combine to make a Dragnet meets Supernatural experience. When a new book in this series comes out I'll be first in line to purchase it."
– SciFi Pulse
"Known Devil sent Sergeant Markowski and his undead partner Karl Renfer on a hell of a ride, pun intended…I highly recommend this novel."
– Rant E Rave