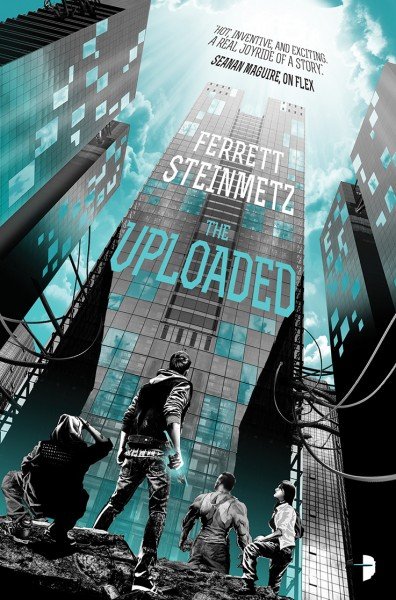 The Uploaded
"Steinmetz has crafted a brilliant, original world in this all-too-possible story of life, death, and legacy. The Uploaded is a wild ride from start to finish, and asks the reader to examine what exactly it is that they are leaving behind — and what they're headed toward."– Sarah Gailey
---
The world is run from the afterlife, by the minds of those uploaded at the point of death. Living is just waiting to die… and maintaining the vast servers which support digital Heaven. For one orphan that just isn't enough – he wants more for himself and his sister than a life of servitude. Turns out he's not the only one who wants to change the world…
---
File Under: Science Fiction
Buy the ebook version now – only
£

5.49
Available on September 5, 2017.
SKU: AR9780857667182
Life sucks and then you die…
In the near future, the elderly have moved online and now live within the computer network. But that doesn't stop them interfering in the lives of the living, whose sole real purpose now is to maintain the vast servers which support digital Heaven. For one orphan that just isn't enough – he wants more for himself and his sister than a life slaving away for the dead. It turns out that he's not the only one who wants to reset the world…
| | |
| --- | --- |
| Title | The Uploaded |
| Author | |
| Publication date | 05 Sep 2017 |
| Cover Art | Joey HiFi |
| Ebook | 5th September 2017 |  9780857667182 |  Epub & Mobi | RRP £5.49 / US$6.99 / CAN $7.99 |
| US Print | 5th September 2017 |  9780857667175 |  Massmarket Paperback | RRP US$7.99 / CAN$10.99 |
| UK Print | 7th September 2017 |  9780857667168 |  Paperback | RRP £8.99 |
| Goodreads URL | Discuss and Review The Uploaded |
"Witty, funny, thought provoking, plausible in its outrageousness, utterly indefatigable, revelatory and a bunch of other positive adjectives, oh and poignant."
– Koeur's Book Reviews
"A very engaging book. 4.5 hoots!"
– Purple Owl Reviews
"I've said it before and I'll say it again: this guy should be a super-bestseller. There's no good excuse why he isn't. I'm a total fanboy because he's just got the writing chops to pull just about anything off."
– Brad K Horner
Praise for Ferrett Steinmetz
"Flex is a real gem – sharp, weird, and wildly innovative. It zigs when you think it'll zag, then tricks you into screaming when you're ready to laugh out loud. So drop everything and settle in for the night – because once you open this one, you're not going anywhere."
– Cherie Priest, author of Boneshaker, winner of the Locus Award for Best Novel and the PNBA Award, and nominated for a Nebula Award and a Hugo Award.
"Amazing. I have literally never read a book like this. Read this NOW, if only to be forced to turn the page wondering what the hell Steinmetz is going to come up with next."
– Mur Lafferty, Campbell award-winning "Best New Writer 2013" and author of The Shambling Guide to New York
"Featuring one of the most original magic systems ever devised and a pair of likeable, layered protagonists, Flex is a fast-paced, imaginative, and emotionally engaging adventure. The developing friendships and rapport among the characters are portrayed with sensitivity and avoids cliches, and the magical battle sequences are rigorous and filled with ingenious touches that will make gamers and tax lawyers alike grin with joy."
– Ken Liu, winner of the Nebula, Hugo, and World Fantasy Awards
"It is at once witty, funny, thought provoking, plausible in it's outrageousness, utterly indefatigable, revelatory and a bunch of other positive adjectives, oh and poignant."
– Koeur's Book Reviews