Sale!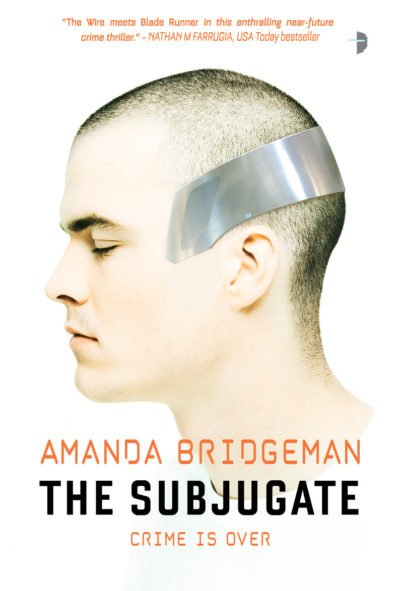 The Subjugate
"The Subjugate is a compelling seat-of-the-pants murder mystery and a fascinating inquiry into good and evil and the possibility of redemption."
– The Guardian
---
Two troubled homicide detectives race to find a serial killer in a town filled with surgically reformed murderers, in this captivating near-future SF thriller.
---
File Under: Science Fiction [ Pure & Savage | Hard Boiled | Bright Spark | Finding Serenity ]
Buy the ebook version now – only
£

3.99
SKU: AR9780857667724
In a small religious community rocked by a spree of shocking murders, Detectives Salvi Brentt and Mitch Grenville find themselves surrounded by suspects. The Children of Christ have a tight grip on their people, and the Solme Complex neurally edit violent criminals – Subjugates – into placid servants called Serenes. In a town where purity and sin, temptation and repression live side by side, everyone has a motive. But as the bodies mount up, the frustrated detectives begin to crack under the pressure: their demons are coming to light, and who knows where that blurred line between man and monster truly lies.
| | |
| --- | --- |
| Release Date | 2018-11-01 |
| Available in Paperback From | Amazon UK , Amazon USA , WHSmiths , Waterstones , Barnes & Noble |
| Cover Art | Lee Gibbons |
| Ebook | 1st November 2018 | 9780857667724 | epub & mobi | £6.99/$8.99/$10.99 |
| US Print | 6th November 2018 | 9780857667717 | Trade Paperback | $12.99/$15.99 |
| UK Print | 1st November 2018 | 9780857667717 | Paperback | £8.99 |
| Goodreads URL | Read and Discuss |
"Part traditional police procedural, part exploration of redemption and the possibility of change, The Subjugate cleverly and apparently effortlessly builds a future world that is both engaging and utterly terrifying."
– Kaaron Warren, award-winning author of The Grief Hole and Tide of Stone
"An intelligent, believable future wrapped around an intriguing mystery."
– Kylie Chan, bestselling author of the Dark Heavens trilogy
"The Wire meets Blade Runner in this enthralling near-future crime thriller."
– Nathan M Farrugia, USA Today bestseller
"An old school whodunit set in a frighteningly near future."
– Luke Preston, screenwriter and author of Out of Exile
"The Subjugate is a compelling seat-of-the-pants murder mystery and a fascinating inquiry into good and evil and the possibility of redemption."
– The Guardian
This new book combines convincing near-future forecasting with great characters and a police-procedural murder mystery with some neat twists and turns to achieve full page-turner status—all without sacrificing intelligence for thrills.
– Paul Di Filippo, for Locus
"Extraordinarily well-written and tense as hell towards the end, The Subjugate is a novel that will stay with me for some time. Reminiscent of films as diverse as Blade Runner and Witness, Amanda Bridgeman's murder mystery had me guessing right up until the end." 4.5 / 5
– Pop Culture Bandit
"Great book with a very interesting idea about how criminals could be 'saved' and integrated back into society. Really enjoyed reading about the criminal side of things and would love for a book to be made about the running of the Solme Complex."
– Lozzi's Book Reviews
"This hard-boiled near-future SF thriller moves quickly and presents some thought-provoking ideas."
– Kirkus Reviews
"The Subjugate was an enjoyable read that blends a number of different genres really well; it's perfect for fans of science fiction, dystopian, fantasy, or crime thrillers."
– Read and Review
"I loved reading this, and I think you should check it out if you get the chance. If you love detective novels and serial killers set in the future, you're going to love this one."
– Radioactive Book Reviews
"Bridgeman's writing style sucked me in and didn't let me go until the final page. There's brilliant pacing here, with so many possible suspects and motives that the reader becomes a detective. The conversations were thought-provoking, the conflicts were riveting, and overall, it was eminently entertaining."
– Reviews and Robots
Praise for Amanda Bridgeman
Aurealis Award finalist 2014 for Best Science Fiction Novel for Aurora: Meridian
Tin Duck Award finalist (Western Australian Science Fiction Foundation) for Best Long Written Work in 2016, 2017, 2018
"Bridgeman does not just build up her characters, but punishes them, and the thrills are all the more visceral for that."
– Aurealis Magazine
"Incredibly vivid and bursting with tension."
– Just A Guy That Likes To Read
"Nail-biting edge of the seat action and suspense that I expect from much more seasoned writers.  The tension that Bridgeman maintained here was brilliant."
– Adventures of a Bookonaut
"The tension was kept high throughout the story and it's pretty nail-bitingly scary at times! The characters themselves are interesting and their relationships and banter are what made this story a really enjoyable read."
– The Oaken Bookcase
"A taut story of conspiracy, violence and hidden terror that reminded me strongly of Alan Dean Foster's novelisation of the movie Aliens."
– Uncertain Tales
"As I've come to love from her books, Bridgeman builds tension through the action of her characters and points all the pieces of her plot toward a finely explosive finish… This is the kind of smart scary story that gives me a book hangover. I recommend you pick up a copy and get ready for the ride."
– West Coast Book Reviews
"This is hard sci-fi with heart. The characters are well developed, have realistic conversations and relationships and I found myself really caring about what was happening to each of them – something that doesn't often come with militaristic science fiction."
– Tea in the Treetops