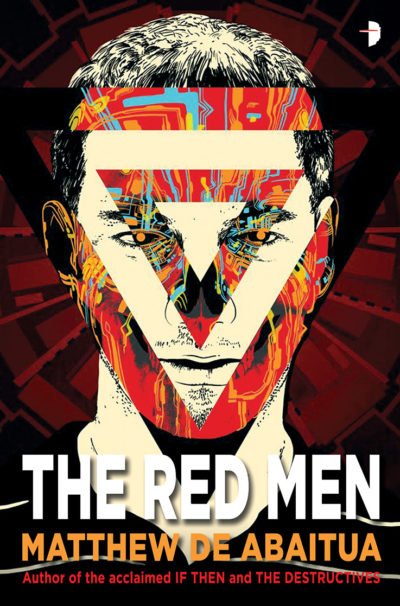 The Red Men
"Sumptuously written, with prose that glitters with a dark lustre like a Damien Hirst fly collage. intricately plotted, and a satirical point as sharp and and accurate as the scalpel of a brain surgeon: De Abaitua operates on the smiling face of the present to reveal the grimacing skull of the future."
– Will Self
---
The boundaries between the real and the virtual break down in this literary science fiction thriller from the author of If Then and The Destructives.
---
File Under: Science Fiction [ Welcome to Redtown | Singularity Satire | You Are Data | Dr Easy ]
---
Only available in paperback in the US, and ebook in US/Canada
Buy the ebook version now – only
£

3.99
SKU: AR9780857667564
Once, Nelson was a radical journalist, but now he works for Monad, the corporation that makes the Dr Easys, the androids which police London's streets. They also make the Red Men, versions of real people imagined by a shadowy artificial intelligence… and they're looking to expand the program.
Nelson creates Redtown, a digital version of a suburb, where the deepest secrets and desires of its citizens can be catalogued and studied. But the project's goals are increasingly authoritarian and potentially catastrophic. As the boundaries between Redtown and the real world break down and revolution against the Red Men is imminent, Nelson is forced to choose between the corporation and his family.
| | |
| --- | --- |
| Release Date | 2017-11-07 |
| Previous Publication | First published by Snowbooks 2007 and Gollancz ebook 2013 |
| Cover Art | Raid71 |
| Ebook | 7th November 2017 | 9780857667564 | epub & mobi | $3.99/$4.99 |
| US Print | 7th November 2017 | 9780857667557 | Massmarket Paperback | $7.99 (US only) |
| Goodreads URL | Read & Review |
"Sumptuously written, with prose that glitters with a dark lustre like a Damien Hirst fly collage. intricately plotted, and a satirical point as sharp and and accurate as the scalpel of a brain surgeon: De Abaitua operates on the smiling face of the present to reveal the grimacing skull of the future."
– Will Self
"A heady work of imagination and philosophy melded to a surreal science fantasy. It is safe to say that you will read nothing else like it, unless you read another book with his name on the cover."
– Barnes & Noble Sci-Fi & Fantasy Blog
"If you like corporate dystopia books or drug-trip books, you'll really enjoy The Red Men. I greatly appreciated the philosophical/ethical discourse about those who conquer, those who fight and those who remain quiet."
– Blogger's Bookshelf
"With The Red Men, De Abaitua joins the ranks of Philip K Dick, J G Ballard, Rudy Rucker and Lavie Tidhar, writers who see and understand what's happening to reality before the rest of us do. That he is able to explore all this with warmth, wit and humanity is what makes The Red Men such a vital work of modern SF."
– Golden Apples of the West
"The Red Men is a brilliant work of social theory, in the same way that (as I have argued before) novels by authors like J G Ballard and Bret Easton Ellis are works of social theory. The Red Men is as informative and thought-provoking, when it comes to working out how society actually works in the 21st century, as anything by Zygmunt Bauman, Ulrich Beck, or Manuel Castells."
– The Pinocchio Theory
"The initial chirpy tone and thread of black humour running through this book gets steadily darker. It is compelling, clever and terrifyingly plausible. It is also savagely violent. As a sharp and accomplished writer, de Abaitua is completely capable of delivering a nuanced, satirical take on the subject."
– Brainfluff
"This brilliant book tests the reader with questions relevant to our day-to-day lives."
– Fiction Uncovered
"Like the famous elephant surrounded by blind men, its shape and texture suggest differing beasts depending on where you grab it. Literary thriller and domestic drama, thought experiment and drug trip, cyberpunk and technopagan, satire and prophecy."
– Strange Horizons
"Matthew de Abaitua makes Michel Houellebecq seem like Enid Blyton."
– Matt Thorne
"de Abaitua can write better than any average Booker shortlist could if they all networked their brains and collaborated."
– Barrysarll
"The Red Men resonates with everything. Everything here on this site, everything I've written, everything I've done. Everything I'm doing. In fact, 'resonates' is the wrong word. Shakes. It shook me. Read it."
– Magical Nihilism
"His novel is so brilliant and original that it leaves readers bewildered and helpless… The Red Men is seriously good stuff."
– Heloise Merlin's Weblog
"All this creepy crazy will slide right into your brain on a slick of polished and insanely quotable prose."
– Skiffy and Fanty
Praise for Matthew de Abaitua
"A talented novelist in his own right."
– Will Self, for The Independent
"If Then may be one of the most important works of British SF to appear in recent years. It is stunningly original and superbly well written. For those who care about such things, it is firmly of SF, not the literary mainstream – yet it is technically as complex and well executed as any modernist novel you may meet on your Booker travels. I hope this book will be discussed and debated and praised, for it deserves all three sorts of attention in generous measure. If Then is the opposite of the literature of reassurance, it is everything science fiction should be aiming for, and it is wonderful to see de Abaitua back on the scene."
– Nina Allan
"It's a work that doesn't so much subvert expectations as shatter them utterly. It's dense, but it also moves; it's both a breakneck thriller and one of the year's most thoughtful works of science fiction."
– B&N Sci-Fi & Fantasy Blog
"Matthew De Abaitua Has the knack of delivering the most complex of concepts and diabolical leaps of imagination in a way that first entices then completely draws the reader in. A thrilling book."
– Strange Alliances
"A marvellously written book, whose invention and surprises gain momentum until its boggler of an ending."
– SFX Magazine
"J G Ballard does John Varley, or David Marusek by way of M John Harrison, with frostings of Philip K Dick and Peter Watts… De Abaitua's novel gives us a portrait of an utterly foreign yet believable future."
– Asimov's Science Fiction
"This is the kind of post-apocalypse, after-it-all-changed novel – with clever codicils – that the Brits do with so much more classy, idiosyncratic style than anyone else. It is full of magisterial weirdness, logical surrealism, melancholy joy and hopeful terror. If I begin to toss out names like Adam Roberts, Brian Aldiss, Keith Roberts, and J. G. Ballard, I will not be lavishing undue praise."
– Paul Di Filippo, for Locus Magazine
"De Abaitua builds on the promise he demonstrated in The Red Men in this intellectual science fiction novel, whose ambition is matched by its execution. The author's thoughtful world-building is enhanced by a cast of relatable characters."
– Publishers Weekly
"The alternating viewpoints set in a modern town and during World War I will have you itching to know what's really going on."
– Kirkus Reviews