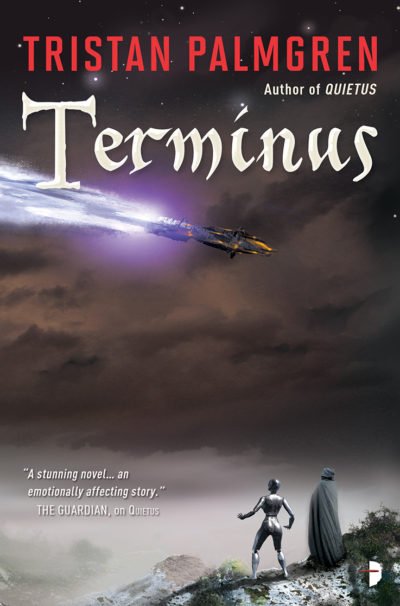 Terminus
"In this ambitious and intelligent novel, Palmgren takes the staples of science fiction – post-apocalypse, first contact, interventionism – and integrates them seamlessly, breathing new life into familiar forms. A truly outstanding debut."
– Una McCormack, NYT bestselling author
---
Operatives from an advanced alien culture struggle to survive in medieval Italy, in the SF sequel to the astonishing Quietus.
---
File Under: Science Fiction [ Last Throes | The Saviour | Let It Burn | Crisis of Faith ]
Buy the ebook version now – only
£

3.99
SKU: AR9780857667595
The transdimensional empire, the Unity, has dissolved. Its rulers and agents have been exiled, stranded across a thousand planes of existence. Empires don't die gladly. The living planarship Ways and Means has ended the Black Death ravaging medieval Europe, but it has bigger plans for Earth. Someone is trying to kill former Unity agent Osia. Spy-turned-anthropologist Meloku becomes a target, too, when she catches the planarship hiding the extent of its meddling. While they fight to survive, Fiametta – Italian soldier, mercenary, and heretical preacher – raises an army and a religious revolt, aiming to split her world in half.
| | |
| --- | --- |
| Series | The Unity |
| Release Date | 2018-11-01 |
| Cover Art | Dominic Harman |
| Ebook | 1st November 2018 | 9780857667595 | epub & mobi | £6.99/$8.99/$10.99 |
| US Print | 6th November 2018 | 9780857667588 | Trade Paperback | $12.99/$15.99 |
| UK Print | 1st November 2018 | 9780857667588 | Paperback | £8.99 |
| Goodreads URL | Review & Discuss Terminus |
"He [Palmgren] has taken the blend of alternative history, actual history and science fiction to produce a narrative that is absorbing in its detail and driving plot, and made it his own… The breadth of his imagination combined with historical fact has created something different and compelling."
– Strange Alliances
"I'm absolutely in love with this book. I love the characters, I love the connection of the plot to the plot of the previous book, I love the DEVELOPMENT. 15/10 would reread a thousand times and none of you can stop me."
– Litcast of Doom
Praise for Quietus
"In this ambitious and intelligent novel, Palmgren takes the staples of science fiction – post-apocalypse, first contact, interventionism – and integrates them seamlessly, breathing new life into familiar forms. A truly outstanding debut."
– Una McCormack, NYT bestselling author
"A cast of well-drawn characters and a narrative that is initially tightly focused but rapidly expands to encompass the stars draw the reader into this ambitious tale of intrigue, conspiracy and adventure. Quietus has the trappings of space opera but plays around with so much more; it's an impressive debut that marks the author as one to watch."
– Ian Whates, author of Pelquin's Comet
"Palmgren's debut immerses the reader in the rat-infested, plague-ravaged streets of 14th-century Europe then flips the narrative to a dizzying scale as the characters uncover layer upon layer of deception, examining what it is to be human along the way. A fine piece of SF and WTF."
– Susan Murray, author of The Waterborne Blade
"This was something rather interesting. I really enjoy the chances it takes." 5/5*
– Bradley Horner's Book Reviews