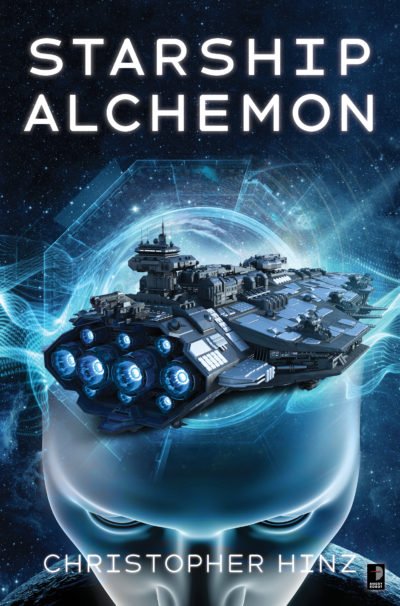 Starship Alchemon
Deep-space action and a threat to all humanity, by the award-winning author of Liege-Killer and The Paratwa Saga. 
---
"This is a fast-paced future thriller that delivers on the promise of its high-concept premise."
– The B&N Sci-Fi & Fantasy Blog, on Binary Storm
---
File Under: Science Fiction [ Deep Space Isolation | Monster on Spaceship | Psychic Powers | All-powerful Sentient AI ]
Buy the ebook version now – only
£

4.99
SKU: AR9780857668189
From the the award-winning author of the cult-80s classic Liege-Killer and The Paratwa Saga, comes Starship Alchemon – a deep-space action opera combined with a threat to all humanity.
Nine explorers aboard a powerful AI vessel, Alchemon, are sent to investigate an "anomalous biosignature" on a distant planet. But they soon realize their mission has gone to hell as deadly freakish incidents threaten their lives. Are these events caused by the tormented psychic mysteriously put aboard at the last minute? Has the crew been targeted by a vengeful corporate psychopath? Are they part of some cruel experiment by the ship's ruthless owners? Or do their troubles originate with the strange alien lifeform retrieved from the planet? A creature that might possess an intelligence beyond human understanding or may perhaps be the spawn of some terrifying supernatural force… Either way, as their desperation and panic sets in, one thing becomes clear: they're fighting not only for their own survival, but for the fate of all humanity.
| | |
| --- | --- |
| Release Date | 2019-11-12 |
| Ebook | 12th November 2019 | 9780857668189 | epub & mobi | £6.99/$8.99/$10.99 |
| US Print | 12th November 2019 | 9780857668172  | Trade Paperback | $12.99/$15.99 |
| UK Print | 12th November 2019 | 9780857668172 | Trade Paperback | £9.99 |
| Goodreads URL | Read & Review |
"This is a fast-paced future thriller that delivers on the promise of its high-concept premise."
– The B&N Sci-Fi & Fantasy Blog, on Binary Storm
"You'll want to hang in there for the entirety of the ride."
– Strange Alliances, on Binary Storm
"Highly engrossing and fascinating."
– Manhattan Book Review, on Binary Storm