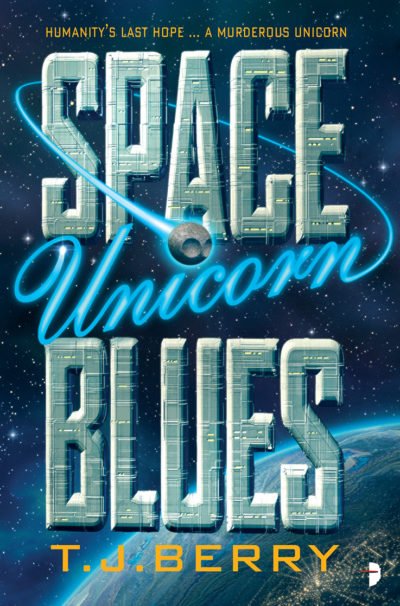 Space Unicorn Blues
"I never knew fairies and unicorns could be so dark. The book throws aside so many tropes and just does whatever the fuck it wants, inventing an entirely new world with new rules, and I am always in support of that."
– Joe Zieja, author of the Epic Failure trilogy
---
A misfit crew race across the galaxy to prevent the genocide of magical creatures, in this unique science fiction debut.
---
File Under: Science Fiction [ Rocks in Space | Stand Up to Reason | The Human Experiment | Last Unicorn ]
Buy the ebook version now – only
£

2.99
SKU: AR9780857667823
Humanity joining the intergalactic community has been a disaster for Bala, the magical creatures of the galaxy: they've been exploited, enslaved and ground down for parts. Now the Century Summit is approaching, when humans will be judged by godlike aliens.
When Jenny Perata, disabled Maori shuttle captain, is contracted to take a shipment to the summit, she must enlist half-unicorn Gary Cobalt, whose horn powers faster-than-light travel. But he's just been released from prison, for murdering the wife of Jenny's co-pilot, Cowboy Jim… When the Reason regime suddenly enact laws making Bala property, Jenny's ship becomes the last hope for magic.
| | |
| --- | --- |
| Release Date | 2018-07-03 |
| Series | Reason |
| Cover Art | Lee Gibbons |
| Ebook | 3rd July 2018 | 9780857667823 | epub & mobi | £2.99/$3.99/$4.99 |
| US Print | 3rd July 2018 | 9780857667816 | Trade Paperback | $12.99/$15.99 |
| UK Print | 5th July 2018 | 9780857667816 | Paperback | £8.99 |
| Goodreads URL | Review & Discuss Space Unicorn Blues |
"A whimsically grim romp"
– Locus Magazine
"Pure wish fulfilment. That is… assuming you wish to be a down-on-his-luck, half-unicorn space rogue, struggling to reclaim his starship and find his lost horn against an army of human oppressors who hold all the cards."
– G S Denning, author of the Warlock Holmes series
"It was a fun read with an entirely unique concept on a mashup of scifi and fantasy. The spin on the Bala being the key to the expansion of humankind – which then allowed humankind to subjugate the Bala – is the kind of sweet irony that mankind has displayed thousands of times over its history. It was a reminder that not all stories about unicorns have to have them spewing rainbows out of their asses, because sentience, no matter the form, always seems to bring about its own flavor of brutality. I never knew fairies and unicorns could be so dark. The book throws aside so many tropes and just does whatever the fuck it wants, inventing an entirely new world with new rules, and I am always in support of that."
– Joe Zieja, author of the Epic Failure trilogy
"Shut your brain off and go along for the wild ride… Berry deftly creates a diverse and representative universe full of all kinds of magical creatures and humans, a strange, wacky world."
– LA Times 
"Raucous space opera… Berry portrays the emotions powering bigotry with frightening accuracy in a novel that combines the best elements of mythological fantasy and space opera into a thrilling quest with deep shadows."
– Publishers Weekly
"Pick up this book for its title. Keep reading for its characters and world-building… There are definitely dark aspects to this sci-fi story of a damaged crew who has to work together again, but the bonkers details Berry inserts provide a counterbalance. A fun, adventure-heavy space opera…with unicorns."
– The Amazon.com Book Review
"An energetic book that starts at high velocity and never lets up. Reading it is one of those "just one more chapter" experiences."
– Tor.com
"A fast-paced romp… I enjoyed it deeply."
– Liz Bourke for Locus
"This delightfully weird science fantasy is a perfect escape read."
– Barnes & Noble Sci-Fi & Fantasy Blog
"Flawless… another must-read from Angry Robot."
– The Fantasy Inn
"This story was wonderfully well written, and it was paced really well. There was always something going on that made it hard to put down, and so I ended up reading it much faster than I anticipated. Well into the wee hours of the night, and well past the end of my lunch break at work."
– Superstar Drifter
"Pick up a copy of Space Unicorn Blues for the strangest read all summer, but be warned that it's pretty immersive. Everything about Space Unicorn Blues feels incredibly well-built and solid. It's a delight for space opera junkies."
– The Game of Nerds
"This book, THIS book, THIS BOOK. What do you get when you cross Star Trek with Terry Pratchett's Discworld, a splash of Hitchhiker's Guide to the Galaxy and any three of your favorite fantasy series? You get Space Unicorn Blues. Humorous and fun with a splash of commentary on human nature. You will LOVE these characters and hate these characters. I cheered and sobbed (literally) while reading about the aftermath of a war between humans and magical creatures (in space!)"
– Ouroboros Freelance
"Space Unicorn Blues was an exciting adventure that tugged at my heart as often as it tickled my funny bone!"
– The Genre Minx
"Berry has done a great job of creating a spacefaring human diaspora that feels real and diverse, as well as integrating heavy subject matter in a way which is reasonably sensitive without overstraining the fast-paced narrative."
– Nerds of a Feather
"Combining the character diversity and interaction of Firefly and the absurdity of The Hitchhiker's Guide To The Galaxy, Space Unicorn Blues is a brilliantly original sci-fi novel, with enough to make you think as well as being thoroughly entertaining. It also contains the best weather-forecaster-oral-sex joke ever—it may actually be the only one, but it's still the best! Roll on the next instalment!"
– The Nerd Daily
"It is hilarious and inventive and I don't think I've ever read anything similar. Be sure to check Space Unicorn Blues out."
– The Book Finch
"I recommend it highly. Check out Space Unicorn Blues by T.J. Berry for a fun, insane science fiction/fairy tale mashup that will make you think more than you might expect."
– Eclectic Theist