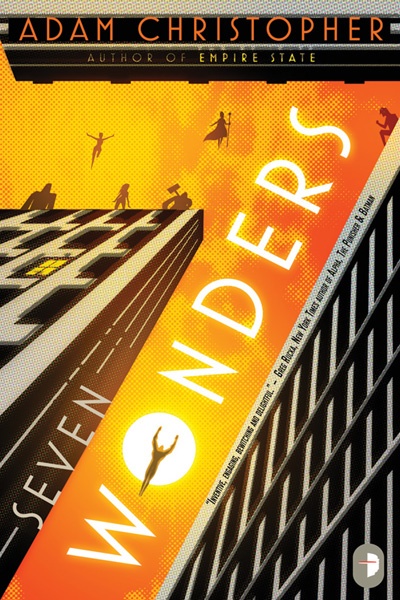 Seven Wonders
"A cool, clever, wickedly twisty superhero story… You can, and will, provide your own pictures…"
– Mike Carey, New York Times bestselling author of The Girl With All The Gifts and writer of The Unwritten and X-Men
---
Welcome to San Ventura, home of the Seven Wonders superhero team, their arch-nemesis The Cowl and… Tony. A new hero on the block.
---
File Under: Science Fiction [ Heroes In Action | A Double Cross | Kapow! | Tables Turned ]
Buy the ebook version now – only
£

3.99
SKU: AR9780857661975
Tony Prosdocimi lives in the bustling Metropolis of San Ventura – a city gripped in fear, a city under siege by the hooded supervillain, The Cowl.
When Tony develops super-powers and acts to take down The Cowl, however, he finds that the local superhero team Seven Wonders aren't as grateful as he assumed they'd be…
| | |
| --- | --- |
| Publication date | |
| Cover Art | Will Staehle |
| Ebook | 28th August 2012 | 9780857661975 | Epub & Mobi | RRP £3.99 / US$5.99 |
| US Print | 28th August 2012 | 9780857661968 | Trade Paperback | RRP US$12.99 CAN$14.99 |
| UK Print | 6th September 2012 | 9780857661951 | Paperback | RRP £8.99 | 6th September 2012 | 9780857661951 | Hardback | RRP £20.00 |
| Goodreads URL | Discuss and Review Seven Wonders |
"This is traditional heroism with a decidedly wicked and iconoclastic twist. Inventive, engaging, bewitching, and delightful, a feast as much for fans of the tropes as for the innocents amongst us."
– Greg Rucka, New York Times bestselling author of Alpha, The Punisher and Batman
"Seven Wonders is everything that's great about superhero novels – a fast pace, a complicated plot, iconic characters, and an unlimited effects budget. Absolutely wonderful."
– Seanan McGuire, New York Times bestselling author of Discount Armageddon and Ashes of Honor
"A blast of pure pleasure. This is Watchmen meets NYPD Blue, while The Incredibles stroll by; fast-moving action infused with Christopher's infectious love of pulp fiction and the superhero genre."
– Philip Palmer, author of Version 43, Hell Ship and Artemis
"Seven Wonders is the exploded view on superheroes. Set pieces are described in colourful visuals like enhanced comic frames and the heroes' physical vulnerability is deftly shown in a way only novels can. Adam Christopher forges superhero glamour with the gritty proceduralism of police noir."
– S. L. Grey, author of The Mall and The Ward
"Superheroes, we've always been told, are far above the common man in both powers and nobility, but Adam Christopher unrelentingly tells the story of heroes struggling to guide the world long after they've lost their own way. Seven Wonders slams readers in the gut from the very first page and then just keeps on firing cannons, giving readers the same choice as every single citizen of San Ventura… either duck and cover, or ride along with the laser."
– Paul Tobin, author of Prepare to Die!, Spider-Girl and Marvel Adventures: Spider-Man
"Seven Wonders is a rollicking roller-coaster of a novel – Christopher has created characters you care about and a plot that doesn't let up, all wrapped up in prose as feisty as its superheroes… Ka-pow! I loved it. A must-read for 2012."
– Alison Littlewood, author of A Cold Season
"Witty and cinematic, packed full of spectacular set-pieces, labyrinthine plot twists and devious double-crosses, and populated by an imaginative array superheroes as flawed and fallible as the citizens they're sworn to protect, Adam Christopher's Seven Wonders is the literary equivalent of a lazy Saturday morning with a stack of your favorite comic books: pure, unadulterated fun!"
– Owen Laukkanen, bestselling author of The Professionals
"Rocketing ahead on a super-human combination of lightning-fast story, sharp-witted writing, a supervillain who will give you chills and a superhero team as diverse and complex as the Avengers or the Justice League, Seven Wonders is, quite simply, the superhero novel we've all been waiting for."
– Caitlin Kittredge, author of The Iron Throne and Street Magic
"A novel with the best of superhero traditions: cool adventure, great action, and heroes and villains with genuine personality."
– A. Lee Martinez, Alex Award-winning author of Emperor Mollusk versus the Sinister Brain and Gil's All Fright Diner
"Adam Christopher grabbed everyone's attention with his debut novel Empire State, and his follow up Seven Wonders will surely please all of his readers who have been waiting breathlessly for more. A smart, entertaining, energetic take on the superhero genre."
– Victor Gischler, writer of X-Men and Deadpool
"An exhilarating, rocket-heeled ride. Adam Christopher grabs the super hero story crashes through the comic book frame and carries it straight into your mind's eye. These pages are filled with gleaming spandex, sinister motives and explosive action. Seven Wonders is wry, sly and ready to fly."
— Tom Pollock, author of The City's Son
"[Seven Wonders] is an artfully plotted and thrilling action-adventure with some satisfying set-piece confrontations and amazingly rounded characterisation."
– Eric Brown, The Guardian
"If you've seen The Avengers and The Dark Knight Rises and are still clamoring for more superhero action and intrigue, you can safely add Adam Christopher's Seven Wonders to your list."
– Scott D. Parker, Criminal Element
"Capturing the true spirit of spandex-clad hero comics is not an easy task … Adam Christopher manages [it] with style and panache. He evokes classic comic book writers such as Busiek, Moore, Morrison and Gaiman, and yet retains a unique style and sense of a world."
– Ed Fortune, Starburst Magazine
"this is a cracking read for any fan of SF or superhero tales … mark Adam Christopher down as a new writer you should be watching out for. I have."
– Joe Gordon, Forbidden Planet International
"An awesome novel that is one of my favourites so far this year. For those who thought that Christopher's Empire State would be the best of his novels, then think again – Seven Wonders is much better. Reads like a superhero comic book in novel form. Unmissable."
– Bane of Kings, The Founding Fields
"…the equivalent of a major comic book crossover event across several titles given the number of twists and turns the story takes. And this isn't a bad thing – it makes the whole adventure richly complex."
– Rocky Sunico, The Geeky Guide to Nearly Everything
"I had an absolute blast reading this. The Superheroes (and villains) are as wonderfully flawed and fallible as they are powerful. The plot is satisfyingly labyrinthine, and the overall experience is stunningly cinematic. I genuinely don't have a single bad word to say about it."
– Zoe Markham, Fantasy Bytes
"I firmly believe that Christopher has written the standard against which other superhero novels will be held and is himself now coming into his own super-author powers. Seven Wonders is a big, colorful joy to read and it shows that it was also a joy to write. "
– Benito Corral, Betwixt Book Reviews
"…the atmosphere, and the world building, is spot on. The super powered fighting also has the right comic book feel to them, but with a more adult touch to them, where there is actual bloodshed. Adam Christopher has once again brought something new to a old genre."
– Erik Lundqvist, I Will Read Books
"Clever, fresh and bringing something new to the table, Seven Wonders is another thrilling roller-coaster ride from an author who is quickly becoming a master of multi-genre adventure."
– The Fiction Stroker
"Seven Wonders ticks all the right boxes, it is a thrilling rollercoaster ride where the reader feels the wind in their hair, and their cape flapping behind them."
– Phil Norris
"Seven Wonders is a massively fun book that you definitely should read, especially if you like your superheroes to be morally grey and not straight up goody-two-shoes type."
– Shadowhawk, The Founding Fields
"Readers of comics, especially from the Bronze Age ('70s and mid '80s) are going to find a lot to like in Seven Wonders"
– Paul Weimer The Functional Nerds
"The book was such a joy to read and the scenes were so vivid that I swear it was like reading the comic book version. I'm sure any superhero fan would appreciate and love this story too."
– Ken Wong, Paperless Reading
"Seven Wonders is definitely one of the best superhero novels I've ever read. Smart, engaging, with a fast pace, wonderfully crafted characters and unexpected plot twists."
– Mr Giobblin, Minuetto Express
"Christopher has given us a superhero novel that explodes off the page … It is, in many ways, the sort of book that comic fandom has been anticipating since the bronze age ended 25 years ago."
– Eric Searleman, Superhero Novels
"If you are a fan of comic books and superheroes, Seven Wonders may well be your perfect read. Its grand scale and impressive prose will definitely appeal to anyone who enjoys comics. Its flamboyant action and incredible characters will entertain you for hours."
– Stephan van Velzen, The Ranting Dragon
"As a non-comic book reader, this was an enjoyable read and one I would definitely recommend you go out and buy."
– Phil Ambler, for The British Fantasy Society