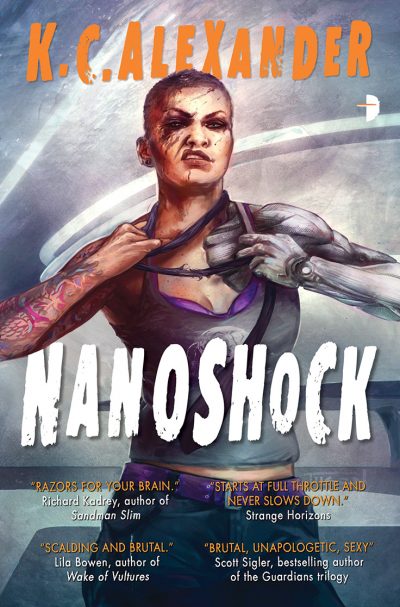 Nanoshock
"Nanoshock crushes everything in its path. Brutal, unapologetic, sexy cyberpunk, it is a steel-fisted punch in the mouth."– Scott Sigler, #1 NYT bestselling author of the Generations trilogy
---
Fighting off every chromed-up chumhead looking to raise their standing on the streets is one thing, but when someone with some serious cred ups the stakes on her ass, Riko's all too ready to take the fight right back to them.
---
File Under: Science Fiction [ Profane & Proud | Pound the Streets | Fist of Steel | Necro Tech ]
---
Book Two in the SINless series
Buy the ebook version now – only
£

3.99
SKU: AR9780857666284
Being a mercenary isn't all it's cracked up to be. Especially when Riko's hard-won reputation has taken a hard dive into fucked. Now she's fair game for every Tom, Dick and Blow looking to score some cred.
In this city, credibility means everything – there's no room for excuses. She still doesn't know what she did to screw up so badly, and chasing every gone-cold lead is only making it worse. Without help and losing ground fast, Riko has a choice: break every rule of the street on her search for answers…  or die trying.
| | |
| --- | --- |
| Series | SINless |
| Release Date | 2017-11-02 |
| Cover Art | Cody Tilson |
| Ebook | 2nd November 2017 | 9780857666284 | Epub & Mobi | RRP £3.99 / US $5.99 / CAN $6.99 |
| US Print | 7th November 2017 | 9780857666277 | Massmarket Paperback | RRP US$7.99 CAN$10.99 |
| UK Print | 2nd November 2017 | 9780857666260 | Paperback | RRP £7.99 |
| Goodreads URL | Read and Discuss Nanoshock |
"Nanoshock crushes everything in its path. Brutal, unapologetic, sexy cyberpunk, it is a steel-fisted punch in the mouth."
– Scott Sigler, #1 NYT bestselling author of the Generations trilogy
"An intense, gleefully profane, fearlessly inventive, unapologetically grimy cyberpunk caper with an unforgettable protagonist."
– Barnes & Noble Sci-Fi & Fantasy Blog
"Unique and brutal cyberpunk."
– Morpheus Tales Reviews
"Alexander delivers no-holds-barred at a barreling pace through a dark and mean future world. We get more adventures of Riko–the mercenary who will do whatever she feels like and whatever she has to, to Get Shit Done. Yes, we like Riko."
– Pop Culture Beast
"What a ride! I mean, I'm a die-hard fan of anything cyberpunk, but this one takes things to a whole new level of pacing, action, great story, great characters, and above all, a rip-roaring fun time."
– Brad K Horner
"This book was an exceptional follow up to the first one and I couldn't be more pleased with it." Five Hoots!
– Purple Owl Reviews
"Nanoshock is violent and profane and super fun and I want more."
– Lauren's Bookshelf
"These books are a seriously fun, raunchy, cyber-ride. Highly recommended for lovers of cyberpunk that need a book that grabs your face and squeezes, really hard."
– Grimmedian
"Nanoshock is irreverent, highly sexualized, and packed to the rim with over-the-top violence."
– Michael Patrick Hicks
"Come for the viscera being splayed, the angry, fuck off protagonist. Stay for a story that has you rooting for her to knock the teeth out of a guy that grabs her ass, all the while missing her family, her lover, and her home."
– Consuming Cyberpunk
"[A] groin-punch dose of action peppered with all the grit and swearing you could ever ask for."
– Pop Culture Beast
"I was completely, totally and utterly blindsided by what happened."
– Erlebnisse
"Nanoshock goes bigger… And holy shit, does it ever. You want spectacle, noise, fire and blood and no-holds-barred violent flair? Step right up. Just remember to put your helmet on first. I don't say "holy shit" for just any old action-fest, folks. Judging from what we get here, K C Alexander takes 'go big or go home' pretty damned seriously – and it's clear she's not about to let anybody tell her to go home."
– Over The Effing Rainbow
Praise for Necrotech
"Necrotech bleeds with raw & unapologetic badassery. Riko is the cyberpunk heroine I've been waiting for, struggling with the truth that the tech we embrace to solve our problems just creates new ones, and no one has a chipset to fix humanity's bugs. K.C. Alexander dials up the attitude, anguish, and adrenaline in this explosive debut, and I'm looking forward to Riko's next run."
– Kevin Hearne, NYT Bestselling author of The Iron Druid Chronicles
"Necrotech is a tight, violent thrill ride in a fascinating cyberpunk world with one of the most interesting women protagonists I've read in a long time."
– Stephen Blackmoore, author of the award-nominated noir urban fantasy Dead Things
"Sci-fi that's slick, sharp and snarky — K C Alexander doesn't 'write' so much as she fires words into your cerebral cortex with an electromagnetic railgun."
– Chuck Wendig, NYT Bestselling author of Star Wars: Aftermath and Invasive
"Necrotech is a high-octane cyberpunk thrill ride that starts at full throttle and never slows down. Riko is an amazing, diverse, ass-kicking character that will leave readers wanting more."
– Tim Moore, Strange Horizons
"Vulgar, vicious, and very very good! Alexander pulls no punches in this intense debut."
– Jason M. Hough, NYT Bestselling author of Zero World
"Scalding and brutal as a radiation shower, punishing as a street fight, and as sharp as a blade to the jugular, Necrotech and its badass heroine, Riko, will grab your heart in a diamond steel fist and squeeze it to a pulp."
– Lila Bowen, RT Review Award-winning author of Wake of Vultures
"What I like so much about Necrotech is that Riko's arm isn't perfect. Much like my prosthetic or a wheelchair, it's an end to a means. Which is what I'm ALWAYS MISSING from transhumanism."
– Elsa Sjunneson-Henry, author of "Seeking Truth" in Upside Down: Inverted Tropes in Storytelling
"Necrotech is a speed freak rush down mean streets of the digital, the modified, and the just plain crazy. It's like razors for your brain."
– Richard Kadrey, author of the Sandman Slim series
"I happily give this book 5 hoots and am already chomping at the bit to get the next one!"
– Purple Owl Reviews
"If you want a fuckingly good time, then Necrotech's your book!"
– Matt's Cyberplace
"You need this damn book."
– Silicon of the Internet
"I love Riko!"
– Vampire Book Club
"Hard hitting and fun, it reads like a sci-fi action film."
– Pop Culture Beast
"Mixing together high-tech imagination and conspiracy, this one is sure to satisfy the cyberpunk craving you didn't know you had."
– Kirkus
"So this is not my usual kind of review. And that's totally fine by me, because this is not my usual kind of book. It is so much fucking better than 'usual'. There's no lily to gild here. Necrotech is awesome. Go and buy it."
– Over The Effing Rainbow
"Riko's story will snag you harder than a grappling hook attached to a fighter jet."
– Sparring with Fiction
"Re-defining the scope and boundaries of cyberpunk science-fiction thrillers… K C's writing is like a solid right-and-left-hook combo that leaves you breathless. Pacy as hell, an engrossing mystery brewing beneath all that blood, gore and curses flying all around that kept me hooked to the end. "
– Fantasy Smorgasbord
"This is one of the fastest-paced books I've read, which packs punches both physical and emotional. You need this damn book."
– Write Code Do Science
"A colossal book that supersedes generic fiction labels."
– Sparring With Fiction
"A kick-ass cyber punk novel and amazing female lead characters."
– Glitter & Gorgons
"Necrotech is fast, violent, profane, and utterly enjoyable."
– Lauren's Bookshelf
"This book is a kick-ass thriller and Riko is a smart-mouthed, independent fighter who, despite her outward demeanor, loves human contact (sex) – male, female, it doesn't matter."
– Looking for a Good Book
"Pulse-poundingly action filled, with an approach to combat scenes which works brilliantly, putting one really into the fight the way the better class of video game does, making you feel not only the punches thrown but also the blows taken."
– Intellectus Speculativus
"Alexander does for sci-fi, what James A Moore does for fantasy: create a world so brutal you keep expecting it to crush its own characters. Fortunately, the characters in Necrotech don't crush easily. A few pages in, and you'll find yourself rooting for a street warrior whose vocabulary is as brutal as her fighting skills."
– Cowering King