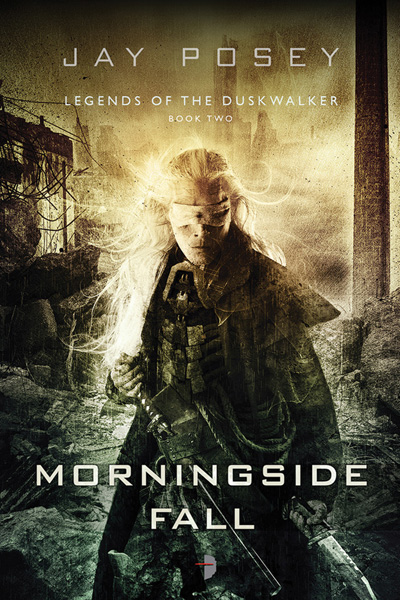 Morningside Fall
"Jay Posey creates a vivid and mesmerizing world whose characters are so real and so flawed that you'll recognize them immediately. An unforgettable read."
– Peter Telep, Co-author of the #1 New York Times Bestseller, Against All Enemies
---
The first of the Awakened has appeared, and there is hope for humanity once more. But the road has never been, and never will be easy. Wren is betrayed from within his retinue, so he must leave Morningside Fall until he can root out the traitor. The journey leads them to the biggest nest of the Weir anyone's ever seen, with implications that could change the already-dangerous world.
---
File Under: Science Fiction [ Small Chances | Three Nil | Future Tense | Ninestory Woes ]
---
The Second Book in the Legends of the Duskwalker Series
Buy the ebook version now – only
£

3.99
SKU: AR9780857663672
The lone gunman Three is gone, and Wren is the new governor of the devastated settlement of Morningside, but there is turmoil in the city. When his life is put in danger, Wren is forced to flee Morningside until he and his retinue can determine who can be trusted.
They arrive at the border outpost, Ninestory, only to find it has been infested with Weir in greater numbers than anyone has ever seen. These lost, dangerous creatures are harbouring a terrible secret – one that will have consequences not just for Wren and his comrades, but for the future of what remains of the world.
"I couldn't have wished for a better sequel."
– The Book Plank
"Posey has constructed a really unique world, one that steps to the side of the usual zombie tropes and provides an apocalypse that's at once unfathomable, but also believable. That's no mean feat."
– SF Crow's Nest
"What really drew me to this book was the mix of elements. It's post-apocalyptic. It's a western in styling. It's science fiction–sometimes rather hard science fiction. It's a bit of a fantasy, too. The blend of fantastical elements with the science fiction ones, which are in turn harnessed to the western post-apocalyptic setting is a matter of brilliance on Posey's part."
– On Writing
"Morningside Fall is a clever, unexpected take on a digitally enhanced post-apocalyptic world."
– Never To Be Told
"You never know whether book #2 will be as good as book #1. Rest easy – although Morningside Fall has to take a different tone because of story development I feel its every bit as good as Three and it makes me anxious to read book #3! Mr Posey, I'm ready for the next installment!"
– Popcorn Reads
"The author's writing style was still as top notch as ever. The characters are setting back out into the waste, and what isn't fun about seeing people struggle against whatever odds a post apocalyptic world and nasty baddies can throw at them?"
– Not Yet Read
"The overall atmosphere of Morningside Fall was one of tense, edge-of-your-seat terror. Posey knows how to convey suspense, and he put his characters in danger over and over again, which left my pulse pounding and my heart racing. This is science fiction, but like the best SF, it's also horror."
– Books, Bones & Buffy
"This is the follow-up to the book Three, which was by far one of my best reads of last year, and this one is taking its spot as my favourite read for this year."
– Krazy Kiwi
"Morningside Fall is everything a sequel should be."
– After The Last Day