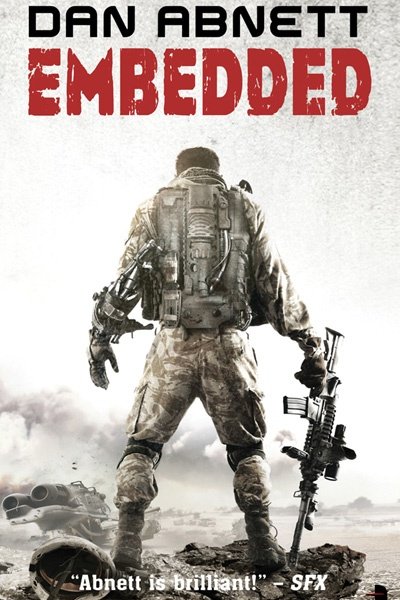 Embedded
"Embedded is a nail-biting, seat-of-the-pants ride – which also has serious things to say about war and the news media."
– Eric Brown for The Guardian
---
A journalist gets himself to the front line by being chipped into the brain of a combat soldier… but when that soldier is killed, he has to take over the body and get himself back home again…
---
File Under: Science Fiction [ Future War | Breaking News | A Dead Host | Long Way Home ]
Buy the ebook version now – only
£

3.99
SKU: AR9780857660923
The stunning military science fiction novel from the New York Times bestselling author of Prospero Burns.
The colony planet of Eighty-Six looks as dull as all its fellow new worlds to veteran journalist Lex Falk, but when a local squabble starts to turn violent, and the media start getting the runaround from the military high command, his interest is seriously piqued.
Forbidden from approaching the battlezone, he gets himself chipped inside the head of a combat veteran – and uncovers the story of a lifetime. When the soldier is killed, however, Falk must use all his resourcefulness to get back home again… and blow the lid off the whole damn thing.
| | |
| --- | --- |
| Publication date | |
| Cover Art | Larry Rostant @ Artist Partners |
| Ebook | 7th April 2011 | 9780857660923 | Epub & Mobi | RRP £5.49 / US$6.99 |
| US Print | 29th March 2011 | 9780857660916 | Massmarket Paperback | RRP US$7.99 / CAN$9.99 |
| UK Print | 6th March 2011 | 9780857661524 | Limited Edition Hardback | RRP £20.00 | 27th April 2011 |  9780857660909 |  Trade Paperback | RRP £10.99 | 6th January 2012 |  9780857661517 |  Paperback | RRP £7.99 |
| Goodreads URL | Discuss and Review Embedded |
"Rips across the page like a blast wave from a barrage of low orbit launched kinetic impactors. Abnett makes hard bitten, high concept mil-fic fun again."
– John Birmingham
"The prose is tight and incredibly well written, it plays very much like an intelligent war movie, and one that would have been likely to have won many awards. There is a real maturity to the narrative, you can really imagine yourself as part of a unit of highly trained soldiers on the front line a billion miles away from home. The characterisation is spot on, with enough information to draw yourself to the protagonists while not giving away too much to slow the story. I really loved the idea of putting an untrained journalist right inside the body of a ground pounder and then throwing every conceivable situation at him, it works very well indeed and the atmosphere is incredible. A mention must also be made of the ending, a very unexpected twist right at the end leaves you almost breathless and it's fantastically underplayed. At its heart Embedded is a gritty military science fiction story, it's also one of the best books you will read this year. 5*****
– SFBook.com
"Embedded is gripping and near-impossible to put down, and you will find yourself compelled to keep reading, well into the night, until you reach the satisfying conclusion."
– Civilian Reader
"I don't know anyone who does military sci-fi better … When the 'military' part of this military sci-fi kicks in, Dan Abnett really brings his 'A-Game' to the table and you are immediately caught up in a rush of fire fights, espionage and explosions … Abnett delivers the kind of pulsating military sci-fi that we all know he can. Fans of Abnett will lap this one up and fans of military sci-fi in general should check it out anyway. Eight and a Quarter out of Ten"
– Graeme's Fantasy Book Review
"A smart and exciting military science fiction novel."
– SF Signal
"Whether your interest lies in planet-bound military science fiction, a good war story, or a different twist on war journalism this is a book you should pick up. It's fast, relentless, and has an ending that I at least did not see coming."
– Weirdmage
"Using fast paced action, Abnett grabs us in by a hook and doesn't let us go until the last page, when we're left only wanting more."
– The Founding Fields
"Dan Abnett does damn good military sci-fi – that much we know already, right? This is the guy who almost single-handedly forged the Warhammer 40,000 fiction line as it stands today; in fact he's probably the best military sci-fi writer since David Drake. And Embedded is another success."
– Emotionally Fourteen
"Embedded is a tough, near-future, military-sf novel of the highest quality. With a serious story about people caught up in a warzone, Abnett has skillfully created the ultimate eyewitness account of a military struggle that features persuasive allusions to the current situation in Afghanistan and past conflicts in Iraq. In the process he succeeded in creating a very authentic universe with his own blend of unique but not unbelievable military technology, corporate sponsorships and analogous architecture, synthesized food items that taste like the original and even filtered language that is the cause of much amusement throughout the storytelling. It is solid world building with wonderful attention to detail."
– Worlds Without End
"Embedded is a quick, fun, dirty and gritty military sci-fi romp. Kudos to Abnett for crafting a world as intriguing as any found in the WH:40K setting."
– Hyper-Critical.net
"Dan Abnett is always an author who will turn up with an unexpected title. What he does extremely well is look into possibilities and then modifies them in such a way that they become not only believable but also engrossing."
– Falcata Times
"Embedded is Abnett's second independent novel for Angry Robot Books and one of the most original and compelling SF stories I've read in quite some time. In fact, I'm drawn to a grossly overused cliché to describe my experience because it happens to be, well, true:  I couldn't put the damn thing down!"
– Boom Tron
"Embedded has character, personality, action, combat, mysteries and a love interest. It fulfills my high expectations and makes me hungry for more."
– Cybermage
"…it's a great story, a dangerously more-ish mix of corporate engineering and boneshaking action. It feels fresh, it's accessible to everyone and permeated with the vivid and immersive action that's become Dan's trademark. I devoured it in a couple of days and my only complaint was that there wasn't more of it! Lovely stuff."
– My Favourite Books
"The writing reminds me of what would happen if Tom Clancy and Raymond Chandler had a love child, which is to say it's tight, fast-paced, and chalk-full of brilliant prose, crisp dialog, and the most original use of metaphor I've seen in a long time. This is the book I wish I could write."