Sale!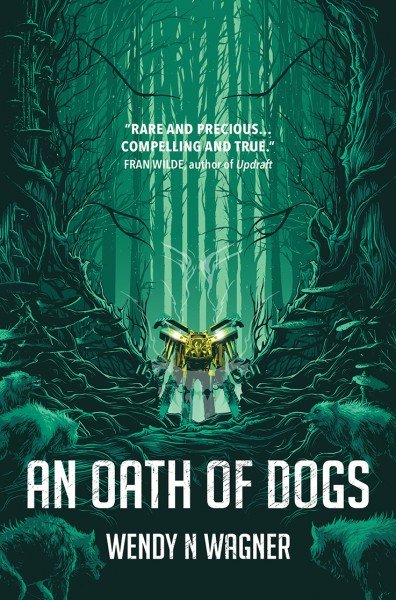 An Oath of Dogs
"All of Wendy Wagner's stories feature a rare and precious element: tremendous heart. An Oath of Dogs is an excellent example of this – with an expansive SFF universe, exploration of philosophy, theology, and issues right at the heart of what it means to colonize a strange world. Wagner's characters are compelling and true. An Oath of Dogs combines echoes of Vernor Vinge and Sherri S Tepper with Wagner's own unique vision for the planet of Huginn and those who are trying to survive the planet, and each other."
– Fran Wilde, Andre Norton & Compton Crook-award winning, Nebula Nominated author of Updraft and Cloudbound
---
When Kate Standish uncovers a corporate conspiracy to commit murder is linked to the deaths of a dozen colonists, she risks her job and her life to uncover the truth.
---
File Under: Science Fiction [ Colony World | Into the Woods | Leader of the Pack | Woman's Best Friend ]
Buy the ebook version now – only
£

5.49
In stock
SKU: AR9780857666680
Kate Standish has been on the forest-world of Huginn less than a week and she's already pretty sure her new company murdered her boss. But the little town of mill workers and farmers is more worried about eco-terrorism and a series of attacks by the bizarre, sentient dogs of this planet, than a death most people would like to believe is an accident. That is, until Kate's investigation uncovers a conspiracy which threatens them all.
| | |
| --- | --- |
| Title | An Oath of Dogs |
| Author | |
| Publication date | 04 Jul 2017 |
| Cover Art | Joey Hi-Fi |
| Ebook | 4th July 2017 | 9780857666680 | Epub & Mobi | RRP £5.49 / US$6.99 / CAN $7.99 |
| US Print | 4th July 2017 | 9780857666673 | Massmarket Paperback | RRP US$7.99 / CAN$10.99 |
| UK Print | 6th July 2017 | 9780857666666 | Paperback | RRP £8.99 |
| Goodreads URL | Discuss and review An Oath of Dogs |
"A compelling tale of corporate intrigue and biology, set on a thoroughly imagined world. Perfect for any fan of eco-science fiction and world building. A really great read."
– Pat Murphy, author of The City, Not Long After and The Falling Woman
"Wagner's exquisite world-building takes Manifest Destiny to the stars. There's a dark Romanticism here, and it asks big questions about humanity and the cosmos. An Oath of Dogs is smart, dangerous, and impossible to put down."
– Darin Bradley, author of Totem, Chimpanzee, and Noise
"An Oath of Dogs nails the rough-hewn feel of a frontier town, then mixes it up with intergalactic corporate intrigue and alien biology. It's like Lake Wobegon mashed up with a Michael Crichton thriller, as unlikely a melding of cultures as the world of Huginn itself, creating a story that mashes massive questions of religion and ethics together with the joy of science and discovery."
– Ferrett Steinmetz, author of the 'Mancer series
"An Oath of Dogs is a welcome exoplanetary colony sci-fi trip riddled with mystery and conspiracy. Wagner paints an immersive world packed with history and an ecosystem that is simultaneously wondrous and terrifying, and fills it with real, deep characters and a haunting yet engaging atmosphere. I didn't want to leave!"
– Jason LaPier, author of the Dome Trilogy
"A swell science fiction mystery, on a strange new world, along with a wonderful heroine to solve it – a heroine who has a therapy dog. This is another way Wagner's work sings. Her work has heart, and maybe that's what we need most right now."
– E Catherine Tobler, author of The Kraken Sea
"Fast-paced and exciting, An Oath of Dogs is an inventive sci-fi novel about nature, science, corporations, and the drive for survival in us all."
– Bustle
"I really enjoyed this science fiction mystery! I am a sucker for stories set on alien planets, especially when the flora and fauna are part of the story. Add in a questionably ethical mega-corporation, a religious sect that helped colonize the planet, mysterious and scary feral dogs and MURDER – and you've got yourself a good story."
– Leveled Up Reading
"An Oath of Dogs is a good, solid sci-fi thriller, set in an interesting world and peopled with sympathetic characters."
– Strange Bookfellows
"An Oath of Dogs is a riveting story, the kind one might tell around a campfire, if it were a short story instead of a novel. The blue butterflies, the caterpillars, the comparison to Earth's ants, and the theme of what humans do in extreme situations: it may seem a lot of disparate elements are piled into one story, but Wendy Wagner knows exactly what she's doing with each piece."
– Perihelion Science Fiction Magazine
"An entertaining book."
– Purple Owl Reviews
"I liked a lot of things about this book. The focus on therapy animals, the neo-Mennonite community and their impact in Canaan Lake, the talk about the biology of the planet and the hints at the way it changed the people. In fact I think the book might be entirely worth a read just for the therapy dog and the unique neo-Mennonite community. Those are things I don't think that I've ever read about in a SF book. They bright a splash of depth and color."
– All Booked Up
"An enjoyable eco-sci-fi read I'd recommend to any one who enjoys sci-fi, biology and thrillers."
– The Dreamland Bookshelf
"This novel, it's exactly the kind of Sci-Fi that I adore with strange alien biology, stories of settlers trying to make a living and it has an adorable dog in it."
– Brenhines Books
"An Oath of Dogs is an entertaining and enjoyable read."
– Locus
"Wagner's mystery-in-space is a fast-moving pager-turner, but Hattie's star turn brings something new to sci-fi."
– Barnes & Noble Sci-Fi & Fantasy Blog
"Wagner's prose cuts deepest when dealing with horror, and one can't help but paw the dirt, hoping her next novel smells even more strongly of disaster."
– Willamette Week
"At its heart, it's a murder mystery with canine monsters. It's an interesting, entertaining novel worth reading."
– Bastian's Book Reviews
"Loved it, a really fascinating world with a lot of science in it."
– Warp Drive (podcast)
"Wagner has written a book that is not only a good read but also one which will make you think."
– Wolf's Books
"A perfectly paced, beautifully spooky mystery, with all the trappings of the best whodunits and the best planetary science fiction… Wendy N Wagner is one of the authors bringing the genre to the next level, and I can't wait to read more from her."
– First Sight Second Thoughts