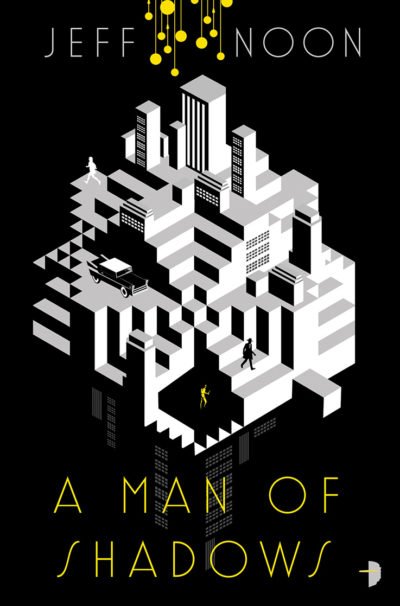 A Man of Shadows
"This superb novel of light, glass and blood proves again that Jeff Noon is one of our few true visionaries."
– Warren Ellis
---
In a city divided into zones of perpetual Day, Night and Dusk, a lowly private eye attempts to save a teenage girl from the evil forces that seek to destroy her.
---
File Under: Science Fiction [ A Man Out of Time | Not Alone | Like Quicksilver | Into the Dusk ]
Buy the ebook version now – only
£

2.99
SKU: AR9780857666710
Below the neon skies of Dayzone – where the lights never go out, and night has been banished – lowly private eye John Nyquist takes on a teenage runaway case. His quest takes him from Dayzone into the permanent dark of Nocturna.
As the vicious, seemingly invisible serial killer known only as Quicksilver haunts the streets, Nyquist starts to suspect that the runaway girl holds within her the key to the city's fate. In the end, there's only one place left to search: the shadow-choked zone known as Dusk.
| | |
| --- | --- |
| Release Date | 2017-08-01 |
| Series | Nyquist Mysteries |
| Cover Art | Will Staehle |
| Ebook | 1st August 2017 | 9780857666710 | Epub & Mobi | RRP £6.99 / US$6.99 / CAN $7.99 |
| US Print | 1st August 2017 | 9780857666703 | Trade Paperback | RRP US$14.99 CAN$16.99 |
| UK Print | 3rd August 2017 | 9780857666697 | Paperback | RRP £8.99 |
| Goodreads URL | Discuss and review A Man of Shadows |
"This superb novel of light, glass and blood proves again that Jeff Noon is one of our few true visionaries."
– Warren Ellis
"A disturbing and bizarre journey by one of the great masters of weird fiction."
– Adrian Tchaikovsky, Arthur C Clarke Award-winning author of Children of Time
"Every Jeff Noon novel is a wonderful, precious thing. These are bad times, and we need him more than ever."
– Dave Hutchinson, British Science Fiction Association Award-winning author of the Europe series
"Style has always been Noon's strongest suit, and in creating the varied cityscapes of A Man of Shadows, his talent for hallucinatory imagery has found a perfect match. This book is absolutely drenched in arresting visuals."
– Sam Reader for Barnes & Noble Sci-Fi & Fantasy Blog
"Manchester's delirious prophet returns with scripture written in shadow and light."
– Kieron Gillen, co-creator of The Wicked + The Divine
"Noon has written a kaleidoscopic noir novel of dizzying dream logic."
– Publishers Weekly
"[Noon's] prose takes you to weird and scary places other novelists don't go – a reminder why he's so revered."
– SFX magazine
"It's a stylish and distinctive vision of a world that remains morally grey and foggy, even when under Dayzone's bright artificial lights. Weirdly compelling."
– The Spectator
"This is a beguiling introduction to a strange new world, and a trip worth taking."
– Sci-Fi Now magazine
"While Vurt was undeniably the in-your-face work of a brash wunderkind, A Man of Shadows is arguably even better: the product of a more mature, surer writer with less desire to awe the reader for the sheer sake of showing off his chops, and more intent on producing emotional resonances, more vivid storylines, and imparting whatever hard-earned wisdom the writer has garnered."
– Paul di Filippo, for Locus
"Clocks and watches form a recurrent motif in this artful, eerie novel that infuses the mystery genre with symbolism and soul."
– James Lovegrove, for Financial Times
"Jeff Noon is a genius. A twisted and very warped genius."
– Morpheus Tales Reviews
"This novel—and the double city contained within it—is an immersive and addictive experience; one that, despite the tension of the narrative, the reader will miss once it's all over."
– British Fantasy Society
"A Man of Shadows is not really a genre detective novel. Nor is it a genre science fiction novel. Nor a fantasy novel. Nor a surrealist novel. Nor a cyberpunk novel. Nor a steampunk novel. It is all of them and none of them… A Man of Shadows is primarily a Jeff Noon novel. Meaning that it is written in the Jeff Noon style, full of strange new beings, human or not exactly, that no man has seen before and won't meet anywhere else and cavalierly indifferent to mixing levels of reality, while at the same time being down and dirty mimetic in the world-building of all of them and stringing them together with plot, schtick, technology, psychedelic drugs, and characters that crisscross them."
– Asimov's
"Wonderful and uniquely absorbing."
– Starburst
"A vibrant, bizarre trip through the dark corners of the brain, ever so slightly out of the light."
– Barnes & Noble Sci-Fi & Fantasy Blog
"An unpredictable read from start to finish." 4/5 stars
– Manhattan Book Review
"A fever dream of a tale about light, darkness, family, loss and time."
– Scott Whitmore, Writer
"Unique and enthralling."
– Birmingham Science Fiction Group
"I highly recommend this book as it's very well done, with an interesting story, good characters, and original ideas."
– Helen's Bookshelf
"Gripping."
– Chicago Review of Books
"Surreal, dazzling, unusual and extraordinary – A Man Of Shadows will haunt you for a long time after turning that last page."
– Liz Loves Books
"I loved the book so much its going in my must read again pile. 5/5*"
– The Dreamland Bookshelf
"I thoroughly enjoyed this novel and would have recommended it just for the amazing world-building alone, however having fantastic characters and an excellent plot means that this is definitely a novel worth reading."
– BrenhinesBooks
"Weird and creepy and very engaging."
– Shadows of the Apt
"There's a lot of imagination infused in the dime-store detective facade that brings complexities conceived through clever concepts and well thought-out plot devices which make A Man of Shadows a joy to read."
– Just A Guy That Likes To Read
"A Man of Shadows is a quite extraordinary novel. Its world building is absolutely fantastic – intricate, complex, moody and disturbingly real. Dayzone and Nocturna are brilliantly visualised and would have been sufficiently impressive on their own but the skill of Jeff Noon astounds even further with his treatment of time."
– For Winter Nights
"I really enjoyed this one, as well as a clever story with a great protagonist, it's also an example of just how much Noon loves language. The descriptions, especially of the strange stuff are just a pleasure to read. If you're a fan of China Miéville, Brian Caitling or Jeff VanderMeer this is one for you."
– Stefen's Books
"Wonderful and uniquely absorbing."
– Starburst
"Noon takes the concept of time and plays with it from every possible angle."
– Strange Alliances
"A truly original, extremely mind bending, speculative fiction/noir detective/weird book. Not for the faint of heart, A Man of Shadows will have you looking at the differences in time between different clocks in your home with growing suspicion."
– Book Skill
"Jeff Noon's A Man of Shadows is undeniably a work of art, and an engaging one. "
– The 1000 Year Plan
"An unforgettable journey."
– Postcards From the Edge
"I thoroughly enjoyed A Man of Shadows but it is hard to recommend it without giving away that experience of discovery."
– The Forgotten Geek
"Noon has created a complex, immersive and atmospheric world that's well worth plunging into."
– Scifi Now
2017 in Review: "Delighted me with the way they played with literary form."
– Strange Horizons
"A Man of Shadows is a really enjoyable read which asks some very compelling questions about the essence of time, and what love and loss really mean."
– Ninja Book Box
"This novel – and the double city contained within it – is an immersive and addictive experience; one that, despite the tension of the narrative, the reader will miss once it's all over. "
– British Fantasy Society
"A brilliant novel of mysteries and thrills."
– Sammy's Shelf
"A unique and enthralling novel. 5 Stars"
– Tim Kadlec
"A Man of Shadows is not an easy book to read. There is not a single character I can point to and call sane. It is very easy to feel uncomfortable while reading the novel, and Jeff Noon's prose does everything it can to reinforce that feeling. "
– City on the Moon
"It's very cinematic. The overall overdose of clichés causes the story to get a highly stylized feature that actually works. The surrealist Dayzone / Nocturna becomes like a long dream."
– Blind Höna
"A complex story, fantastic and ghostly."
– Julie Short
Praise for Jeff Noon
Winner of the Arthur C Clarke Award 1994 for Vurt, listed in Lesher's Best Novels of The Nineties [Vurt]
Winner of the 1995 John W. Campbell Award for Best New Writer
"Noon is the Lewis Carroll of Manchester's housing estates: eccentric, surreal, and ready to take everything to its most absurd conclusion. In Noon's stories the cocktail of alienation, narcotics and gadgetry fizzes with energy."
– The Times
"To say that Jeff Noon is a talented author is like saying that Neil Armstrong has travelled a bit."
– Starburst magazine
"Noon is a fiercely urban writer. [He] reflects the energy of the rave generation: the hammer and  twist of the music, the language of the computer games addict and the buzz of technology."
– New Statesman
"In his work, Noon ambitiously, constantly and effectively stretches the limits of language by creating completely innovative and new ways of telling stories, not just in terms of ideas but in the words themselves'
– City Life
"Noon's blend of quirky ideas, striking prose and imaginative characterisations establishes him as one of the most original voices in imaginative fiction."
– Booklist
"A punk Aldous Huxley stringing together images and oddities to assemble an apocalyptic dreamworld."
– Arena
"Energetic and unconventional… A counter-culture adventurer."
– TLS
"Manchester's answer to William Gibson"
– Select Magazine
"Let's call him the first of the psychedelic fantasists."
– Time Out
"A writer who has managed to develop a very individual voice, mixing often lyrical dream-like language with the harshness of his image of a future society."
– The Times
"Jeff Noon's books are so good they should come with a government warning."
– Jockeyslut
"A virtual wonderland."
– Vanity Fair
"Humorous, horrific and wildly original… an imaginative masterpiece."
– Library Journal
"Observes most of the conventions of cyberpunk fiction [yet] its imagery is insistently organic, and owes more to the underground pharmacology of the rave scene than to the world of hard wired chips and user interface."
– New Yorker
"Intriguingly textured, reliably witty and inventive, Noon's whirling purposeful fantasy packs a full whallop." 
– Kirkus Reviews
"Fantasmogic and Pulpish."
– Salon
"Weird as it is wonderful."
– London Times
"No review can do Noon's writing justice: it's a phantasmagoric combination of the more imaginative science fiction masters, such as Phillip K. Dick, genres such as cyberpunk and pulp fiction, and drug culture."
– Amazon
"Cyberpunk at the cutting edge."
– Maxim
"An imaginative and linguistic tour de force… an exquisitely grimy fable."
– The Independent
"The bizarrely logical world Noon creates with its touches of Orwellian satire and William Gibsonesque cybervision is truly original." 
– Q Magazine
"Dark, edgy and decaying."
– GQ
"Elegant, inventive, and funny."
– SFX
"A wild hallucinatory ride through a nightmare/ dream vision of the twentieth century."
– Locus
"Needle in the Groove is where the mainstream of literature ought to be in the 21st century… seething, sexualised, chemically enhanced."
– The Wire
"Falling Out of Cars is part of Noon's continuing revolt out of genre and into creative resistance against all traditional forms of fiction."
– The Guardian
"There are echoes of Burroughs/Gysin's cut-up method, surrealist automatic writing, and most prominently the Oulipo's literature of constraint. An experimental work you can dance to."
– Review of Contemporary Fiction
"A sci-fi-crime noir-dystopian-fantasy unlike anything I've read. "
– Algul Siento