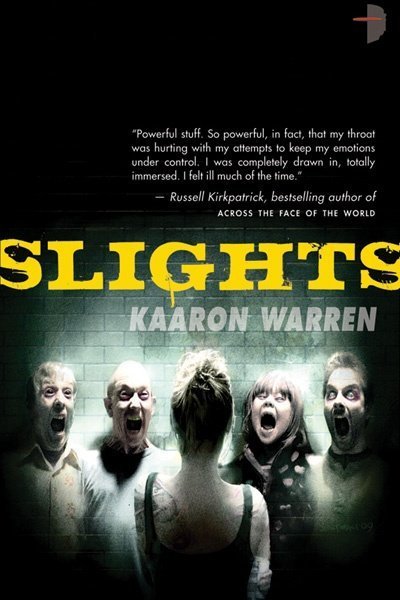 Slights
Winner of the Ditmar Award for Best Novel, 2010
Winner of the Shadows Award for Best Fiction, 2009
"I've never seen anyone capture sordid human nature so clearly. I was completely drawn in, totally immersed. I felt ill much of the time."
– Russell Kirkpatrick, author of Across the Face of the World
---
Stevie is a killer. But she brings her victims back to life again, to demand, "What do you see when you die?" Now she's about to find out for herself.
---
File Under: Horror [ Real-life Terror | Damaged Lives | Family Secrets | Beyond Death ]
Buy the ebook version now – only
£

3.99
SKU: AR9780857660084
Stevie is a killer.
After an accident in which her mother dies, she has a near-death experience, and finds herself in a room full of people – everyone she's ever pissed off. They clutch at her, scratch and tear at her. But she finds herself drawn back to this place, again and again, determined to unlock its secrets. Which means she has to die, again and again.
And she starts to wonder whether other people see the same room… when they die.
Slights is a deeply intense, disturbing read. Death is not the end, but this is not comforting, heartwarming or safe. The misery memoir craze of the last few years has overshadowed horror fiction's impact with (allegedly) real-life experiences. Now it's time for horror and fantasy fiction to fight back.
| | |
| --- | --- |
| Publication date | |
| Cover Art | Stefan kopinski |
| Ebook | 1st July 2009 |  9780857660084 |  Epub & Mobi | RRP £6.99 |
| US Print | 2nd September 2010 |  9780857660077 |  Massmarket Paperback | RRP US$7.99 / CAN$8.99 |
| UK Print | 1st July 2009 |  use US ISBN |  Paperback | RRP £7.99 |
| Goodreads URL | Discuss and Review Slights |
"The best horror of 2009"
– Genreville
"Minutely detailed events and conversations are progressively undercut with singsong variations of "This is what should have happened…. This is what did happen." In the sickening blur of Stevie's narrative, what "really" happens is both uncertain and obvious; the details she commands so confidently are infinitely mutable, but the gruesome consequences slowly become apparent. With outstanding control, Warren manipulates Stevie's voice to create a portrait of horror that in no way reads like a first novel."
– Publisher's Weekly (starred review and Pick of the Week)
"Slights was everything that I hoped it would be—and more. It's a creepy kind of horror novel, the kind of sublime read that gets under your skin and leads you to distraction… Looking for a truly creepy Halloween read? Want something wildly unique and highly unusual? Seek out and read this award-winning debut novel"
– Unabashedly Bookish – the Barnes & Noble Community Blog
"Slights is a rusted blade of a book, cutting away at the reader's comfortable expectations until only bitter bones are left; a delightful middle class suburban fright."
– Jay Lake
"Disturbing … very disturbing… The entire book is like seeing something so horrific that you want to avert your eyes while at the same time being totally mesmerized by the spectacle… Damn good story, I give it a 5 out of 5 stars."
– Gnostalgia
"Slights is a forceful, harrowing read, and is not only the best horror novel but one of the best books I have read in 2009. Be warned, this is a dark read and certainly isn't for everyone…but I loved it. Absolutely recommended, for those with a strong constitution.
Rating: 9 – Damn Near Perfection"
– The Book Smuggler
"What first feels like a coming-of-age story ends up being a novel about mass murder, and also, somehow, a novel about a daughter finally letting go of her father after his death. Warren possesses a knack for expressing her narrator's voice, allowing even the most outlandish thoughts and ideas to be presented earnestly and believably. Slights displays a true knack for style and a highly imaginative vision which I look forward to seeing explored more fully in subsequent work from Kaaron Warren. The horror genre is lucky to have [a new writer] of such quality and ambition."
– Strange Horizons
"Slights is dark. Really, really dark. Throughout the book we are treated to suicide attempts, murder, visions of the worst sort of room 101 style hell, and at all times an unrelenting trawl through all that is bad about the human psyche. At the same time, Warren has crafted a believable world populated by real, three-dimensional characters. The novel is well paced as a whole, and the way the reader is drip-fed information, well interspersed around acts of unthinkable brutality, works particularly well. Slights [is] a book you have to finish whether you want to or not, as well as being hugely and genuinely disturbing. You have been warned…"
– SciFi Now
"Slights is the misery memoir to end all misery memoirs. A novel about murder, incest, child abuse, drugs, deprivation, self-cutting, police corruoption, digging up human bones in the garden and not tidying up around the house. It's also about ghosts, and becoming addicted to near-death experiences. It is, on occasion, gut-wrenchingly funny; and sometimes simply gut-wrenching in its desire to see what boundaries can be pushed until they're broken." ****
– Jon Courtenay Grimwood, SFX
"Dark and sinister with a huge sense of raw dread running throughout its page count, Slights is an astonishing, gripping and terrifying book that will have spines tingling and teeth clenched in fear up and down the country. "
– Zone Horror
"You will feel physically contaminated, you will feel ill, you will never get Stevie out of your mind. Pure, unadulterated horror. Not speculative fiction, not fantasy – pure, sick horror. "
– Aurealis Xpress
"It's a masterpiece of voice, a bleak and haunting novel that gets its hooks into you and yanks, all the while scratching its broken nails down the blackboard of your psyche. Kaaron Warren has set the standard by which all future Australian horror novels will have to be judged."
– Trent Jamieson
"Slights is this weird animal (in a good way) that's atmospheric and different from a lot of novels that's out there, and not just due to the subject matter, but because of the author's talent and skill."
– Bibliophile Stalker
"Slights by Kaaron Warren is the latest in a series of novels which are slowly but surely rebuilding the horror genre as a rich, inventive field. Slights is about as horrific as its possible to get, a novel that trawls the depths of human depravity to explore what happens at the edge of human understanding. Warren has a keen ear for prose and dialogue and a very strong sense of the normal, making the horrific events of the book all the more unsettling. Slights holds your head under water until you almost black out, lets you up, then does it again. This is kitchen sink horror, pragmatic and savage, brutal and human all at once."
– Alasdair Stuart
"I just couldn't put it down. I had to keep reading to see what bizarre thing would happen next (and many bizarre things did happen). Warren has crafted something special here."
– Horrorscope
"This is by far one of the most difficult books to review, because I enjoyed it so much, and there were so many layers to the story. Not only a character piece, it's also a family history, with a mystery to bring the two together. Slights is classified as a horror novel, but don't go in expecting blood, guts, and monsters. The horror of this book is the human kind, that silently creeping sickness of the psyche that can be hiding inside of any of us."
– The Book Zombie
"Perhaps one of the most disturbing psychological horror stories imbued with withering decadence and written as a memoir. This story haunted me and froze my blood in a manner I have yet to encounter… From conception to execution Kaaron Warren redefined fear for me and stole my breath… A most grotesque mosaic of human debauchery and demoralization, whose beauty lies within the intricacy of its design. It builds painfully slow, but when Slights reaches its most potent state you will fear contact with strangers. I have more to say, much, much, but I want you to find all the surprises. Must-read. Rating: 5 out of 5, ecstatic wows."
– Temple Library Reviews
"This is a creepy book. Frightening. Disturbing. It is indescribably horrific, something you can't tear your eyes from no matter how much your brain tells you too. It is what every horror movie should be. The fashion in which it's written is minimilistic; no excessive word play or over-description (I'm lookin' at you, Stephan King). Flawless in it's simplicity, Slights fills the reader with a sense of dread that builds up and swallows you whole before you even realize it's there. I'm not even sure how to write this review, because it left me absolutely speechless… Kaaron Warren is able to turn a terrible unlikeable character and make her break your heart without even trying."
– Opinionated? Me?
"Slights is by turns poetic, by turns mundane, and the suburban setting counterpoints the horror. The room where people go when they die is full of those people that they slighted when they were alive. It's a room that Stevie finally admits will be very, very full in her case. It's a memorable image, and makes Slights one of the best of a bunch of very, very dark (sub)urban fantasies in the tradition of Iain Banks' The Wasp Factory and John Ajvide Lindquist's Let the Right One In. Slights is sure to be an award nominee at the very least, and maybe more. It deserves to be, because it's one of the books of the year."
– Colin Harvey, Suite 101
"…what first feels like a coming-of-age story ends up being a novel about mass murder, and also, somehow, a novel about a daughter finally letting go of her father after his death… Slights displays a true knack for style and a highly imaginative vision which I look forward to seeing explored more fully in subsequent work from Kaaron Warren… The horror genre is lucky to have [a new writer] of such quality and ambition."
– Strange Horizons
"Slights is a wonderful debut novel from Warren, stylistic and uncompromising and unique."
– AS If
"Perhaps one of the most disturbing psychological horror stories imbued with withering decadence and written as a memoir. This story haunted me and froze my blood in a manner I have yet to encounter."
– Temple Library Reviews
"Sometimes I finish reading a book and I swear it's like I'm shell shocked. I'm dazed, I don't want to talk to anyone, I don't really want to listen to anyone. I feel like I'm stuck in some sort of limbo that only happens after certain stories. The thing is, it's not always the story that leaves me shell shocked, but that the story is over…"
– Bookish Ardour
"Slights, is one of those books that reaches into your core and takes something from you, whilst ultimately leaving something you really aren't sure you wanted to be left with."
– Dark Fiction Review
"Angry Robot have once again found another gem of a book."
– Tony's Thoughts