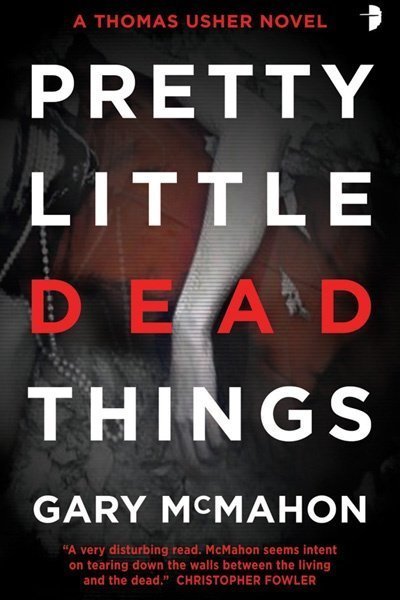 Pretty Little Dead Things
"Gary McMahon's vision is as bleak as a Yorkshire moor, but it glows with a wintry light that illuminates the dark we live in. His prose and his sense of place are precise and evocative, and his characters are as real as you and me. He's one of the darkest – which is to say brightest – new stars in the firmament of horror fiction."
– Ramsey Campbell
---
Thomas Usher can see the recently departed, and it's not usually a pretty sight. When he is called to investigate the violent death of the daughter of a prominent local gangster, Usher's world is torn apart once more.
---
File Under: Horror [ See The Dead | Skin Trade | Beyond Reality | A Sacrifice ]
Buy the ebook version now – only
£

2.99
SKU: AR9780857660718
THOMAS USHER HAS A TERRIBLE GIFT.
Following a car crash in which his wife and daughter are killed, he can see the recently departed, and it's not usually a pretty sight. When he is called to investigate the violent death of the daughter of a prominent local gangster, Usher's world is torn apart once more. For the barriers between this world and the next are not as immutable as once he believed.
Who Is Thomas Usher?
His name is Thomas Usher. A normal man. An average guy. Until he is involved in a tragic accident and his wife and daughter are killed.
After that, things begin to change. Usher is no longer normal. Or average. Now he can see the dead, and the dead can see him. They seek him out to help them, to usher them to the next level so they might face whatever comes next. The lost. The lonely. The departed. They never speak to him; they only ever demand his attention.
The ghosts are drawn to Usher, and he is compelled to help them in the hope that he might once again see his family. But sometimes, just sometimes, it isn't enough and his efforts make things worse.
His name is Thomas Usher.
He is an usher for the dead.
It's who he is.
It's what he does.
"Pretty Little Dead Things is a very disturbing read. Gary McMahon seems intent on taking readers through the looking glass and tearing down the walls between the living and the dead. He creates dark, hallucinatory images that burn in your brain forever. One very creepy dude, and this is his creepiest to date."
– Christopher Fowler
"Thomas Usher is a great character treading a twilight world between Manhunter and Most Haunted; conflicted by grief, haunted by blame, a 'magnet for ghosts' who sees the skull beneath the skin. In Pretty Little Dead Things, Gary McMahon nails genuine horror as few British writers can – or dare. He gets under your skin, then burrows even deeper. Terrifyingly, dangerously, hauntingly so."
– Stephen Volk, creator of TV's Afterlife
"Gary McMahon's horror is heartfelt, his characters flawed and desperate, and this book is a rich feast of loss, guilt, and redemption. His vivid ideas are given life in beautiful prose, and the book leaves you staring into shadows that weren't there before. His talent shines, and is set to burn brighter still."
– Tim Lebbon
"This is a compelling novel, the puzzle structure of the whodunnit remixed to great effect with the dread of the best horror. Not so much hard-boiled as hard-nuked, this novel puts McMahon firmly in the front ranks of the new wave of British horror."
– The Guardian
"It's by far the best horror novel release of 2010 and what's even better is that it's only the first novel in the series."
– Dark Fiction Review
"A scene where Usher is menaced by hooded figures is vividly executed… there's some genuinely revolting material."
– SFX Magazine
"A novel and central character that stick in the mind long after reading.  8/10"
– SciFi Bulletin 
"Part private detective story, part very creepy Northern ghost story, Gary McMahon's first novel featuring Thomas Usher is a powerful, gripping tale…
VERDICT: 8/10 – A story that sticks in the mind long after reading."
– Total SciFi Online
"A strong debut for Usher, and a striking read from McMahon. I have no doubt his is a voice that will be unsettling our perception of reality with dark musings for a good while to come."
– Kamvision
"The mood in Gary McMahon's Pretty Little Dead Things is heavy with grief, foreboding, and the taint of weird magic, and it's so thick you can stir it with a spoon. It's the taste of ash in your mouth, and it's absolutely delicious…
It's the graveyard atmosphere and the strong, credible emotions of the main character that will leave Thomas Usher indelibly inked on your consciousness.
5 *****"
– Warpcore SF
"His writing remains powerful, bleak, shocking..oh and brilliant.
Rating 4/5"
– The Black Abyss
"One of the BEST of 2010… The entire tone of this novel managed to get under my skin; it's constantly dark with nearly every scene filled with dread and impending doom. McMahon's atmopshere is fantastic, thanks to his partially-poetic (and well-timed) prose… Pretty Little Dead Things is one of those novels that you don't want to end."
– Antibacterial Pope (and Horror Fiction Review)
"All this fits neatly into a normal horror detective tale. The sort with a touch of Sam Spade. It's an increasingly popular sub-genre… The focus is slightly different to most, however. This slight difference, this reality of corpses and vacancy of death makes this novel just a bit different to its peers. It makes sense of the changes and why the theme springboards into what it finally becomes. Which is good… It makes McMahon's novel more real… [it has] tight plotting and good characterisation and nice movement from the personal grief to the wider danger"
– Gillian Polack
"You will be seeing a lot more of Gary McMahon over the next few years… It takes a standard crime plot and applies a fine horror mentality to raise it above the norm.
The scenes in the otherworld are horrifically bleak and will stay with you for a long time… genre fans should rejoice that Gary McMahon has not sold out or dumbed down. His writing remains powerful, bleak, shocking… oh and brilliant.
Rating 4/5″
– The Black Abyss
"Pretty Little Dead Things should be McMahon's break out novel, this should be a best seller, every horror fan must read this book. They will find out what they've been missing all these years. Pretty Little Dead Things is hardcore. Unrelentingly dark and terribly atmospheric, you have not read a horror novel until you have read a McMahon horror novel."
– Stanleyriiks' Blog
"Pretty Little Dead Things is a strong contemporary horror novel in the chilling paranormal and supernatural vein."
– Spooky Reads