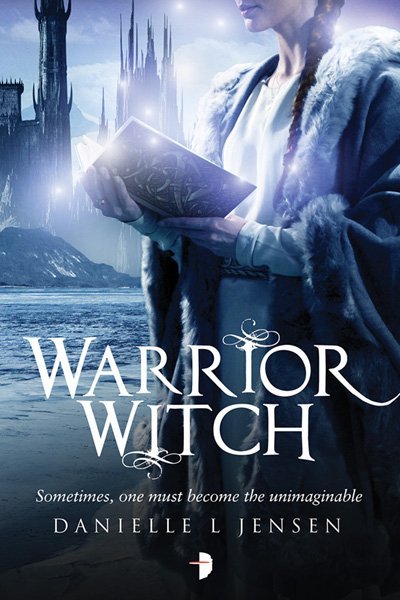 Warrior Witch
"Warrior Witch IS the ending that this amazing series deserves. The ending that completely destroys you and then fixes you. The ending that your heart will never forget."
– The Reader and The Chef
---
After killing the witch Anushka, Cecile and Tristan must negotiate a tenuous political situation and find a way to forge a life once their struggles come to an end.
---
File Under: Fantasy / Young Adult
---
The third book in the Malediction Trilogy
Buy the ebook version now – only
£

3.99
SKU: AR9780857664709
Sometimes, one must become the unimaginable… Cécile and Tristan have accomplished the impossible, but their greatest challenge remains: defeating the evil that they have unleashed upon the world. As they scramble for a way to protect the people of the Isle and liberate the trolls from their tyrant king, Cécile and Tristan must battle those who'd see them dead. To win, they will risk everything and everyone.
But it might not be enough. Both Cécile and Tristan have debts, and they will be forced to pay them at a cost far greater than they had ever imagined. Everything is at stake, in the heart-stopping conclusion to the acclaimed Malediction Trilogy.
"This book felt like a roller coaster to me, in the best way possible. I loved how Jensen managed to throw me off still by revealing aspects about certain characters. How she managed to change my mind on characters I felt very strongly about. In my opinion, this is a great example of a final book done right."
– The Fictional Reader
"From all the endings of series I've loved before, Warrior Witch has got to be the most painfully beautiful I've read."
– The Nocturnal Fey
"This book was so fantastic."
– Words I Write Crazy
"Battles, romance, snarky characters, and copious heart-wrenching scenes. I admittedly cried a few times – the end turned me into a blubbering fool (just warning you). It's so emotional. If you haven't had a chance to pick up this series yet, and are a fan of fantasy with lots of magic, amazing characters and a wonderful fantasy world – I would highly recommend it."
– N3rdbomber
"Warrior Witch is a fabulous conclusion to a compelling series. This is just as rich and satisfying and complex as the other ones in the series. It finishes on a very strong note and is wonderful throughout. Go and read!"
– Librarian on the Lake
"A thrilling book."
– City of Books
"If you like fantasy, intrigue, and edge-of-your-seat suspense with a slightly feudal touch then I suspect you're going to love this series as much as I have."
– Popcorn Reads
"This was the perfect ending to this series."
– Zach's YA Reviews
"All I can say is, please, read this series. It's addicting and so very consuming. The world that Jensen created is so vivid and detailed."
– Corrie the Book Crazed Girl
"Warrior Witch is an example of how a series should end – building off the strengths of the earlier books while bringing new elements to the tale.  In this final instalment, the reader is treated to superb pacing that brings the Malediction Triology to a satisfying close."
– Cowering King
"One thing that I have learned from Danielle L. Jensen, is that she will make me laugh in one moment, only to break my heart later, and she totally did that with this book; I was totally expecting my heart to be broken and she managed to do that in the most beautiful and flawless way possible."
– Book Nerd Addict
"This is a series you NEED to read."
– A Thousand Words, A Million Books
"If you haven't started this series yet, please fix that.  I know, you're probably wondering…trolls?  TRUST ME – these aren't the trolls that live under bridges and are creepy and scary…well most of them at least.  I loved this series and have to say that although I am sad that Cecile and Tristan's story is complete and I won't get to hang out with these characters anymore, I thought Jensen did a wonderful job of concluding the series."
–Fiction Fare
"A completely fitting and engrossing end to a wonderful series.  Anyone who hasn't had a chance to start the trilogy, should pick it up as soon as they can – it's a fantastic binge read!"
– Bookish Whimsy
"It gave me, as a reader, the sense of closure I always want to be left with after finishing a series."
– Erudite Artist
"Another beautiful series has come to an end. I will forever remember this mesmerizing world with its awe-inspiring characters and their heartbreaking story. The Malediction Trilogy has cemented a spot in my heart."
– BookCatPin
"I don't think the trilogy could have ended better in any other way."
– In Love with Handmade
"It was simply a stunning conclusion."
– Sabrina's Blog
"Now THAT is what I call a heart-stopping ending. Warrior Witch definitely ups the stakes and keeps you at the edge of your seat the whole time."
– Boricuan Bookworms
"Warrior Witch was a stunning conclusion to the Malediction Trilogy. Once I started reading it, I could not put it down. This is one of those series that you don't want to ever end."
– Books Without Any Pictures
"Just enough bitter-sweetness to elevate the story from your typical YA fantasy."
– Fantasy Literature