Sale!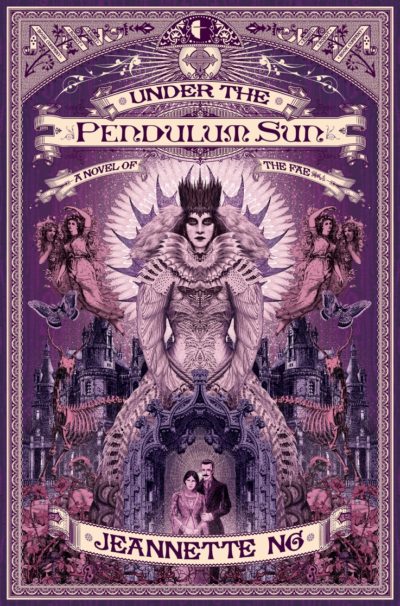 Under the Pendulum Sun
WINNER OF THE THE JOHN W CAMPBELL AWARD FOR BEST NEW WRITER
WINNER OF THE BRITISH FANTASY AWARD FOR BEST NEWCOMER, THE SYDNEY J BOUNDS AWARD
"An evocative, claustrophobic Gothic novel with strikingly creepy set-pieces, which repeatedly dislocates its reader's and characters' worldview in a forceful examination of faith and the power of stories."
– Aliette de Bodard, Nebula, Locus and BSFA Award-winning author of The House of Shattered Wings
---
Two Victorian missionaries head into darkest fairyland, to deliver their message to the godless magical beings who dwell there… at the risk of losing their own souls.
---
File Under: Fantasy [ In Arcadia | Seek and Hide | The Queen of Moths | Lands of the Damned ]
Buy the ebook version now – only
£

6.99
SKU: AR9780857667281
Catherine Helstone's brother, Laon, has disappeared in Arcadia, legendary land of the magical fae. Desperate for news of him, she makes the perilous journey, but once there, she finds herself alone and isolated in the sinister house of Gethsemane. At last there comes news: her beloved brother is riding to be reunited with her soon – but the Queen of the Fae and her insane court are hard on his heels.
Free and exclusive – discussion questions for reading groups. Download now:
Under the Pendulum Sun – Reading Notes
| | |
| --- | --- |
| Release Date | 2017-10-03 |
| Cover Art | John Coulthart |
| Ebook | 3rd October 2017 | 9780857667281 | Epub & Mobi | RRP £6.99 / US$6.99 / CAN $7.99 |
| US Print | 3rd October 2017 | 9780857667274 | Trade Paperback | RRP US$9.99 CAN$12.50 |
| UK Print | 5th October 2017 | 9780857667267 | Paperback | RRP £8.99 |
| Goodreads URL | Read & Discuss |
"An evocative, claustrophobic Gothic novel with strikingly creepy set-pieces, which repeatedly dislocates its reader's and characters' worldview in a forceful examination of faith and the power of stories."
– Aliette de Bodard, Nebula, Locus and BSFA Award-winning author of The House of Shattered Wings
"Threads together the Brontës, Fae mythology and the Biblical Apocrypha into an intricate gothic tapestry, the sort that seems to shift slightly when you glance away, the sort that throws away imagery in every half-sentence that makes the "shifting tapestry" metaphor in the previous sentence wince at being a bit predictable. It performs the trick of generating a world far larger than on the page, the mythology gospel-solid and yet as hard to hold onto as Fairy Gold in the morning… A mood that I'd characterise as drowning-not-waving in absinthe, I liked this a lot and suspect you would too."
– Kieron Gillen, co-creator of The Wicked + The Divine
"Under the Pendulum Sun is a weird, ingenious, and ravishing story of the Fae and the outsiders driven to discover their secrets, told with a heady melange of disturbing beauty and enticing dangers."
– Kate Elliott, author of Cold Magic, Black Wolves, and Court of Fives
"Poetic, elegant, the writing feels filigreed and heavy with silk… the most nonchalantly menacing thing I've ever read."
– Cassandra Khaw, author of Hammers on Bone
"An enchanting literary debut – I couldn't put it down!"
– Lavie Tidhar, World Fantasy Award winning author of A Man Lies Dreaming and Central Station
"Hauntingly beautiful and masterfully told. This looks like the start of a brilliant career."
– Keith Yatsuhashi, author of Kokoro
"Jeanette Ng has no time for Victorian attempts to sanitise and prettify Faerie. A story as intriguing as it is eerily disturbing."
– Juliet McKenna
"Jeannette Ng's imagery is breathtaking, her setting dark and delightful, and her use of theology is pure genius. Like some sinister elf, Under the Pendulum Sun will steal your imagination and never give it back."
– N S Dolkart, author of Among the Fallen
"Under the Pendulum Sun does live up to its fabulous pitch. A richly woven fantasy from a brilliant imagination. Definitely one for readers interested in fairy lore and Gothic fantasy."
– Rod Duncan, author of The Bullet-Catcher's Daughter
"Imagine Northanger Abbey's Catherine Morland confined to a particularly mysterious corner of Gormenghast with the Faeries of Jonathan Strange and Mr Norrell for company and you start to get an idea of how delightfully intricate and beautifully realised a novel Under the Pendulum Sun is. A remarkable debut."
– Jonathan L Howard, author of Johannes Cabal the Necromancer series
"Under the Pendulum Sun is a delicious fusion of repressed Victorian missionary values and the horror of the Fae. A sumptuous account of the journey into the land of the Fae, and into the darkest recesses of the human soul, this book delighted and shocked in all the best ways."
– Emma Newman
"Extremely beautiful, entertaining, and emotionally compelling…read this excellent book."
– Grimdark magazine 
"Intriguing… fascinating."
– Publishers Weekly
"An opulently atmospheric piece of neo-Victorian fantasy set in a 19th century in which the British are sending missionaries to Fairyland. It's a strange, brooding and occasionally perverse debut."
– The Guardian, The Best Science Fiction and Fantasy of 2017
"This is The Woman in Black, Heart of Darkness and fae all mixed up in a magical debut novel."
– Morpheus Tales Reviews
"The world-building and atmosphere are just incredible. It's especially gripping because the normal rules don't apply, and nothing is as it seems."
– Syfy Wire, The 10 Best Sci-Fi & Fantasy Books of 2017
"Under the Pendulum Sun is without a shadow of doubt one of the best fantasy stories I've read in 2017. I was engrossed in the mystery, delighted by the scope of the intertextuality, thrilled by the reversal of situations I hadn't seen coming, and amazed by the world building. Under the Pendulum Sun not only has a fantastic cover, it also has a great story to tell that I would urge any fantasy reader, particularly if they are keen on gritty Victoriana, to try."
– Black Girl Nerds
"A brave and startling debut, one that's both sensual and sinister, a foundation for what should be a glowing career."
– British Fantasy Society
"Ng draws us into the fantastic quickly, with gorgeously imaginative details."
– Shoreline of Infinity
"Jeannette Ng weaves an incredible tale in the vein of a creepy Victorian novel that blends elements of fantasy, historical fiction, mystery, and more into a dark and captivating tale."
– San Francisco Book Review
"A novel whose big heart enables it to engage with big ideas. Read it carefully, and be rewarded."
– Andrew Wallace, author of Sons of the Crystal Mind
"Jeannette Ng has written an utterly brilliant gothic novel, using all the tropes and cliches of the genre and rising above them in magnificent style. I highly recommend it."
– Intellectus Speculativus
"There is a wisdom, but also an exquisite beauty in her words that stun you… Under the Pendulum Sun is a gorgeous book."
– Utopia State of Mind
"An intricate distortion of myth and history."
– Victorian Soul Critiques
"A deep, rich and very definitely eerie gothic novel that asks some very hard, very interesting questions about god, faith, the nature of truth and what stories and storytelling have to do with all of it."
– Kam Reads and Recs
"Under the Pendulum Sun is a dark, psychological fantasy in a gothic vein, paying considerable literary homage to authors such as the Brontës. Impressively, Jeannette Ng manages to keep her debut novel grounded in historical reality despite its taking place entirely in the faelands."
– The Fancy Hat Lady Reads
"Holy wah. Holy wah! Holy WAH! This book was an amazing read!"
– Purple Owl Reviews
"Jeannette Ng's Under the Pendulum Sun expertly weaves fantasy, the Gothic, academia, and religion in this compelling novel about missionaries to Arcadia, the land of the Fae."
– Fairy Book Mother
"The writing and the world building are an absolute treat and the story is very original."
– Helen's Bookshelf
"Under the Pendulum Sun is a towering work of imagination."
– Alan Brenik
"Jeannette Ng has subverted the Gothic novel and given it a fresh lease of life."
– Strange Alliances
"The writing is, in a word, beautiful."
– YA On My Mind
"A pre-Halloween puzzle box of a book."
– Victorian Soul Critique
"Beautifully crafted and structured, but containing a deeper, hidden heart that takes patience to reach. 5 Stars: Excellent."
– Occasionally Random Book Reviews
"Under the Pendulum Sun is an amazing debut novel from an author to watch."
– The Illustrated Page
"A book that will pull you in about fourteen different directions and refresh your imagination."
– Chain Interaction
"Ng's writing is first rate and this is an enjoyable, immersive book that is able both to take seriously the perspective of its Victorian characters and to show their worldview under assault from a cultural encounter for which they're wholly unfitted. It's a haunting, intricate book which is like nothing I'd read before. I'd strongly recommend it."
– Blue Book Balloon
"The author does an excellent job of building suspense and setting throughout, and gives us interesting characters."
– JD DeHart
"A stunningly different fantasy that mixes Crimson Peak with Jonathan Strange & Mr Norrell."
– Fine Print
"Under the Pendulum Sun contains wonders and terrors, sweet love and brittle disgust. "
– Barnes & Noble Sci-Fi & Fantasy Blog
"Under the Pendulum Sun is a debut novel from a writer who knows her prose craft."
– Pop-Verse
"Really interesting and refreshing."
– Bofinkins (vlog)
"Under the Pendulum Sun is fantastic and I can't wait to see what Jeannette Ng writes next."
– Pretty Terrible
"Ng's writing is stunning. It's rich and lush, full of description and atmosphere. You can practically feel things moving in the shadows as you're reading. The language Ng has used fits perfectly with the story she's writing — descriptions balancing on the edge of over-done, utilising old-fashioned styles of perhaps 'telling' more than is common now. It's all beautifully done and Under the Pendulum Sun could easily sit next to any of the classic Gothic Romance novels."
– Foxes & Fairytales
"Utterly captivating and super weird. Loved it."
– Way Too Fantasy
"A brilliant fantasy that challenges the characters' faith and hearts, and creates a world entirely of its own."
– Scifi Now
"Jeannette Ng's Under the Pendulum Sun is big and unruly and spills over in various directions in ways that genuinely excite."
– Strange Horizons
"A rich, strange, increasingly nightmarish phantasmagoria of both horror and beauty. It's impressively erudite and sly. It draws the reader expertly in, builds steady tension, then lays shocking plot twist after plot twist. It's a novel that opens into landscapes of wonder, and becomes a moving, even rapturous, journey. "
– It's a Jumble
"Ng's writing is stunning… It's all beautifully done and Under the Pendulum Sun could easily sit next to any of the classic Gothic Romance novels."
– Foxes & Fairytales
"An excellent eerie trip… If you would like a chance from fantasy that constantly looks for a quest or quasi-detective story then I think this would be a perfect novel to take you away but you may not be quite the same person afterwards. Pass the salt…"
– Runalong the Shelves
"So much its own thing that I don't hesitate to recommend it, and am extremely curious to see what Ng does next."
– Asking the Wrong Questions
"Under the Pendulum Sun is without a shadow of doubt one of the best fantasy stories I've read in 2017. I was engrossed in the mystery, delighted by the scope of the intertextuality, thrilled by the reversal of situations I hadn't seen coming and amazed by the world building. Under the Pendulum Sun not only has a fantastic cover, it also has a great story to tell that I would urge any fantasy reader, particularly if they are keen on gritty Victoriana, to try."
– The Middle Shelf
"Under the Pendulum Sun is a fascinating story."
– Earl Grey
"Ng's novel is a dream that does not disappoint. It's a rich, strange, increasingly nightmarish phantasmagoria of both horror and beauty. It's impressively erudite and sly. It draws the reader expertly in, builds steady tension, then lays shocking plot twist after plot twist. It's a novel that opens into landscapes of wonder, and becomes a moving, even rapturous, journey. "
– It's a Jumble
"Jeannette Ng weaves an incredible tale in the vein of a creepy Victorian novel that blends elements of fantasy, historical fiction, mystery, and more into a dark and captivating tale."
– San Franciso Book Review
"I loved this book… A genuinely delightful and thought provoking read."
– Fox Spirit
"Under the Pendulum Sun is no fairytale; its ancestors are Jane Eyre and Ann Radcliffe, not the faerie-tinged historical fantasies of Susanna Clarke and Zen Cho."
– The English Student
"Under the Pendulum Sun is more than a simple novel of the Fae (to quote it's subtitle) but instead is quite a rather clever morality tale that shows what can happen to those who believe their culture is far superior to everyone else's. It's a great novel and … I enjoyed it alot."
– Resolute Reader
"I'd be lying if I said this book hadn't utterly blown me away. As debut novels go, I think this is a damned hard one to beat, and I've read some really great ones. In fairness, both to it and to others, though, I've never read anything quite like this. As an example of SFF at its finest, it shines like a faerie moon hanging before an angler fish. Just watch out for those teeth."
– Over The Effing Rainbow
"Beautifully written."
– Fantasy Book Review
"Ms Ng's rendering of the Fae world is a must-read. Such vast imagination that takes authors years to build. Weird, quirky, and intricate details that are so subtle yet immensely powerful–like a well-added spice."
– Moore Fantasy
"A perfectly twisted novel."
– SFF World
"Geat prose, effectively told story, utterly captivating and super weird. Loved it."
– Way Too Fantasy
"Stanislaw Lem meets George MacDonald meets VC Andrews meets Sylvia Townsend Warner. If having your expectations swung back and forth sounds like fun give this a go."
– 10 Bad Habits
"Captivating, thoroughly recommended."
– Novel Gazing Redux
"This is a masterful debut, although it won't be for everyone – it's slow, often ambiguous, as religious as it is profane, and takes great joy in its broken edges. Bravo."
– One More
"Vibrant, complex, and engrossing… a sorrowful, heartfelt masterpiece."
– Literary Nocturne Review
"This tale weaves folklore, history, and the gothic tradition into a tapestry of horror, unease and suspense that I just couldn't put down, this combines with a beautiful insta-worthy cover meant it was definitely a big favourite of my year."
– The Trouble with Tribbles
"An interesting read and a beautiful one and definitely worth the effort."
– Fangs for the Fantasy
"The premise is irresistible and strange, and Ng's crisp and luminous prose is ideal for navigating faeland, a gloomy world, full of secrets and mysteries, and casual cruelty."
– Head Shoulders Knees & Toes
"The writing in this book was phenomenal, and the way the world was designed and built was so intricately done, so extraordinary and just a pleasure to read. "
– Ayundabhuwana's Blog
"There are times when the 'real' crosses over into delightful absurdism that reminds readers of the work of Lewis Carol or Hayao Miyazaki. But above all one of the most captivating elements of this book is its novel and alluring premise: Victorian missonairies travel to the Faelands to convert the fae folk to Christianity."
– The Writer's Corner
"Basically, I really love this book and would highly recommend it!"
– Brenhines Books