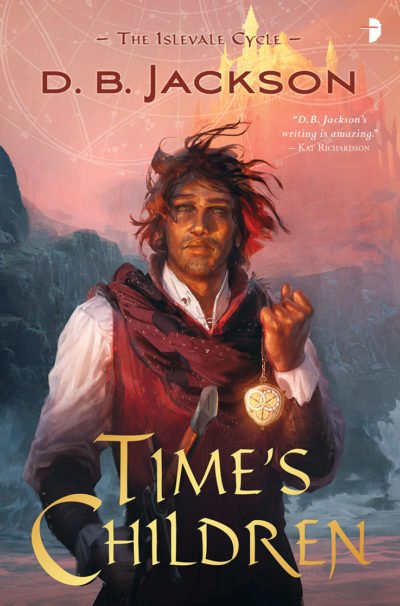 Time's Children
"A fast-paced tale whose fascinating magic system twists and turns the story in unexpected directions. Now I'm waiting for book two!"
 –  Kate Elliott, author of Cold Magic and Black Wolves
---
A time traveller trapped in a violent past must protect the orphaned child of a murdered sovereign, and find a way back to his own time in this astonishing epic fantasy novel.
---
File Under: Fantasy [ Bound to Time | See Me Walking | Disturbing Allies | The Soul Inside ]
Buy the ebook version now – only
£

2.99
SKU: AR9780857667922
Fifteen year-old Tobias Doljan, a Walker trained to travel through time, is called to serve at the court of Daerjen. The sovereign, Mearlan IV, wants him to Walk back fourteen years, to prevent a devastating war which will destroy all of Islevale. Even though the journey will double Tobias' age, he agrees. But he arrives to discover Mearlan has already been assassinated, and his court destroyed. The only survivor is the infant princess, Sofya. Still a boy inside his newly adult body, Tobias must find a way to protect the princess from assassins, and build himself a future… in the past.
| | |
| --- | --- |
| Release Date | 2018-10-02 |
| Series | Islevale Cycle |
| Cover Art | Jan Weßbecher |
| Ebook | 2nd October 2018 | 9780857667922 | epub & mobi | £6.99/$9.99/$10.99 |
| US Print | 2nd October 2018 | 9780857667915 | Trade Paperback | $12.99/$15.99 |
| UK Print | 4th October 2018 | 9780857667915 | Paperback | £8.99 |
| Goodreads URL | Read and Discuss |
"This novel wields dueling timelines like knives, keeping readers spellbound while Tobias tries to keep the world from becoming unhinged. Jackson creates two fascinating worlds that coalesce seamlessly into an un-put-downable fantasy narrative and seem likely to lead to an exciting sequel."
 – Publishers Weekly, Starred Review
"Time's Children is D B Jackson's best work to date. Intricate plotting, innovative world building, and characters who grab your heart and refuse to let go. I can't wait for the sequel!"
 – Faith Hunter, New York Times Bestselling author of the Jane Yellowrock and Soulwood series
"A fast-paced tale whose fascinating magic system twists and turns the story in unexpected directions. Now I'm waiting for book two!"
 –  Kate Elliott, author of Cold Magic and Black Wolves
"Jackson never pauses to over-explain as he builds a breathless, fast-paced adventure that flings headlong through a dense thicket of intrigue, set in a world where danger and high stakes dog the heroes at every turn and the cost of using magic system gives their every decision tremendous weight. It all adds up to a fantastic flintlock fantasy, and the start of what promises to be a thrilling series."
– Barnes & Noble Sci-Fi & Fantasy Blog
"To say that I enjoyed this novel is an understatement. I've read a few books by D B Jackson and liked them quite a bit. Time travel stories can be tricky, but Jackson took one of the genre tropes (some would say an overused trope at that) and breathed fresh life into it. Time's Children is both an epic and personal fantasy novel that is a wonderful series starter and introduction to a very original fantasy milieu. I'm slotting this on my best of the year list."
– SFF World
"It's a high-fantasy time-travel novel… So we have all the goodies of messed up timelines, time-walkers, and similar time/space practitioners in a magic rule system seated in a heavily world-built fantasy world! All the benefits of a kingdom built from scratch AND the breaking of it several times during different periods of its history! Yay! I can easily recommend this to fans of either epic fantasy or time travel SF. It combines the best of both worlds and with all the assassins, intrigue, and even love going on here, the novel entertains very roundly indeed."
 – Bradley Horner's Book Reviews
"The plot is fairly fast-paced and I read through it in like a day or so. It's also pretty fun and rather well-written. For me, the best part of the book is really the interesting world and the premise."
– The Bookworm Daydreamer
"When I saw the synopsis of Time's Children, I knew that it would be a book that I loved and would just speed read through, and I did… The writing and world building in this novel is fantastic."
– Lizbie's Nerdy World
"I enjoyed it, you're gonna enjoy it… Give me more, I am so stoked for this book!"
– Litcast of Doom
"The writing and the creativity made this a worthwhile read that I think many fans of high fantasy, time travel, and fantasy/sci-fi mashups will like."
– Metaphors and Moonlight
"Four stars – an unexpected treat!"
– Lost in a Good Book
"What an excellent surprise! Time's Children was an excellent read, intelligent, original and thorough."
– Hélène Louise Auteure
"…a tour-de-force, setting a fascinating tale of magic and intrigue amidst a world filled with dark corners and creatures who are not to be trusted. I loved every part of this book, and applaud the author on creating a compelling story filled with brilliantly rendered scenes, settings and details that made the world come alive. Prepare to be swept away by the tides of this masterful story."
– Reviews & Robots
Praise for D B Jackson
"A very intricate tale with some excellent characterizations. It has many strengths and pure readability – I really enjoyed it."
– Anne McCaffrey
"Thieftaker is a gripping mystery, full of magic, and human emotion, that just happens to be set in 1765. Pre-Revolutionary War America has never been so exciting. How exciting? I missed my bus stop because I was reading this book. The level of historical detail makes it seem totally plausible that thieftakers and conjurers were active in Boston in 1765. What I particularly enjoyed was that the history didn't slow the story down, it just enriched it."
– Mary Robinette Kowal, author of Shades of Milk and Honey
"War and politics, love and magic, all drawn in detail against a vividly imagined feudal background. A complex and excellent book."
– David Drake
"The Outlanders is a well worked out story of magic and politics that doesn't sugarcoat either; both are brutally realistic."
– Piers Anthony
"A natural born story-teller. Sit back and enjoy the journey!"
– Sherwood Smith
"The Thieftaker series is a tour de force. There is no way to get enough of it – and I LOVE Thieves' Quarry. This is definitely the best new series of the decade!"
– Faith Hunter, author of the Jane Yellowrock books
"A wonderfully complex and engrossing tale, but what truly made this book for me was the richness and depth of the beautifully crafted characters. A good plot makes for a great read, but interweave that plot with rich, complex characters and you have a splendid book – and this is a splendid book. There is absolutely nothing superficial about the writing – it is strong, complex, and emotionally very, very powerful."
 –  Sara Douglass, author of The Wayfarer Redemption saga
"Mixes spells and Sherlocking with snappy dialogue, tight pacing, and characters who catch and keep the reader's attention."
–  Publisher's Weekly
"DB Jackson's Thieves' Quarry is a book that should serve as a blueprint on how to properly write historic urban fantasy."
– LitStack
"Jackson has an enviable gift for detail, the ability to put his reader smack-dab in a location  with such intensity that you can hear the burr in voices, smell the smoke and tea in the air, and wince when the hero gets punched in the face . . . Thieftaker is a delicious murder mystery sundae, with a sprinkle of supernatural bravado and a few famous historical figures for cherries on top."
– Orson Scott Card's Intergalactic Medicine Show
"[The author] weaves another saga of high drama and personal heroism that should please fans of epic fantasy. A good choice for most fantasy collections, particularly where the first series had a following."
 –  Library Journal