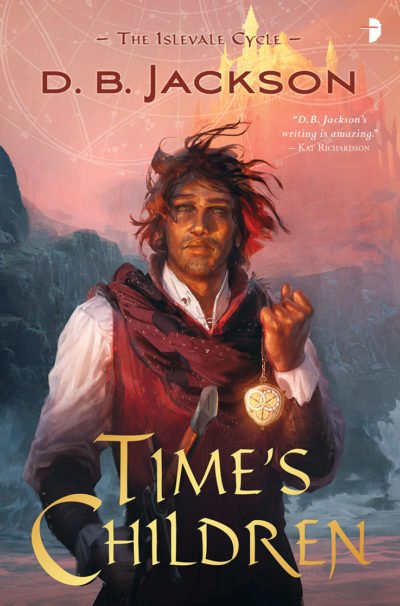 Time's Children
"A fast-paced tale whose fascinating magic system twists and turns the story in unexpected directions. Now I'm waiting for book two!"
 –  Kate Elliott, author of Cold Magic and Black Wolves
---
A time traveller trapped in a violent past must protect the orphaned child of a murdered sovereign, and find a way back to his own time in this astonishing epic fantasy novel
---
File Under: Fantasy [ Time Demons | They See Me Walkin' | Young Inside | Disturbing Allies ]
Buy the ebook version now – only
£

6.99
Available on October 2, 2018.
SKU: AR9780857667922
Fifteen year-old Tobias Doljan, a Walker trained to travel through time, is called to serve at the court of Daerjen. The sovereign, Mearlan IV, wants him to Walk back fourteen years, to prevent a devastating war which will destroy all of Islevale. Even though the journey will double Tobias' age, he agrees. But he arrives to discover Mearlan has already been assassinated, and his court destroyed. The only survivor is the infant princess, Sofya. Still a boy inside his newly adult body, Tobias must find a way to protect the princess from assassins, and build himself a future… in the past.
| | |
| --- | --- |
| Release Date | 2018-10-02 |
| Series | Islevale Cycle |
| Cover Art | Jan Weßbecher |
| Ebook | 2nd October 2018 | 9780857667922 | epub & mobi | £6.99/$9.99/$10.99 |
| US Print | 2nd October 2018 | 9780857667915 | Trade Paperback | $12.99/$15.99 |
| UK Print | 4th October 2018 | 9780857667915 | Paperback | £8.99 |
| Goodreads URL | Read and Discuss |
Praise for D B Jackson
"A fast-paced tale whose fascinating magic system twists and turns the story in unexpected directions. Now I'm waiting for book two!"
 –  Kate Elliott, author of Cold Magic and Black Wolves
"A very intricate tale with some excellent characterizations. It has many strengths and pure readability – I really enjoyed it."
– Anne McCaffrey
"Thieftaker is a gripping mystery, full of magic, and human emotion, that just happens to be set in 1765. Pre-Revolutionary War America has never been so exciting. How exciting? I missed my bus stop because I was reading this book. The level of historical detail makes it seem totally plausible that thieftakers and conjurers were active in Boston in 1765. What I particularly enjoyed was that the history didn't slow the story down, it just enriched it."
– Mary Robinette Kowal, author of Shades of Milk and Honey
"War and politics, love and magic, all drawn in detail against a vividly imagined feudal background. A complex and excellent book."
– David Drake
"The Outlanders is a well worked out story of magic and politics that doesn't sugarcoat either; both are brutally realistic."
– Piers Anthony
"A natural born story-teller. Sit back and enjoy the journey!"
– Sherwood Smith
"The Thieftaker series is a tour de force. There is no way to get enough of it – and I LOVE Thieves' Quarry. This is definitely the best new series of the decade!"
– Faith Hunter, author of the Jane Yellowrock books
"A wonderfully complex and engrossing tale, but what truly made this book for me was the richness and depth of the beautifully crafted characters. A good plot makes for a great read, but interweave that plot with rich, complex characters and you have a splendid book – and this is a splendid book. There is absolutely nothing superficial about the writing – it is strong, complex, and emotionally very, very powerful."
 –  Sara Douglass, author of The Wayfarer Redemption saga
"Mixes spells and Sherlocking with snappy dialogue, tight pacing, and characters who catch and keep the reader's attention."
–  Publisher's Weekly
"DB Jackson's Thieves' Quarry is a book that should serve as a blueprint on how to properly write historic urban fantasy."
– LitStack
"Jackson has an enviable gift for detail, the ability to put his reader smack-dab in a location  with such intensity that you can hear the burr in voices, smell the smoke and tea in the air, and wince when the hero gets punched in the face . . . Thieftaker is a delicious murder mystery sundae, with a sprinkle of supernatural bravado and a few famous historical figures for cherries on top."
– Orson Scott Card's Intergalactic Medicine Show
"[The author] weaves another saga of high drama and personal heroism that should please fans of epic fantasy. A good choice for most fantasy collections, particularly where the first series had a following."
 –  Library Journal
"[His] world is much more intricate than that of most similar fantasy writers, and he seems to have a deeper grasp than most of the complexities of interhuman relationships. There's plenty of action as well in this promising opening sequence."
 –  Science Fiction Chronicle
"If the series continues to maintain its present level of imaginative world building, superior characterization, and sound prose, that book too will be as welcome an addition to fantasy collections as this one is."
 –  Booklist
"As usual, Jackson's intimately detailed historical backdrop is a major advantage . . . A thoroughly engrossing and involving entry that no series fan will want to miss."
– Kirkus Reviews
"This is a technically accomplished novel; polished, elegantly conceived, tightly plotted without sacrificing characterization. His writing reveals the artistry of an accomplished story-teller at his craft."
– Strange Horizons
"A journey of delightful reading."
– Realms of Fantasy
"A new author with a fresh voice and intricate characterizations writes an old story in a magical, innovative way. This debut novel is a rich, magical adventure."
– Book Page
"Colonial politics, mystery, and a wild array of magics (ghostly spirit guides from past eras, Latin spells, arcane formulas in old tomes, witches' tales) combine for a heady brew in Dead Man's Reach."
– Locus
"With the first book in his LonTobyn Chronicle, [the author] bids fair to become one of epic fantasy's premier authors. This book grabbed me by the front of the shirt and pulled me into the magical and mysterious world of Tobyn-Ser, enthralling me from page one. A marvelous tale of mystery and magic."
– Barnes and Noble Explorations
"Brilliant characters in a brilliant book! Readers will find that the characters remain sharp and tangible long after the plot has come to a (rather uncertain?) close. The snap of dialogue, the crossed glance, the coarse texture of fabric and feather, wood, and leather all coalesce to make these some of the brightest and best characters I've encountered in a long while. I would watch them do laundry. "
– Huffington Post
"A Plunder of Souls is an impressive mixture of the macabre, historic fiction, and fantasy. I thoroughly enjoyed this fast-paced and exciting adventure. Once again, this dark and magical mystery kept me on the edge of my seat with its intriguing characters and intense story. As one of my favorite fantasy series, I can't recommend it enough."
– The SciFi Chick
"A Plunder of Souls is a terrific addition to the Thieftaker Chronicles. DB Jackson shows once again that he knows how to pull all the right strings to create one creative story. . .  Definitely a recommendation."
– The Book Plank
"Engaging characters, a snappy plot, and some exceptional worldbuilding that transports the reader 250 years into the past, DB Jackson's Thieves' Quarry is, simply, damned good writing. "
– Ranting Dragon
"Full of rich, well-rounded characters, extremely atmospheric and just riveting. (9 out of 10)"
– Nocturnal Book Reviews
"Splendid period detail and spell-casting in church Latin combine felicitously with the contemporary gumshoe-noir tone . . . An unusual series of great promise."
– Kirkus Reviews