Sale!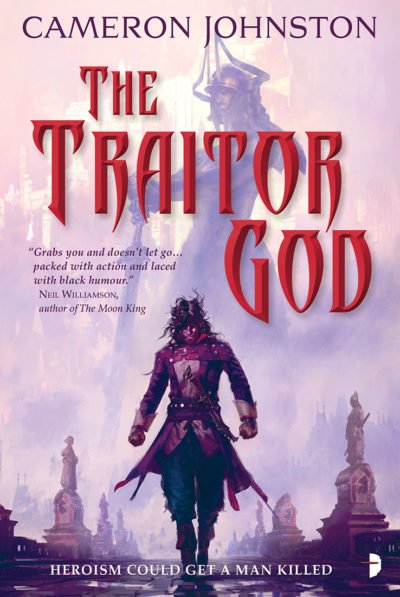 The Traitor God
FINALIST for the British Fantasy Awards Sydney J Bounds Award for Best Newcomer 2019
FINALIST for the Dragon Award Best Fantasy Novel 2018
---
"From the frantic opening page, The Traitor God grabs you and doesn't let go. Facing Gods, monsters, and a magic elite that wants him dead, Edrin Walker's return to Setharis is a noirish romp packed with action and laced with black humour, and marks Cameron Johnston as a real name to watch in the epic fantasy genre."
– Neil Williamson, author of The Moon King
---
A city threatened by unimaginable horrors must trust their most hated outcast, or lose everything, in this crushing epic fantasy debut.
---
File Under: Fantasy [ Look Who's Back | Blood Sorcery | Tyrants & Titans | Mind Mates ]
Buy the ebook version now – only
£

2.99
SKU: AR9780857667809
After ten years on the run, dodging daemons and debt, reviled magician Edrin Walker returns home to avenge the brutal murder of his friend. Lynas had uncovered a terrible secret, something that threatened to devour the entire city. He tried to warn the Arcanum, the sorcerers who rule the city. He failed.
Lynas was skinned alive and Walker felt every cut. Now nothing will stop him from finding the murderer. Magi, mortals, daemons, and even the gods – Walker will burn them all if he has to.
After all, it wouldn't be the first time he's killed a god…
| | |
| --- | --- |
| Release Date | 2018-06-05 |
| Series | Age of Tyranny |
| Cover Art | Jan Weßbecher |
| Ebook | 5th June 2018 | 9780857667809 | epub & mobi | £2.99/$3.99/$4.99 |
| US Print | 5th June 2018 | 9780857667793 | Trade Paperback | $12.99/$15.99 |
| UK Print | 7th June 2018 | 9780857667793 | Paperback | £8.99 |
| Goodreads URL | Review & Discuss The Traitor God |
"An assured and complex debut novel with a main protagonist of questionable loyalty and morals that, despite yourself, you can't help but love. It's not often you come across a fresh voice and a fresh take on magic, but The Traitor God gives both. Moments of absolute horror sit cheek by jowl with humour of the blackest kind and some of the monstrous creations in this book are nauseatingly wonderful. After a slightly slow start I found it increasingly difficult to put this book down. I dearly hope we get to see more of Magus Edrin Walker in future books."
– Anna Stephens, author of Godblind
"From the frantic opening page, The Traitor God grabs you and doesn't let go. Facing Gods, monsters, and a magic elite that wants him dead, Edrin Walker's return to Setharis is a noirish romp packed with action and laced with black humour, and marks Cameron Johnston as a real name to watch in the epic fantasy genre."
– Neil Williamson, author of The Moon King
"Cameron Johnston is an exciting new voice in fantasy. His writing has a dark sense of humour and his debut is bursting with imagination and wonders. Fantastic stuff!"
– Stephen Aryan, author of the Age of Darkness trilogy

"High magic and low lives collide in The Traitor God, one part street-level procedural and two parts an urban magic apocalypse, this is fantasy walking tall and carrying a big stick."
– Gavin G Smith, author of Age of Scorpio and The Bastard Legion
"Visceral and gripping fantasy, horribly and hugely enjoyable."
– Anna Smith Spark, author of The Court of Broken Knives
"The Traitor God by Cameron Johnston is part murder mystery, part detective story, and all fantasy that's full of magic, shady villains and even shadier heroes. A hugely enjoyable tale and definitely a 2018 debut to look out for. Marvellous stuff."
– Edward Cox, author of The Relic Guild Trilogy
"Classic sword & sorcery with a wickedly blood-soaked grimdark twist."
– Peter McLean, author of Priest of Bones and the Burned Man series
"A dark and rich fantasy with an inventive magic system that will raise hairs on your neck."
– Ed McDonald, author of Blackwing
"Epic fantasy meets hardboiled noir, with a foul-mouthed, seen -it-all narrator you won't soon forget."
– Barnes & Noble Sci-Fi & Fantasy Blog
"I'm looking forward to seeing who and what Walker kicks in the balls in the sequel. If you enjoy clever gray characters, gritty but interesting worlds, and creepy magic, this book is for you."
– Fantasy Hive
"Enough of the elements are right for The Traitor God to be a good book.. The blend of high octane action and dark humanity reminds me of William Gibson's Neuromancer."
– SFF Chronicles
"There's a wonderful coarseness and vivacity to the world Johnston has created, and the magic and monsters featured are as horrific as they are fascinating… The finale is truly epic, and about as thrilling as they come."
– Alan Brenik
"This was one of those times where the stars aligned and the read was the perfect fit for me mood. I read it in one sitting. It was entertaining, engrossing, and a bit violent (Arrr!!). I even refused to get shut-eye and instead stayed up into the wee hours of the morn turning pages because I just had to know how it ended… Pick this one up and hopefully enjoy it as much as I did."
– The Captain's Quarters
"This is a tightly written, believable world, one which will make you sit up and take notice. It's not pretty, by any means, but it'll seep off the page and into your pores… It's snappy, tautly written prose kept me turning pages until far too late in the night."
– Sci-Fi and Fantasy Reviews
"An exceptional debut… This book is like a video game, wrapped inside an action movie, brilliantly told in written word form."
– Out of this World
"Beautifully crafted, with great depth that leads the reader to realize how deeply Cameron has delved into his own imagination… I highly recommend reading this. For a first book from an author, I found it to be incredibly well written. If you need a new book, this is the one."
– John W Siskar
"Something that I truly enjoyed was the fact that even though Walker's story is one of revenge, I felt like Walker's story is also one of redemption."
– Adele is Reading
"The Traitor God is a wonderful fantasy story that knows how to keep you hooked till the end. Its grasp on grimdark elements is stellar and makes this a truly fun book to pick up when you feel like you need a nice quick swim through an ocean of blood."
– Bookidote
"A thrill ride of adrenaline, action, blood, and intrigue."
– Book Wraiths
"I haven't had this much fun with a fantasy novel in ages – this is most certainly one of my highlights for 2018. Johnston's done a fantastic job, and if you enjoy the likes of Mark Lawrence, you'll be right at home here."
– This is My World
"I loved every minute of it. All round a cracking debut and with a few twists and turns is a book that I hope will lead on to others for the author as I really did get a lot from it. Magic."
– Totally Pawsome
"The dedication to his craft… has delivered an extraordinary tale. I was blown away by Johnston's debut offering, which is polished enough that you would think this is his fourth or fifth book written."
– Hippogriff's Aerie