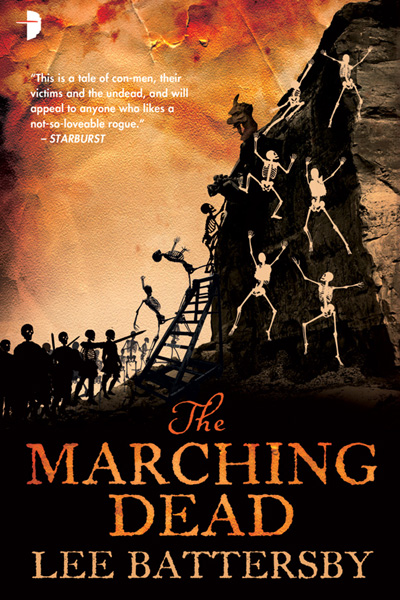 The Marching Dead
"A stunning debut novel, well-crafted and grotesquely inventive. With its madcap story, unforgettable characters and fine balance between humour and pathos, The Corpse-Rat King ticks all the boxes. Fans of Joe Abercrombie will love this."
– Juliet Marillier, award-winning author of the Sevenwaters series and Bridei's Chronicles
---
The second Marius don Hellespont novel, sequel to The Corpse-Rat King – Marius is back for another run-in with the unsatisfied Dead.
---
File Under: Fantasy [ Dead Reckoning | Strange Problems | By Royal Decree | Still Running ]
Buy the ebook version now – only
£

5.49
In stock
SKU: AR9780857662910
Find the dead a King, save himself, win the love of his life, live happily ever after. No wonder Marius dos Helles is bored. But now something has stopped the dead from, well, dying.
It's up to Marius, Gerd, and Gerd's not-dead-enough Granny to journey across the continent and put the dead back in the afterlife where they belong.
| | |
| --- | --- |
| Title | The Marching Dead |
| Author | |
| Publication date | 26 Mar 2013 |
| Cover Art | Nick Castle |
| Ebook | 26th March 2013 | 9780857662910 | Epub & Mobi | RRP £5.49 / US$6.99 |
| US Print | 26th March 2013 | 9780857662903 | Massmarket Paperback | RRP US$7.99 CAN$8.99 |
| UK Print | 4th April 2013 | 9780857662897 | Paperback | RRP £8.99 |
| Goodreads URL | Discuss and Review The Marching Dead |
"Battersby absolutely nails the narrative style, balancing humour and horror, fantasy and felony. It's another quick-moving, well-written story that amuses, excites, and concludes with some rather deep, and remarkably heavy musings on the subjects of life, death, and the afterlife – or the lack thereof."
– Bob Milne, Beauty in Ruins
"With this sequel, Battersby kicked up everything I loved about the first novel by a notch or two – world-building, storytelling, hilarity, and most of all, characters who just made me punch the air over and over again, usually while laughing."
– Kate Of Mind