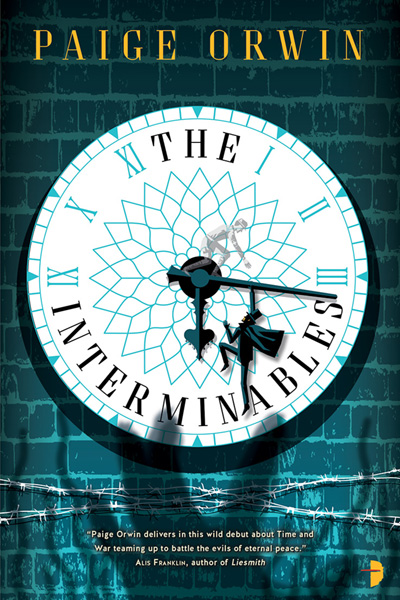 The Interminables
"[A] wild debut about Time and War teaming up to battle the evils of eternal peace. By the time you're done you won't fear the reaper; you'll want to wrap his lonely, cross-stitch obsessed self up in a hug and never let go."
– Alis Franklin, author of Liesmith
---
A buddy-cop novel about a wizard who steals time, the war who loves him, and kaiju. The pair are trying to set up a new cabal as society is re-building, but a powerful fortress and arcane powers stand in their way.
---
File Under: Fantasy [ After the Cataclysm | Thief and Surgeon | Your Best Nightmare | Haunting the Ghost ]
Buy the ebook version now – only
£

2.99
SKU: AR9780857665928
It's 2020, and a magical cataclysm has shattered reality as we know it. Now a wizard's cabal is running the East Coast of the US, keeping a semblance of peace. Their most powerful agents, Edmund and Istvan – the former a nearly immortal 1940s-era mystery man, the latter, well, a ghost – have been assigned to hunt down an arms smuggling ring that could blow up Massachusetts.
Turns out the mission's more complicated than it seemed. They discover a shadow war that's been waged since the world ended, and, even worse, they find out that their own friendship has always been more complicated than they thought. To get out of this alive, they'll need to get over their feelings, their memories, and the threat of a monstrous foe who's getting ready to commit mass murder…
"Vivid worldbuilding of a fascinating alternate Earth, peppered with touches of whimsy.
This is a promising debut!"
– Emmie Mears, author of the Ayala Storme series
"If you're looking for an entertaining piece of dystopian fiction, with magic and heroes and..er..a cat, then this will suit you very well indeed."
– SF & F Reviews
"The Interminables is the type of book that Angry Robot was made for."
– Strange Alliances
"It will reward you with a world of wonders and horrors, alongside a tale of deep and desperate friendship: a thief and a war, trying to save as many lives and they can."
– SFX magazine
"An interesting and unique read."
– Vampire Book Club
"A dark, depressive, but beautifully imagined urban fantasy/alternate universe. Perhaps one of the most interesting, intriguing, and rich books I've read this year."
– Online Eccentric Librarian
"Magic in the modern world is always a fun trope."
– The Verge, best SFF books to check out in July
"So fucking good."
– The State of Blogendorff
"The Interminables by Paige Orwin is a unique, sometimes challenging read that really grabbed my attention."
– Looking For a Good Book
"The Interminables is a type of science fiction/fantasy that I love. It doesn't dwell too much on the how's of the situation, but jumps head first to the what's, who's, and why's of the story."
– The Help Desk