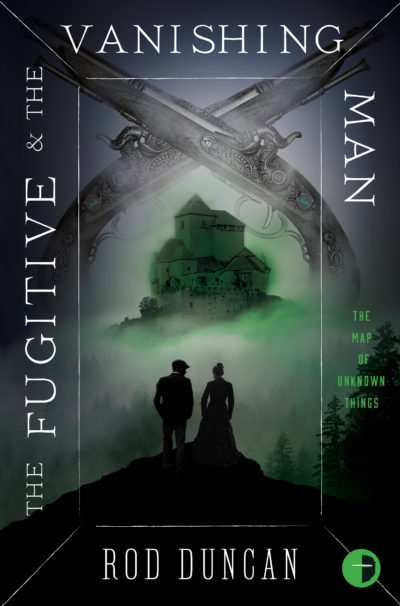 The Fugitive and the Vanishing Man
Ladies and gentlemen, for the very final time, Elizabeth and Edwin Barnabus will perform the grand illusion of the Vanishing Man…
---
"Gripping alternative history adventure set in an intriguing world. Elizabeth Barnabus is possibly my favourite steampunk main character ever: resourceful, fearless, unusually observant and emotionally intelligent."
– Emmi Itäranta, award-winning author of Memory of Water
---
File Under: Fantasy [ Sisters in Arms | No Prison Can Hold Me | One Drop of Poison | For One Night Only ]
---
Book III of The Map of Unknown Things
Buy the ebook version now – only
£

4.99
SKU: AR9780857668493
Book 3 of The Map of Unknown Things
Elizabeth Barnabus is a mutineer and a murderer. So they say. The noose awaits in Liverpool as punishment for her crimes. But they'll have to catch her first.
Disguised as a labourer, Elizabeth flees west across America, following a rumour of her long-lost family. Crossing the border into the wilds of the Oregon Territory, she discovers a mustering army, a king who believes he is destined to conquer the world, and a weapon so powerful that it could bring the age of reason crashing down.
In a land where politics and prophecy are one and the same, the fate of the Gas-Lit Empire may come to rest on the perfect execution of a conjuring trick.
| | |
| --- | --- |
| Release Date | 2020-01-14 |
| Series | Map of Unknown Things |
| Cover Art | Kieryn Tyler |
| Ebook | 14th January 2020 | 9780857668493 | epub & mobi | £6.99/$8.99/$10.99 |
| US Print | 14th January 2020 | 9780857668448 | Trade Paperback | $14.99/$15.99 |
| UK Print | 14th January 2020 | 9780857668448 | Paperback | £9.99 |
| Goodreads URL | Read and Review |
"Exhilarating… The charismatic duo at the heart of this adventure are sure to please."
– Publishers Weekly