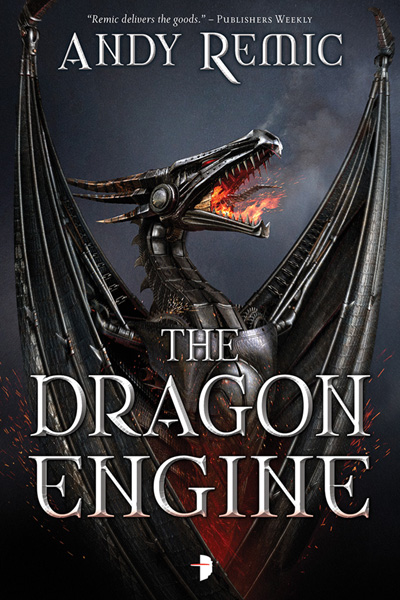 The Dragon Engine
Feted heroes search for the Dragon Heads, jewels said to bestow immortality on their owners. But the reality of the Heads is even more awesome and terrifying than they could have imagined!
---
File Under: Fantasy [ Infamous Five | A Drunken Pact | Ultimate Evil | Metal and Blood ]
---
Book One of The Blood Dragon Empire
Buy the ebook version now – only
£

2.99
SKU: AR9780857664556
Five noble war heroes of Vagandrak get drunk one night and sign a contract – to journey to the Karamakkos in search of the Five Havens. There, it is written, there lies untold, abandoned wealth and, more importantly, the three Dragon Heads, legendary jewels claimed to give unspeakable power and everlasting life to those who wield them.
But the Dragon Heads aren't what the adventurers think they are, and the world has not encountered their like in many, many generations!
| | |
| --- | --- |
| Series | Blood Dragon Empire |
| Publication date | |
| Cover Art | Lee Gibbons |
| Ebook | 1st September 2015 | 9780857664556 | Epub & Mobi | RRP £6.99 / US$6.99 |
| US Print | 1st September 2015 | 9780857664549 | Massmarket Paperback | RRP US$7.99 / CAN$9.99 |
| UK Print | 3rd September 2015 | 9780857664532 | Paperback | RRP £8.99 |
| Goodreads URL | Discuss and Review The Dragon Engine |
"Remic manages to pace the opening of the story perfectly, dropping the reader enough context not to feel lost, then ramping up into moments of action which are genuinely gripping."
– Sci-Fi and Fantasy Reviews
"Remic is clearly a writer right at the top of his game."
– BrainFluff
"This was a highly enjoyable book, well worth reading. It's unapologetically fantasy – The good guys are our heroes, the bad guys are unabashedly evil, and there's adventures and fights and sneaking into people's homes while they're presumably out to take all their stuff. I thoroughly enjoyed it."
– Inkspot Fancy
"Dragon Engine is like the illegitimate love child between The Hobbit and Game of Thrones.It's the perfect book for an adult fantasy lover."
– Fiction Foresight
"The story is wonderfully vibrant and detailed, even to the point that during some battle scenes I felt compelled to wince and look away."
– Two Nerds Talking
"Andy brings together two of the great writers Tolkien and Martin. Like Tolkien and Martin, you are put right in the story like you are watching a movie, yet you feel the emotions as if they were your own. I love it when an author can make you see and feel. The flow of the story plot was perfect; the characters are complex, yet believable. Now Andy has me sitting one the edge of my seat waiting for the next book to come out."
– Critique Corner
The final chapters are some of the most powerful Remic has ever written. It is a very different story arc than the Rage of Kings, but readers who appreciate a more mature, more adult, no-hold-barred kind of fantasy that rivals any big screen R-rated action flick will once again find a lot to enjoy here.
– Beauty in Ruins
"The author brings his A-grade storytelling skills to bear and unveils a pacy, action driven plot that is easy to get completely engrossed in. I could wax lyrical about Andy Remic's writing all day. It's not difficult to waffle appreciatively about an author whose work you really enjoy. If you've never experienced Mr Remic's work before, and you aren't adverse to the odd beheading or two twelve, then I urge you to give this book a try. Hell, let's be honest here, I'd say that for any book he's written."
– The Eloquent Page
"This book dug its claws into me on so many levels it is hard to isolate what exactly made it a 4 star novel. Perhaps it was the complex but flawed heroes. Maybe the familiar Hobbit-esque quest morphing into a grimdark nightmare did it. The wonderfully paced story and realistic action definitely entertained. No matter the ingredients though, Remic casted a spell with this one, and if you haven't experienced his take on grimdark, you really should give this one a try."
– Bookwraiths
"It is a very different story arc than the Rage of Kings, but readers who appreciate a more mature, more adult, no-hold-barred kind of fantasy that rivals any big screen R-rated action flick will once again find a lot to enjoy here."
– The Speculative Herald
"This book made me want to play DnD."
– Reading Lamp
"This is an impressively bloody novel, with no quarter given or asked from the many vicious fights and nasty situations our characters get into."
– Terror Tree
"More than anything though, this book has made me want to play D & D."
– Reading Lamp
"I believe that Andy Remic is the natural successor to Robert E. Howard, Michael Moorcock, Fritz Leiber and the other authors of  'sword and sorcery' heroic fantasy.  But Remic may also be the successor to the Marquis de Sade."
– Looking for a Good Book