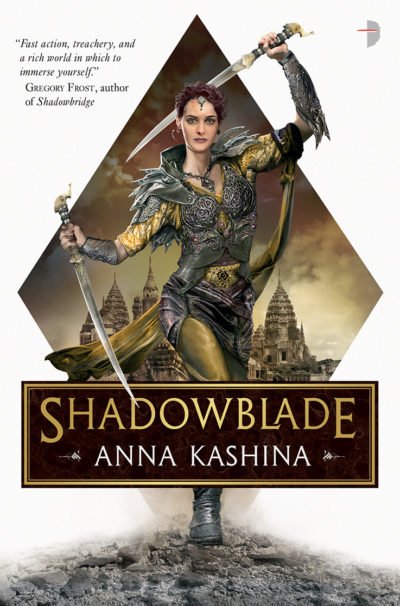 Shadowblade
"Anna Kashina's novels always provide fast action, treachery, and a rich world in which to immerse."
– Gregory Frost, author of Shadowbridge
---
A young sword prodigy must impersonate a lost princess and throw her life into a deadly political game, in this kinetic epic fantasy novel by the author of the award-winning Majat Code series
---
File Under: Fantasy [ Warrior Foretold | Royal Massacre | Wrongful Heir | Forbidden Kingdom ]
Buy the ebook version now – only
£

6.99
Available on May 7, 2019.
SKU: AR9780857668165
Naia dreams of becoming a Jaihar Blademaster, but after assaulting a teacher, her future seems ruined. The timely intervention of a powerful stranger suddenly elevates her into elite Upper Grounds training. She has no idea that the stranger is Dal Gassan, head of the Daljeer Circle. Seventeen years ago he witnessed the massacre of Challimar's court and rescued its sole survivor, a baby girl. Gassan plans to thrust a blade into the machinations of imperial succession: Naia. Disguised as the lost Princess Xarimet of Challimar, Naia must challenge the imperial family, and win. Losing means certain death, but in victory she would forsake everything she holds dear – even the man she loves.
| | |
| --- | --- |
| Release Date | 2019-05-07 |
| Cover Art | Alejandro Colluci |
| Ebook | 7th May 2019 | 9780857668165 | epub & mobi | £6.99/$8.99/$10.99 |
| US Print | 7th May 2019 | 9780857668158 | Trade Paperback | $12.99/$15.99 |
| UK Print | 7th May 2019 | 9780857668158 | Paperback | £8.99 |
"Shadowblade seamlessly blends together adventure, romance, swordplay, and intrigue with a unique world."
– Clarkesworld
"Shadowblade expertly blends complex political intrigue, thrilling action sequences, and a spine-tingling romance – an absolute delight to read!"
– Cassandra Rose Clarke, author of The Magic of Blood and Sea
"Elite assassins! Ancient Magic! Everlasting love! Shadowblade is an enthralling fantasy romance that will have you turning pages long into the night."
– J M Sidorova, the author of The Age of Ice
"Anna Kashina's novels always provide fast action, treachery, and a rich world in which to immerse."
– Gregory Frost, author of Shadowbridge
"Anna Kashina has a gift of blending political intrigue, fancy sword fights, assassins, and romance into enthralling fantasy epics. Fans of strong female characters, intricately built fantasy worlds, fast action, and exciting love stories would really enjoy her work!"
– Jeffe Kennedy, award-winning author of The Pages of the Mind
Praise for Anna Kashina
"Assassin Queen, the third book of Anna Kashina's Majat trilogy continues to thrill and titillate with its heady blend of fantasy romance and battle arts. The trilogy's heroes Kara and Mai, the elite assassins madly in love, are simply irresistible!"
– J M Sidorova, author of The Age of Ice
"Epic fantasy readers will love this action-packed adventure of elite warriors and romance!"
– Amy Raby, author of the Hearts and Thrones series
"Anna Kashina has created a magically enthralling world of extraordinary warriors – female ones, too! – bound by extreme codes of honor, scholars dedicated to preserving ancient mysteries, and crew of stalwart heroines and heroes. Set against a sweeping political backdrop of warring kingdoms and religious faiths,  the books of The Majat Code hit that sweet spot of excellent world-building for fantasy readers and a poignant romance payoff in the end. Love this series!"
– Jeffe Kennedy, author of The Twelve Kingdoms trilogy
"Fast-paced, ninja-style fight scenes, a pleasant, easy read and an entertaining story. A solid start to what looks to be an exciting series."
– British Fantasy Society
You get fast-paced travel with political intrigue and danger, amazing martial arts fights of extreme skill, cultural immersion from around the world, and a little hint of romance without ruining the tough fighter feel… I really cannot express enough times how highly I recommend this story to everyone."
– In Pursuit of My Own Library
"I really enjoyed this book despite not being a huge fan of romance-themed novels. I feel it is for those who want more romance in their fantasy while also getting a hefty dose of action, adventure, and intrigue… It was a good book, and well worth the read. I'll be reading this one again."
– R.J. Blain
"Blades of the Old Empire wows the reader with a profound and endearing cast. Kashina's talent for conveying complex ideas quickly endows her characters with instant depth."
– Cowering King
"I loved this one even more than the first, Blades of the Old Empire … Kara is the hinge-point for much of the drama. She's a strong female character … an absolutely awesome heroine. Not just because she's physically strong and capable, but because she has a tremendous amount of agency and is totally (and very humanly) conflicted about what to do with it."
– Marlene, The Book Pushers
"Such a great read! One of the things I really enjoyed about this instalment is how Kashina addressed the elephant in the room, which was the relationship established in the first instalment.  She really showed both the power and the peril of love along with some of what it would take to really lead as a ruler, not just hold the name. I loved each reveal, each twist, and the tension."
– E, The Book Pushers