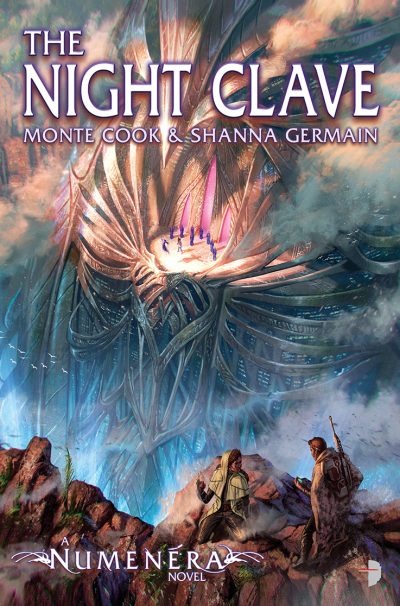 Numenera – The Night Clave
Science fiction adventure in a decaying far future setting in the new tie-in novel from the popular Numenera tabletop and PC roleplaying games.
---
File Under: Fantasy [ Protect the Clave | Devices & Designs | Death Walkers | World's End ]
---
A Standalone Novel of Numenera
Buy the ebook version now – only
£

3.99
SKU: AR9780857667212
In the far-future Ninth World, claves of Aeon Priests help their community understand and use the mysterious technologies of the past. But what happens when a group of these priests uses this knowledge and power to exploit the people who depend on them?
In the region of Steremoss, a group of brave individuals are determined to resist this oppression from the shadows. They call themselves the Night Clave.
| | |
| --- | --- |
| Release Date | 2017-11-02 |
| Series | Numenera |
| Cover Art | Federico Musetti |
| Ebook | 2nd November 2017 | 9780857667212 | Epub & Mobi | RRP £6.99 / US$6.99 / CAN $7.99 |
| US Print | 7th November 2017 | 9780857667205 | Trade Paperback | RRP US$7.99 / CAN$10.99 |
| UK Print | 2nd November 2017 | 9780857667199 | Paperback | RRP £8.99 |
Praise for the Numenera novels
"A carefully woven tale that builds slowly, rewarding patient readers with revelation after revelation, building to a crescendo at the climax."
– Barnes & Noble Sci-Fi & Fantasy Blog
"Despite the setting and sci-fi/fantasy blending, this novel is an intense character study of a woman trying to literally rebuild herself. The writing is lovely and borders on the poetic. Equally impressive is that despite the strange setting, language and terms, and wondrous tech, Germain grounds the world through the characters and keeps the focus on them. The mystery of the poison-eating ritual and the looming threat of invasion drives the story, but the focus is ever on Talia, her past, and an unsure future. Overall, this is a fantastic sci-fi/fantasy novel but readers of any genre will fall deeply into Talia's story."
– San Franciso Book Review
"I really enjoyed it. It is absolutely completely other worldly."
– Ever the Crafter
"An enjoyable diverse fantasy read with prominent sci-fi elements that was unique, well-written and complex."
– Cover 2 Cover
"For fans of Sci-Fi, Fantasy, Dystopia, and books built on the structure from a RPG, this is a great read."
– Pop Culture Beast
"Entertaining enough that I gladly read the whole thing and enjoyed the ride."
– Blogger's Bookshelf
"Germain's realization of Enthait is vivid, to the point that the reader can taste the dust in the air and murmurs of a living city like bees buzzing around the hive, and her ability to twist a story round history and half-dreamed memories builds the kind of novel that is tantalizingly missing just the right pieces to pull the reader in until the end."
– King of Books
"Readers who enjoy their fantasy and science fiction together need look no further than the mech-enhanced cast of characters in this alt-world fantasy story. Like the work of Kameron Hurley, this novel is bleak, full of tough-as-nails women willing to do what they must to survive, yet tells a universal story that many fantasy fans will relate to."
– I Am Booking
"A rich and vivid read. Highly recommended!"
– All Booked Up