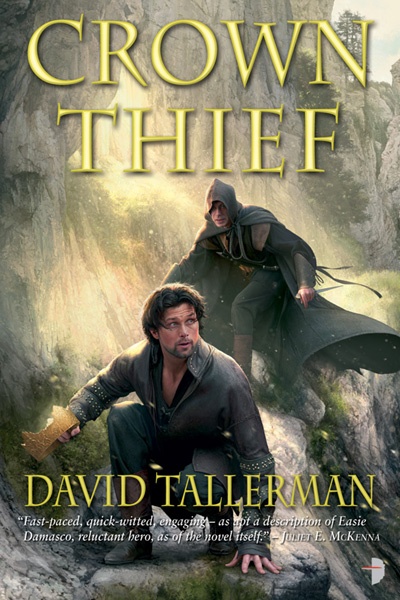 Crown Thief
"A fast-paced, witty and original fantasy, reminiscent of Scott Lynch and Fritz Leiber."
– Adrian Tchaikovsky, author of the Shadows of the Apt series, on Giant Thief
---
The continuing adventures of thief, swindler and all-round rogue Easie Damasco and his Giant friend, Saltlick.
---
File Under: Fantasy [ Run Easie Run | A Big Help | Not again! | Prince of Thieves ]
---
The Second Tale of Easie Damasco
Buy the ebook version now – only
£

6.99
SKU: AR9780857662514
Meet Easie Damasco: Thief, swindler and lately, reluctant hero.
But whatever good intentions Damasco may have are about to be tested to their limits, as the most valuable – and dangerous – object in the land comes within his light-fingered grasp.
Add in some suicidally stubborn giants, an old enemy with dreams of empire and the deadliest killers in two kingdoms on his heels, and Damasco's chances of staying honest – or even just surviving – are getting slimmer by the hour.
"It's a fun romp in a dark fantasy world and when you add to this great prose, top notch prose and combat to keep you glued, all in all this is a great second book for the reader to enjoy."
– Falcata Times
"I enjoyed Crown Thief very much. It was an interesting read, very quick and easy to get through. Ending with a bit of a cliffhanger, it leaves you wanting for more."
– Becca Lovatt, The Arched Doorway
"If you haven't met Easie Damasco, you should. You'll be glad you did."
– Keith West, Adventures Fantastic
"Tallerman's strengths as a writer shine through, compensating for a plot that is comparatively simple for a fantasy novel, yet ultimately refreshing for it."
– Alister Davison – Starburst Magazine
"The main strength of this book is that the reader is given much more a sense of Easie's characterisation and it is a delight to discover that the infamous thief may have a conscience after all."
– Elloise Hopkins for the British Fantasy Society
"Go forth and purchase this book. It's fun, it's serious, it will make you laugh once or twice … Crown Thief is a great read and I would even recommend it to people who do not normally read fantasy."
– Clockwork Reviews
"[Easie] Damasco is the kind of vivacious, irreverent character who will steal your affections, and any book with him in it is too short."
– Ros Jackson, WarpCoreSF