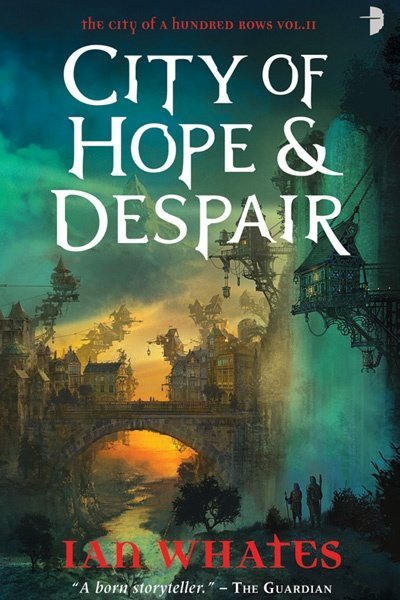 City of Hope and Despair
"Adventures in a nightmare citadel – a story that hits the ground running and doesn't let up."
– Liz Williams
---
Welcome back to the City of 100 Rows… where the nightmare has only just begun.
---
File Under: Fantasy [ Towering City | Ancient Secrets | Assassins & Gods | Soul Thief! ]
---
Book two in the City of a Hundred Rows series
Buy the ebook version now – only
£

3.99
SKU: AR9780857660893
THEY CALL IT THE CITY OF A HUNDRED ROWS.
The ancient city of Thaiburley is a vast, multi-tiered metropolis, where the poor live in the City Below, and Demons are said to dwell in the Upper Heights.
The street-nick Tom must find the source of the great river Thair and perhaps learn the secret of his own strange powers…
The assassin Dewar must redeem himself…
The Prime Master desperately seeks the cure for bone flu – a mysterious and deadly malady that is striking down the talented in Thaiburley's highest Rows…
Kat, the renegade nick, forms an uneasy alliance with her sister Charveve, and the two lead the Tattooed Men through the dark streets of the City Below in search of the Soul Thief: the evil monster that murdered their mother and consigned both girls to the gladitorial hellhole known as the Pits…
Welcome back to Thaiburley, the City of 100 Rows, the City of Dreams… where the nightmare has only just begun…
"Born story-teller Ian Whates takes us on a gripping, terrifying trip-of-a-lifetime, through the heights and depths of the exotically grim city of Thaiburley, in this excellent fantasy thriller."
– World Fantasy Award-winning author, Tanith Lee
"This novel is one I would heartily recommend; City of Hope and Despair is a fantastic book, full of emotional ups and downs, turmoil and adventure, drawn with a steady, deft hand by Whates, whose authorial control is magnificent. I really want to see where this series is going."
– Libris Leonis
"City of Hope & Despair moves fast and is a page turner with everything that made City Dreams and Nightmares entertaining."
– Liviu Suciu, FantasyBookCritic.blogspot.com
Praise for City of Dreams & Nightmares
"Whates's assured prose, slick pacing and inventive imagination make for a gripping read. His first novel is the work of a born storyteller."
– The Guardian
"City of Dreams & Nightmare grabs you pretty much from the first page and then you really do not want to put it down since it just twists and turns and the threads following the main characters above are all deftly handled with very smooth jumps and several crucial interludes following the 'true movers and shakers' of the novel. Highly recommended as a strong A and a fun, page turning sff adventure that will enchant all fans of such."
– Fantasy Book Critic
"There is such a great deal to recommend about this book from the imaginative elements like the cyborg type creatures and common use of magic and the incidental touches that Ian describes, to the strange city with it's myriad levels and unusual inhabitants. There is also a real sense of a living, breathing city with insights into the various ways [the city of] Thaiburley works… City of Dreams & Nightmare is a brilliantly executed novel, perfectly paced, beautifully described and a true joy to read."
– ScienceFictionandFantasy.co.uk
"The gothic-noir feel of the urban landscape adds atmosphere to the plot and informs the personality of the entire book… possibly the most amazing and mind-blowing cityscape I have yet encountered."
– Temple Library Reviews
"A wondrous and ingenious read. Highly plotted with multiple point-of-view characters set loose in a mega-city that might not be a city at all but a living creature. Whates' imagination is energetic and enchanting and similarities to the novels of Ian Watts, Michael Moorcock, China Mièville, and Mervyn Peake inevitable."
– Hub Magazine