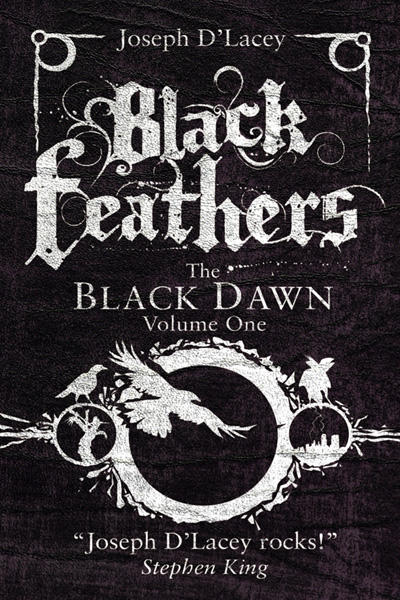 Black Feathers
"Black Feathers is an enthralling novel written with gnarly, knotty elegance, every page gravid with menace. Further proof, were it needed, that Joseph D'Lacey is one of our great, dark hopes for the future of UK horror."
– Conrad Williams, author of One, London Revenant, The Unblemished and Loss of Separation
---
In the first part of the Black Dawn – a post apocalyptic dark fantasy for our times – two children set out on a quest to find The Crowman.
---
File Under: Fantasy [ The Crowman | Joined Through Time | The Last Keeper | The Journey Begins ]
---
The first book in the Black Dawn duology
Buy the ebook version now – only
£

2.99
SKU: AR9780857663467
It is the Black Dawn, a time of environmental apocalypse, the earth wracked and dying.
It is the Bright Day, a time long generations hence, when a peace has descended across the world.
In each era, a child shall be chosen. Their task is to find a dark messiah known only as the Crowman. But is he our saviour – or the final incarnation of evil?
| | |
| --- | --- |
| Publication date | |
| Cover Art | ARGH! Oxford |
| Ebook | 26th March 2013 | 9780857663467 | Epub & Mobi | RRP £5.49 / US$6.99 |
| US Print | 26th March 2013 | 9780857663450 | Massmarket Paperback | RRP US$7.99 CAN$8.99 |
| UK Print | 4th April 2013 | 9780857663443 | Paperback | RRP £8.99 |
| Goodreads URL | Discuss Black Feathers |
"A bold beginning to a new duology from the brilliant D'Lacey. Two children embark on a search for meaning that is riddled with ambiguity about the nature of the saviour they seek and which, ultimately, provides a siren call to live in harmony with the land."
– Alison Littlewood, author of A Cold Season
"Black Feathers is poetic and compelling. It's a gripping story crafted around a deep core of eloquent anger. And it's scary – it's the scariest kind of fiction – the kind of fiction that rings true. D'Lacey has written a great book of and for our troubled times."
– Tom Fletcher, author of The Leaping
"Dreadfully visionary. Appallingly inspired. One could wear out a thesaurus trying to articulate the singular fusion of qualities that has come to define Joseph D'Lacey's work. Alternately (and sometimes simultaneously) horrifying, mesmerizing, shocking, unsettling, and beautiful, and always deeply intelligent, it's utterly unlike anything else I'm aware of. It's also utterly wonderful."
– Matt Cardin, author of To Rouse Leviathan and Dark Awakenings
"Joseph D'Lacey is one of our best new horror writers, delivering surprises, intensity, and scares aplenty with each new book. And with every book, he's upping his game."
– Tim Lebbon, author of The Heretic Land
"A deeply personal story full of invention: as compassionate as it is genuinely terrifying. Joseph D'Lacey's talent lies in creating realities too close to our own for comfort, but his greatest gift is in his ability to always make us care about both.£
– Carole Johnstone, author of Frenzy
"Joseph D'Lacey rocks!"
– Stephen King
"An exceptional piece of apocalyptic/horror/fantasy fiction."
– Tor.com
"D'Lacey's passages are rife with urgency … its message on environmental issues, meticulous setting of scene, and successful intertwining of the characters' narratives makes for an engaging read."
– Publishers Weekly
"Black Feathers artfully weaves a tale of destruction and rebirth."
– SciFi Now
"If you're a horror fan and you're not already reading Joseph D'Lacey you had better have a bloody good excuse."
– The Eloquent Page
"I highly recommend this to any fans of horror, post-apocalyptic type books. Loved it, loved it – I want the next one already."
– Julie-Anne at Thoughts of a Scot
"full of powerful and beautiful passages that while written for this fictional Earth, are also very strongly advocating for us as a people to take better care of the Earth we live on."
– Lisa Taylor at Wilder's Book Reviews
"D'Lacey has served up his most delectable treat yet with this novel."
– Richard Kellum, Pan-Dimensional Elf Machines From Hyperspace
"I really, really enjoyed this book. I thought the elements of horror were woven into fantasy of the novel with real expertise … The mythology of The Crowman is well designed and feels very real."
– Karl at Kodex Karlthulu
"There's so much to be had in this book. The prose is stunning. D'Lacey's imagery is complete without being overwhelming. The unique plot is well-paced, and populated with believable characters."
– Alisha Cunningham at Dear Constant Reader
"With memorable settings, vivid writing and important themes, Black Feathers is an extremely atmospheric and thought-provoking read."
– Vicky Hooper, Vicky Thinks
"Spectacular is the word I'd use to describe [Black Feathers]. Nothing else can capture the reading experience."
– Shadowhawk at The Founding Fields
"I really enjoyed this book … The ending made my heart drop and almost frantic for more … This is a story I will be thinking about for a very long time."
– Tiara at The BiblioSanctum
"You need to go into this book knowing that its message is central to its existence. If you accept that, you will enjoy a superbly written dark fantasy with some truly original ideas and a very clever culture-crossing hero's journey."
– Alan Baxter, Thirteen O'Clock
"D'Lacey is not only a thought-provoking author who has the gift to make you think, he has the gift to make you feel what his characters are feeling as well (their fear, their pain, their emotion)."
– Jason at The Mad Ravings of an Entertainment Junkie
"A brilliant take on the post apocalyptic genre. Creepy, unnerving and page-turning, D'Lacey creates a compelling story with some fascinating characters."
– Bane of Kings at The Founding Fields
"As can be expected from Joseph's work, there are moments of horror, moments of wide-eyed disbelief, moments of laughter and tears and silence pregnant with either peace or rage. He managed to handle everything beautifully and with respect, making both his characters and the world they inhabit come alive."
– Dave-Brendon de Burgh
"The images of a bleak and savage world are genuinely horrific … Gripping stuff and I look forward to the conclusion of this tale."
– Theresa Derwin, Terror Tree
"I really did love this book, as it had everything I was looking for and more, and really redefined the genres of fantasy and dystopian fiction. I know the two genres have been merged before, but this book just had that special un-put-down-able spark I couldn't resist."
– Rebecca at Book Chick City
"D'Lacey does an excellent job interweaving the two narratives and the story moves along at a brisk pace … D'Lacey's definitely an author you should be checking out and this is an excellent book with which to start."
– Chris at All Things Urban Fantasy
"Black Feathers is one of the best books I have read this year … I don't think I've read a book quite like Black Feathers, but I know I liked it and I suspect that many of you will like it too."
– Ryan Lawler, Fantasy Book Review
"Black Feathers is a unique take on horror and it was for a me a story that did not turn out the way I expected. The narration of the book was great and it felt like the myth surrounding the Crowman is being read to me, being handed down to the next generation."
– Jasper de Joode, Fantasy Book Review
"Read it. If, like me, you feel like you've read every post-apocalyptic book out there, you haven't. Black Feathers is something different, with a new take on the end of the world."
– Leanna at Leeanna.me
"Black Feathers is an original and intelligent apocalypse story. It's a myth-filled fable of the end of the world on an individual basis. It's a coming-of-age story set on a cruel and broken Earth."
– Stanley Eriks
"It terrified me, made me angry, made me sad, transported me somewhere new and yet strangely familiar, and hasn't left my head yet. It combines mythology, folktale, shamanism, coming of age and apocalyptic themes to create something very special."
– And Then I Read a Book
"Recommended to anyone who wants a more intelligent story, with lots of secrets and mystery, people who don't mind a little thinking while reading."
– Draumr Kopa
"Irresistibly addicting."
– Books Bones & Buffy
"I loved this novel, despite the fact that it gave me chills and some bad dreams."
– Popcorn Reads
"A refreshing take on the whole post-apocalyptic genre and a great introduction to the writing of Joseph D'Lacey."
– Upcoming4Me
"A darkly rich and foreboding fantasy which hovers on the frightening edge of a believable future."
– LoveReading
" I thoroughly enjoyed this book."
– Strange Currencies