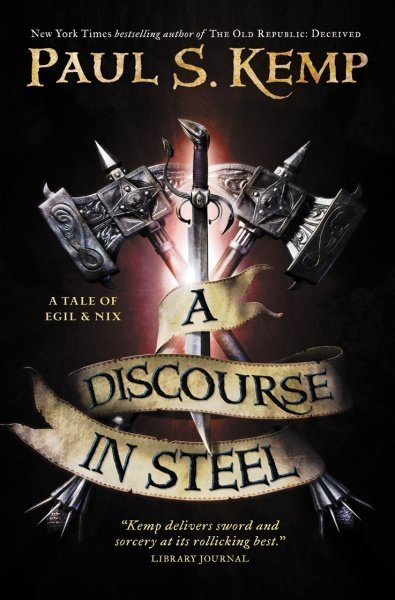 A Discourse in Steel
"His name should be mentioned along with not only RA Salvatore, but also with such luminaries as Neil Gaiman, George RR Martin, Terry Pratchett, and Tad Williams. His novels are a reminder that reading can be both entertainment and thought-provoking, all in the same breath."
– Grasping for the Wind
---
A hugely-enjoyable adventure in classic sword and sorcery mode, from the New York Times bestselling author of Star Wars: Deceived and The Hammer and the Blade.
---
File Under: Fantasy [ Incriminating | Mind Matters | One Last Time | The Steal Remains ]
---
The second adventure in the Tales of Egil and Nix sword and sorcery series, sequel to The Hammer and the Blade.
Buy the ebook version now – only
£

3.99
SKU: AR9780857662545
Egil and Nix have retired, as they always said they would. No, really – they have! No more sword and hammer-play for them!
But when two recent acquaintances come calling for help, our hapless heroes find themselves up against the might of the entire Thieves Guild.
And when kidnapping the leader of the most powerful guild in the land seems like the best course of action, you know you're in over your head…
"Filled with a good amount of action, adventure, and humor in a good blend that left me entertained throughout the entire book. 8/10"
– The Founding Fields
"The whole thing is wonderfully impressive on one hand, and delightfully rewarding on the other. Yes, I will confess you cannot escape the knee jerk reaction of asking yourself: 'What have they gotten themselves into this time?' But even as you find yourself following along to find out and be filled in on matters you also soon become distracted by the growing plot that no doubt will ensnare our beloved and boisterous heroes."
– Silver Pen Scribe
"It is in the characters, particularly Egil and Nix, that Kemp shines and draws the reader in. The comparisons to Leiber's Fafhrd and the Gray Mouser are obvious, and are a nice homage to the classics of the genre. However, I also was reminded of the Hawk and Fisher series by Simon R Green… And that is good company to be in."
– Being a Big Sandwich
"The characters are deep and fun to get to know, the story is interesting, and the action is top shelf."
– Kobold Press
"An entirely new adventure that builds off of the first book and will prove to be a gratifying experience."
– Odd Engine
"This is the fantasy you've been craving. If you've been dying for some real originality in the fantasy realm – with a scene of revenge that would make even Kick-Ass' Hit Girl do a double-take – then A Discourse in Steel is your next stop."
– A Cinephile's Book Review
"Without spoiling the story, readers can expect combat, magical items, chases, and some tantalizes glimpses of ancient powers. Throughout the story, there's fun dialog and great chemistry between the characters. Fans of fantasy fiction and sword and sorcery would be well advised to give A Discourse in Steel a try. I give it a five out of five."
– Roqoo Depot
"This book is a brilliant adventure, with sword and sorcery, adventure and supernatural horrors that only exist in Paul S Kemp's personal world. A great book and a brilliant read."
– Tome of Geek