The most zany, heartwarming and fun series is back, with Amber Royer's Pure Chocolate!
We're so excited for you to read all about the continuing adventures of Bo Benitez and her friends, as they cross the galaxy encountering terrifying aliens and fighting bad guys, when the book hits shelves in March 2019. Seems such a long wait, doesn't it? Well, fret not, as today we've got the beautiful cover to show off, created by the brilliantly talented Heri Irawan. 
Ready?
Here we go:
More →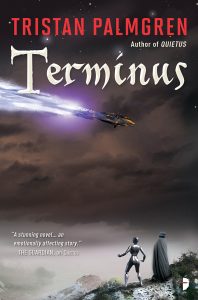 Sink deep into Terminus, Tristan Palmgren's brilliant, serious SF sequel to the critically acclaimed Quietus, by reading the first three chapters for FREE on us!
"I'm absolutely in love with this book. I love the characters, I love the connection of the plot to the plot of the previous book, I love the DEVELOPMENT. 15/10 would reread a thousand times and none of you can stop me." – Litcast of Doom
---
More →
Ahoy here, Robot fans!
Today we have a new cover reveal for
More →
We told you yesterday that we'd be at MCM Comic Con in London but that's not the only place our authors are hanging out this weekend. Both Kaaron Warren (Slights) and James A Moore (The Last Sacrifice) will be at World Fantasy Con, with the former being Guest of Honour.
Here's where the pair will be all weekend. As always, programmes are subject to change so do double check your schedule on the day to see that all is in order.
More →

We know you love it free and pulpy, so we've put together the opening four chapters from four of our finest, pulpiest reads. It's the best of matinee-style adventure, bloody exploitation thrills filled with battered heroes and villainous bad guys! Oh yeah, and it's FREE! Pulped Fiction is available from all the usual ebook sources (like Amazon, B&N Nook, iTunes and Play), or you can download it from us right here. Read it, love it, buy the complete books!

More →

It seems that our Robots weren't ready to stop partying after last week's incredible FantasyCon, so they're back at it again this week, with a visit to MCM Comic Con, London. Tim Pratt (The Wrong Stars, The Dreaming Stars), Jeannette Ng (Under the Pendulum Sun) and Micah Yongo (Lost Gods) will all be at the convention, talking on panels, signing novels and generally taking in the great atmosphere.

Below are their schedules for the weekend, though as always, these things are subject to change so do download the incredibly useful MCM app for all of the

More →

Woooohooooo!!! Friends, we have great news! *throws glitter*

Jeannette Ng won 'Best Newcomer' at the British Fantasy Awards!

Best Newcomer goes to @jeannette_ng for Under The Pendulum Sun! And delivers a THUNDEROUS and vital speech about the need to build the future without obsessively honoring the past, truer now more than ever.

— Alasdair @ Fantasycon (@AlasdairStuart) October 21, 2018

Jeannette, whose novel Under

More →