Great news Salvi Brentt fans! You may soon be seeing her character take form on the small screen! An Oscar and Golden Globe nominated TV production company have now optioned the rights to The Subjugate TV series. And while that's been under negotiation, Angry Robot has commissioned the second book in the series, The Sensation. And as if that wasn't exciting enough, we've got the cover reveal for you right here!
More →
The most zany, heartwarming and fun series is back, with Amber Royer's Pure Chocolate!
We're so excited for you to read all about the continuing adventures of Bo Benitez and her friends, as they cross the galaxy encountering terrifying aliens and fighting bad guys, when the book hits shelves in March 2019. Seems such a long wait, doesn't it? Well, fret not, as today we've got the beautiful cover to show off, created by the brilliantly talented Heri Irawan. 
Ready?
Here we go:
More →
We've got a brand new cover reveal for you all!
You've hopefully already picked up Cameron Johnston's brilliantly wrought grimdark The Traitor God, which we released this past June. Hot on its heels comes the sequel, God of Broken Things, which will be hitting shelves in June 2019 and which now has a flipping badass cover for you all to feast your eyes on.
Here's the synopsis:
Tyrant magus Edrin Walker destroyed the monster sent by the Skallgrim, but not before it laid waste to Setharis, and infested their magical elite with mind-controlling parasites. Edrin's own Gift
More →
Ahoy here, Robot fans!
Today we have a
More →
Cover reveal, hoooooOOOOO!
It's that time again! Now, you should be – and if not, why not, huh? Huh? Huh? – already acquainted with the antics of Ella Patel who was, in Wesley Chu's fast paced and action packed sci-fi novel The Rise of Io, forced to share her head with the alien Io, a low-ranking Quasing with a bit of an attitude problem. Well, we say that Io has one… so too does Ella, the streetwise kid you definitely wouldn't want to get on the wrong side of. Now, in sequel The Fall of Io – which hits shelves
More →
Humans, we have official news.
It has come to our attention that the B&N Sci-Fi & Fantasy Blog has recently posted an article detailing the cover art for Darius Hinks' The Ingenious by none other than John Coulthart, creator of such covers as Under the Pendulum Sun and Moonshine.
It is important that you head to the site right now and take a look at the brand new, super shiny artwork without hesitation, because it is fucking beautiful and your eyes deserve that kind of treat.
Here's a sneak peek to tide you over until you click
More →
Happy Friday, humans!
We've got some good news for all fans of Patrice Sarath's The Sisters Mederos: the crack team at Watkins Media have sold German rights to the novel to Feder & Schwert GmbH. So, if your German is up to scratch  and you want to read The Sisters Mederos in both English and German then you'll soon be in luck. Or, if you have any friends who would prefer to read this intriguing, sororal, magical novel in their mother tongue, let them know!
Now, the good news isn't over. While we have you, we wanted to captialise
More →
Hail, meaty beings! We have a new cover to show off to you! Today it's the artwork for The Outlaw & The Upstart King, the second in Rod Duncan's Map of Unknown Things series, and it's absolutely wonderful.
We'll tell you a bit more about the book below but for now feast your eyes upon this thing of beauty:
As always,
More →
As the Ancient Greeks know, trying to kill Gods is a really bad idea. Alas Brogan McTyre and his band of friends didn't get that memo and now the majority of the Five Kingdoms lies in ruin.
Still, despite the perils happening within James A Moore's The Tides of War series, the novels always have glorious covers, and the artwork for the final novel in the series, The Gates of The Dead, is no exception. Just take a look below to see the full, incredible cover. Our thanks, as always, to living legend Alejandro Colucci, for the
More →
Do you remember way back in July when we published T J Berry's incredible debut, Space Unicorn Blues? Well, we're here to tell you that the sequel, Five Unicorn Flush is coming, and it now has a gorgeous, gorgeous new cover. Full metal thanks, as always to cover artist extraordinaire, Lee Gibbons.
Head on over to the full cover reveal on the B&N Sci-Fi & Fantasy Blog, where you can also read a post from T J on five fantasy worlds that DEFINITELY want to kill you.
The novel will be hitting shelves in May of 2019.
More →
Human chattel, we have a new cover for you to feast your eyes upon. Gaze at the beauty, slaves, and cry with joy at its depth of colour and magnificent lettering.
BUT FIRST!
We should tell you that the cover is for the third novel in James A Moore's grimdark series The Tides of War, and is entitled Gates of the Dead. It novel will be released in January 2019.
Here's the synopsis:
Brogan McTyre started a war with the gods, and he's going to end it. Raging gods have laid waste to the Five Kingdoms. Only Torema remains,
More →
This September we're very excited to bring you a brand new science fantasy novel, Hidden Sun, and today we're showing you the brilliant new cover!
Hidden Sun is the first in the Shadowlands series, which takes place in a fascinating and mysterious world of darkness and light. Here's the synopsis:
Rhia Harlyn is a noble in Shen, one of the dozens of shadowlands which separate the bright, alien skyland. She has a missing brother, an unwanted marriage proposal and an interest in science considered unbecoming in her gender. Her brother's disappearance coincided with a violent unsolved murder, and Rhia impulsively
More →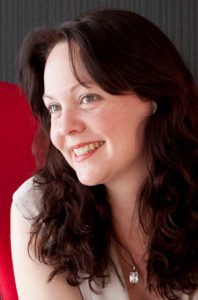 You might have already seen the news over on the B&N Sci-Fi & Fantasy Blog that we have captured ourselves a brand new, shiny AI for the orbital death platform.
Amanda Bridgeman, known for her self-published Aurora series, which was finalist for an Aurealis Award over in her native Australia, is joining our ranks with new novel The Subjugate, a crime-tinged sci-fi in which a pair of dectectives race to solve a spree
More →