"The characters are memorable and the action is as good as it gets.
Vampire Warlords is a thoroughly satisfying conclusion to the trilogy."
– The Eloquent Page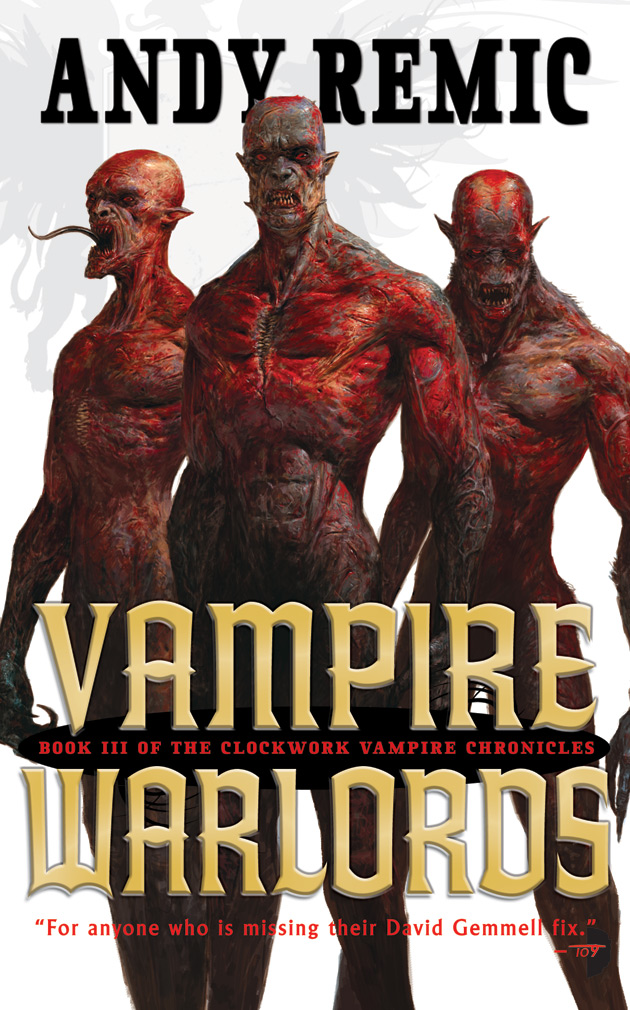 The conclusion to the epic Clockwork Vampire Chronicles – more blood-soaked, action-packed, vampire-laced dark fantasy.
Legendary warrior Kell must choose to flee the conquered land of Falanor, or fight for its people. Even now it may be too late, that all is lost… for the Vachine invaders have called upon their ancient rulers, semi-immortal bloodsuckers who dwell on the edges between life and death.
The vampire warlords have returned, and they will feed.
File Under: Fantasy [The Dark Lords Risen / A Last Stand / A Dandy Torn / Epic Confrontation]
Cover Art: Adrian Smith
(click the cover for a larger image)
Book Info:
The Third Book in the Clockwork Vampire Chroniceles
UK Print
Date: May 2011
ISBN: 9780857661050
Format: Small (A-Format) Paperback
R.R.P.: £7.99
North American Print
Date: June 2011
ISBN: 9780857661067
Format: Small (Mass-Market) Paperback
R.R.P.: US$7.99 / CAN$9.99
Ebook
Date: May 2011
ISBN: 9780857661074
Format: Epub & Mobi
R.R.P.: £5.49 / US$6.99
Book Trailer
Other Books in This Series:
1. Kell's Legend (September 2009)
2. Soul Stealers (November 2010)
O. The Clockwork Vampire Chronicles (Omnibus Edition) (March 2012)
More Angry Robot Books by Andy Remic:
The Rage of Kings
1. The Iron Wolves (January 2014)
2. The White Towers (June 2014)
The Blood Dragon Empire
1. The Dragon Engine (September 2015)
2. Twilight of the Dragons (May 2016)
Buying Info:
UK Print & Ebook
Amazon.co.uk | Book Depository | Waterstones | WHSmith
North American Print & Ebook
Amazon.com | Amazon.ca | BarnesandNoble.com | IndieBound.org
Global DRM-Free Epub Ebook
Robot Trading Company
Author Info:
Andy Remic: WWW | @andyremic on Twitter | Facebook
Discuss and Share:
Discuss and Review Vampire Warlords at Goodreads.com
Read an Extract:
Sample Chapters to follow…

Read, download, share and embed via Issuu.com
Praise and Reviews:
"Vampire Warlords is the best read of the bunch and for very good reason. … Remic has spent the last two books raising the stakes for Kell and just when you thought it couldn't get any worse… it does."
– Graeme's Fantasy Book Review
"The secret to these books is that Remic draws you in, he makes you feel, he tricks you, he hurts you, he draws you in further. Reading a Remic book is not like reading, it's like playing the most immersive video-game, or watching the best film, you believe you are there, you feel every cut, every crash of steel, every heartbeat, every gasp of breath. The excitement comes from this interactive experience, which is beyond what other writers do."
– Stanleyriiks' Blog