"In her debut, The Alchemist of Souls, Anne Lyle creates an alternate Elizabethan England done right. A world where history meets fantasy in the streets, and where neither emerges unscathed. With a twisting plot, endearing characters, fast-paced action, and truly unique and alien "fey", Lyle steps up and gives notice to the genre.
No wilting faerie queens and tortured knights here: this is how historical fantasy
gets dirty. A great first instalment in a promising new series."
— Douglas Hulick, author of Among Thieves
"In her terrific debut novel, Anne Lyle conjures up a magical Elizabethan England of seedy glamour, long shadows, pulsating romance and heart-stopping adventure.
The Alchemist of Souls is the calling card of a great new talent in the fantasy field."
– Mark Chadbourn, author of The Sword of Albion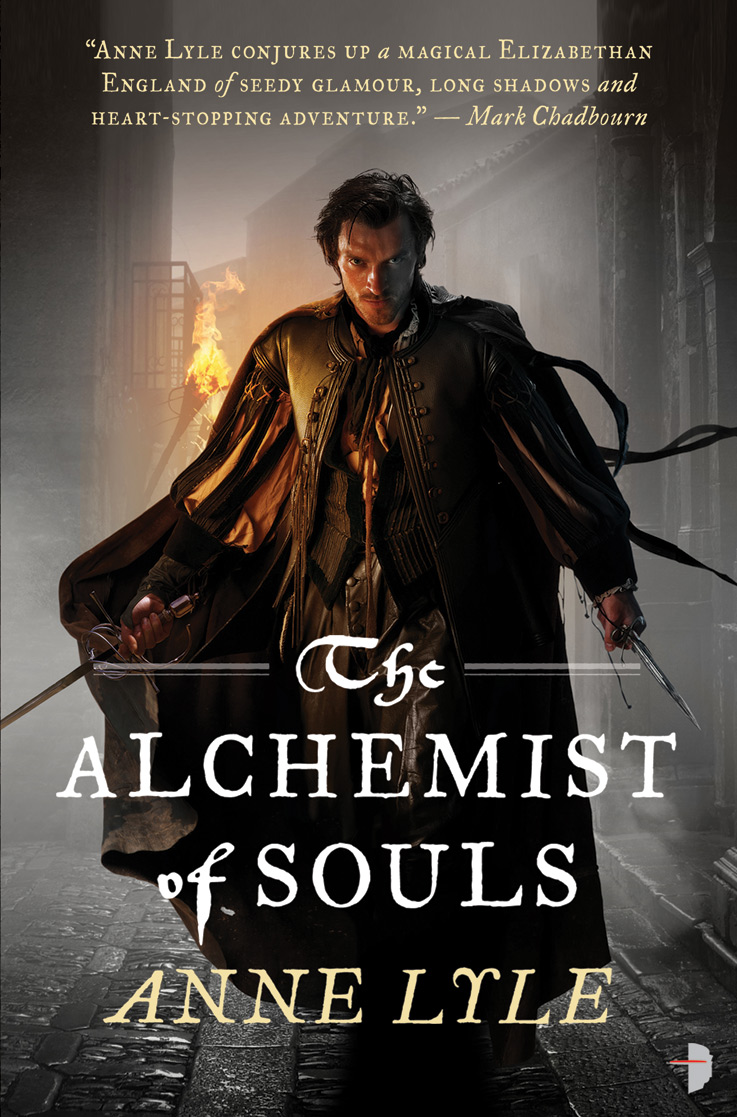 When Tudor explorers returned from the New World, they brought back a name out of half-forgotten Viking legend: skraylings. Red-sailed ships followed in the explorers' wake, bringing Native American goods – and a skrayling ambassador – to London. But what do these seemingly magical beings really want in Elizabeth I's capital?
Mal Catlyn, a down-at-heel swordsman, is seconded to the ambassador's bodyguard, but assassination attempts are the least of his problems. What he learns about the skraylings and their unholy powers could cost England her new ally – and Mal Catlyn his soul.
File Under: Fantasy [ Midsummer Magic | Skraylings | Double Trouble | Comedy of Terrors ]
Cover Art: Larry Rostant at Artist Partners
(click the cover for a larger image)
Book Info:
The First Book in the Night's Masque Series
UK Print
Date: 5th April 2012
ISBN: 9780857662132
Format: Medium (B-Format) Paperback
R.R.P.: £8.99
North American Print
Date: 27th March 2012
ISBN: 9780857662149
Format: Small (Mass-Market) Paperback
R.R.P.: US$7.99 / CAN$9.99
Ebook
Date: 27th March 2012
ISBN: 9780857662156
Format: Epub & Mobi
R.R.P.: £5.49 / US$6.99
Other Books in This Series:
2. The Merchant of Dreams (World: Jan 2013)
3. The Prince of Lies (World: Nov 2013)
Buying Info:
UK Print & Ebook
Amazon.co.uk | Book Depository | Waterstones | WHSmith
North American Print & Ebook
Amazon.com | Amazon.ca | BarnesandNoble.com | IndieBound.org
Global DRM-Free Epub Ebook
Robot Trading Company
Audiobook
Amazon.co.uk | Amazon.com
Author Info:
Anne Lyle: www.annelyle.com | @AnneLyle on Twitter | Facebook
Discuss and Share:
Discuss and Review The Alchemist of Souls at Goodreads.com
Read an Extract:

Read, download, share and embed via Issuu.com
Praise and Reviews:
"Anne Lyle's fluid writing brilliantly evokes the heady and gritty atmosphere of her alternate Shakespearean London – from the day-to-day life of theatre troupes to the pomp of official ceremonies."
– Aliette de Bodard, author of the Obsidian and Blood series
"Anne Lyle's The Alchemist of Souls teems with intrigue and magic worthy of the Bard himself, all set against the backdrop of Elizabethan London. The attention to historical detail brings the time and place alive and peoples it with characters I could instantly empathize with. An outstanding debut!"
– Lynn Flewelling, author of the Tamir trilogy
"Murder, mayhem and intrigue at the court of Elizabeth I. All this and magic too makes for a great read."
– Mike Shevdon, author of Sixty-One Nails
"With an effective mix of espionage, backstage drama, and mystery, Lyle provides compelling drama in an intriguing setting."
– Publishers Weekly
"It's always a pleasure to encounter a debut fantasy novel that combines storytelling verve with inventive turns of phrase." Four Stars.
– SFX Magazine
"…gives Shakespeare's London an alternate-history twist … A lively, readable debut."
– David Langford, Telegraph.co.uk
"A rich historical setting, some gloriously ambiguous characters, and a whole lot of unexpected surprise collide to make this unmissable for any fan of historical fantasy."
– Jacob Topp-Mugglestone, Drying Ink
"Lyle is a superb talent, one I think everyone should be reading. The Alchemist of Souls is very highly recommended."
– Stefan Fergus, The Alchemist of Souls
"A fantastic, original piece of historical fantasy that makes Lyle a début author to watch out for in 2012."
– Bane of Kings, The Founding Fields
"I would definitely rate The Alchemist of Souls as one of the best novels of the year and I highly recommend that everyone go and grab the novel when it is released."
– Shadowhawk, The Founding Fields.
"Mysterious circumstances combined with historical authenticity and the strange, Anne Lyle's The Alchemist of Souls is a 2012 debut I can strongly recommend."
– Justin, Staffer's Musings
"…a beautifully written story of intrigue, hatred, mystery and love."
– Erik Lundqvist, I Will Read Books
"An outstanding debut and Lyle is certainly a name to watch for the future. I thoroughly enjoyed it."
– Carl Barker, for The British Fantasy Society
"The Alchemist of Souls, is a big tankard of Elizabethan ale, foaming with intrigue, hidden identities, secret societies, treachery, plots, swordplay and magic."
– FantasyLiterature.com
"If you like good fantasy or historical fantasy, pick this book up!"
– Sci-Fi Fan Letter
"Anne Lyle's writing is beautiful, elegant and gripping; be prepared to be swept away to a rich and colourful depiction of a different Elizabethan England, where treachery and danger abound."
– Leo Elijah Cristea
"This is a fun romp through Tudor England, filled with mythical creatures, swordsmen, and theatre-types. The characters are well-rounded and compelling, and there is a very real urgency to the plot."
– Janea at The Ranting Dragon
"Anne's writing style is beautifully descriptive … I'll definitely read on in the series!"
– Nina at Death, Books and Tea
"An intricate story of political intrigue in an alternate Tudor London, Anne Lyle's The Alchemist Of Souls is an engaging fantasy novel. I give it 8 stars."
– Alisa at The Book Bundle
"A gem of a first novel … I felt as if I walked those smelly Tudor streets as strongly as I've felt it reading writers like Mantel or Peter Ackroyd … Anne Lyle has given us the Elizabethan London we know from reading history and Shakespeare; but she's also created a London that has just enough strangeness in its shadows to keep us anticipating wonder."
– Richard Kellum, Elf Machines From Hyperspace
"My only complaint about this novel is that it was over too quickly. My first read was in one sitting over about 6 hours. It is addictive, the characters make you care, and the setting is beautiful. What more can you ask for from a novel?"
– Lor Graham, for Wilder's Book Reviews
"Mysterious circumstances combined with historical authenticity and the strange, Anne Lyle's The Alchemist of Souls is a debut I can strongly recommend."
– Aidan Moher, A Dribble of Ink