"An inventive, darkly fascinating world, rich in menace and challenges."
Rowena Cory Daniells, author of the King Rolen's Kin Trilogy and The Outcast Chronicles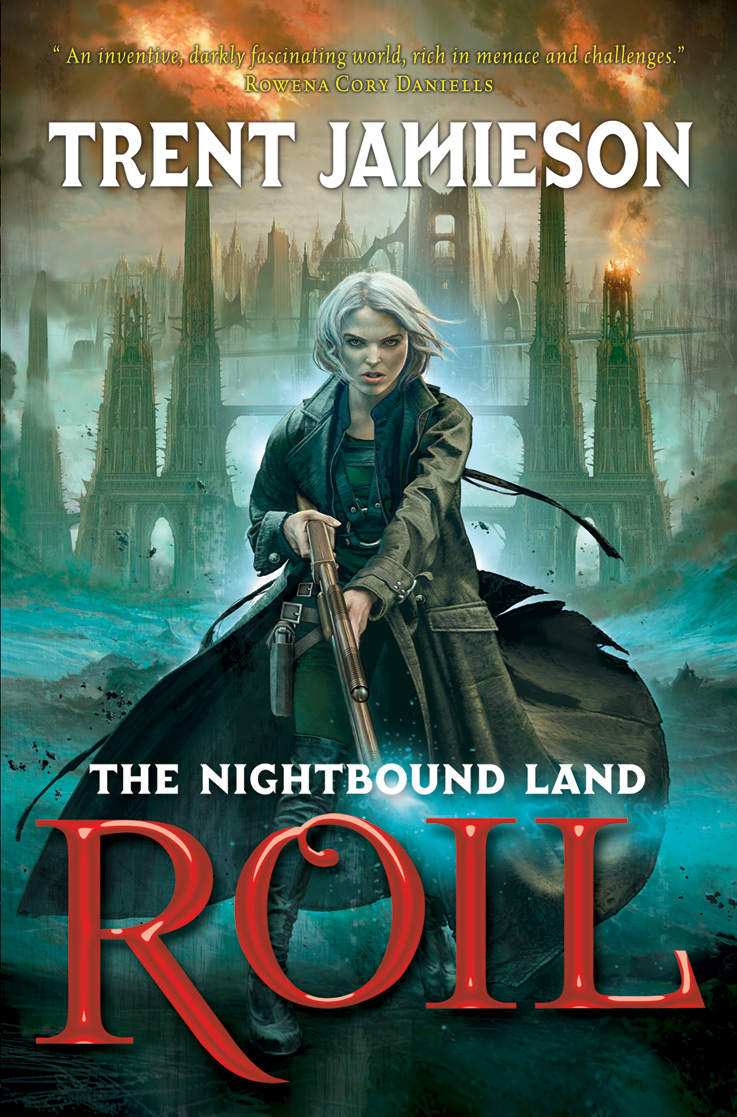 Shale is dying. A vast, chaotic, monster-bearing storm known only as the Roil is expanding, consuming the land.
Where once there were twelve great cities, now only four remain, and their borders are being threatened by the growing cloud of darkness. The last humans are fighting back with ever more bizarre new machines. But one by one the defences are failing. And the Roil continues to grow.
With the land in turmoil, it's up to a decadent wastrel, a four thousand year-old man, and a young woman intent on revenge to try to save their city… and the world.
File Under: Fantasy [ Into the Maelstrom | The End Times | Night's Engines | Over the Edge ]
Cover Art: Angelo Rinaldi at Artist Partners
(click the cover for a larger image)
Book Info:
The First Part of the Nightbound Land Duology
UK Print
Date: 1st September 2011
ISBN: 9780857661838
Format: Medium (B-Format) Paperback
R.R.P.: £8.99
North American Print
Date: 30th August 2011
ISBN: 9780857661845
Format: Large (Trade) Paperback OR Small (Mass-Market) Paperback
R.R.P.: US$14.99 CAN$16.99 OR US$7.99 / CAN$9.99
Ebook
Date: 30th August 2011
ISBN: 9780857661852
Format: Epub & Mobi
R.R.P.: £5.49 / US$6.99
Other Books in This Series:
2. Night's Engines (June 2012)
Buying Info:
UK Print & Ebook
Amazon.co.uk | Book Depository | Waterstones | WHSmith
North American Print & Ebook
Amazon.com | Amazon.ca | BarnesandNoble.com | IndieBound.org
Global DRM-Free Epub Ebook
Robot Trading Company
Author Info:
Trent Jamieson: WWW | @trentonomicon on Twitter
Discuss and Share:
Discuss and Review Roil at Goodreads.com
Read an Extract:

Read, download, share and embed via Issuu.com
Praise and Reviews:
"In this fantasy novel with some SF details, the talented Australian author Jamieson gives readers a truly vast and awesome monster-bearing storm and strange machines. Whole cities are being devoured by the storm and only a four thousand-year-old man, a young woman, and a decadent wastrel stand in the way. Although this might look like generic fantasy from the cover, it's definitely something much more interesting."
– Jeff VanderMeer, Omnivoracious
"From page one the reader is thrown deep into the world of Shale, the story unfolding as details of the world, incredible and horrible, are beautifully laid out in front of you. Trent has constructed an wonderfully detailed world of Steampunk with a Fantasy/Sci-Fi twist. I had a hard time setting the book down to get other stuff done. By the end of the book my main problem with the work was that I can't wait for the release of the second part of the duology, Night's Engines".
– The Dragon Page
"Jamieson writes a fast-paced story studded with action-movie beats."
– Financial Times
"Jamieson is an excellent writer, creating compelling yet flawed characters in his novels and short fiction. Roil is no different in this respect … The novel brings together elements of dystopian science fiction, fantasy and a touch of steampunk to create a gripping story."
– Ticon4.com
"Trent Jamieson is well known in speculative fiction circles as a significant talent, writing beautifully crafted tales that often have a baroque sensibility and resonate on an emotional level."
– Terra Incognita
"…I predict that Trent Jamieson will deservedly be Australia's next big genre expert."
– Chuck McKenzie