"This is the real thing – a mad inventor, curious coins, murky London alleys
and windblown Scottish Isles … a wild and extravagant plot that
turns up new mysteries with each succeeding page."
– James P. Blaylock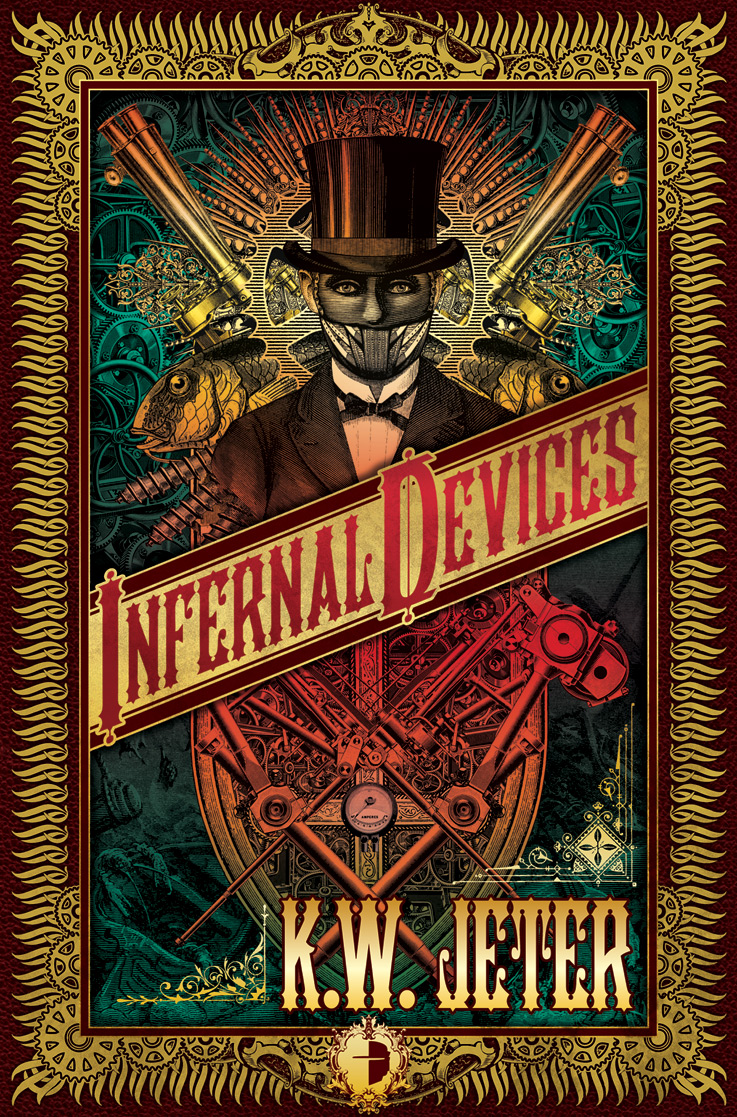 When George's father died , he left George his watchmaker's shop – and more.
But George has little talent for watches and other infernal devices. When someone tries to steal an old device from the premises, George finds himself embroiled in a mystery of time travel, music and sexual intrigue.
The classic steampunk tale from the master of the genre.
File Under: Steampunk [ Intriguing Tech | It's About Time | Musical Interlude | Classic Steampunk ]
With a delightful new introduction by the author and a scholarly afterword by Jeff VanderMeer.
Cover Art: John Coulthart
(click the cover for a larger image)
Book Info:
UK Print
Date: 7th April 2011
ISBN: 9780857660961
Format: Medium (B-Format) Paperback
R.R.P.: £8.99
North American Print
Date: 7th April 2011
ISBN: 9780857660978
Format: Large (Trade) Paperback OR Small (Mass-Market) Paperback
R.R.P.: US$14.99 CAN$16.99 OR US$7.99 / CAN$9.99
Ebook
Date: 7th April 2011
ISBN: 9780857660985
Format: Epub & Mobi
R.R.P.: £5.49 / US$6.99
Other Angry Robot Books by K. W. Jeter:
Morlock Night (April 2011)
Buying Info:
UK Print & Ebook
Amazon.co.uk | Book Depository | Waterstones | WHSmith
North American Print & Ebook
Amazon.com | Amazon.ca | BarnesandNoble.com | IndieBound.org
Global DRM-Free Epub Ebook
Robot Trading Company
Author Info:
K. W. Jeter: kwjeter.com | Twitter | Facebook
Discuss and Share:
Discuss and Review Infernal Devices at Goodreads.com
Read an Extract:

Read, download, share and embed via Issuu.com
Praise and Reviews:
"What we see in Infernal Devices is not just the presager of what steampunk is, but what it could have been, a marvellously self-aware and inventive attack on the obsessions and degradations of the present."
– Strange Horizons
"I'll save you the trouble of reading this entire review by simply saying that K. W Jeter's Infernal Devices is one of the best executed novels I've read in a long time, and I easily expect it to be one of my top reads for the year. I guarantee you will enjoy it."
– The Little Red Reviewer
"K.W. Jeter has created quite a marvelous world in Infernal Devices. Sometimes rather weird and alien but always consistent."
– The Traveler's Steampunk Blog
"Suddenly I can see exactly what the whole fascination with Steampunk is all about. Jeter sets the Victorian scene here so skilfully, it's absolutely perfect. I could easily have been reading a novel written in 1840. He's impressively deft and accurate in his language of the time, making the novel completely believable, and yet he still writes in a style that is effortlessly readable. His Victorian London is dark, menacing, and compelling."
– Fantasy Nibbles