"A captivating story set in a brilliantly-conceived world."
Trudi Canavan, bestselling author of the Black Magician Trilogy
"This is what modern fantasy looks like. Debris is a strong debut novel from a promising new writer, featuring a tough, professional heroine, a clever magic system and a complex, beautifully realised city. I couldn't put it down."
Tansy Rayner Roberts, award-winning author of the Creature Court Trilogy
Chosen for the Locus Best First Novel of 2011 list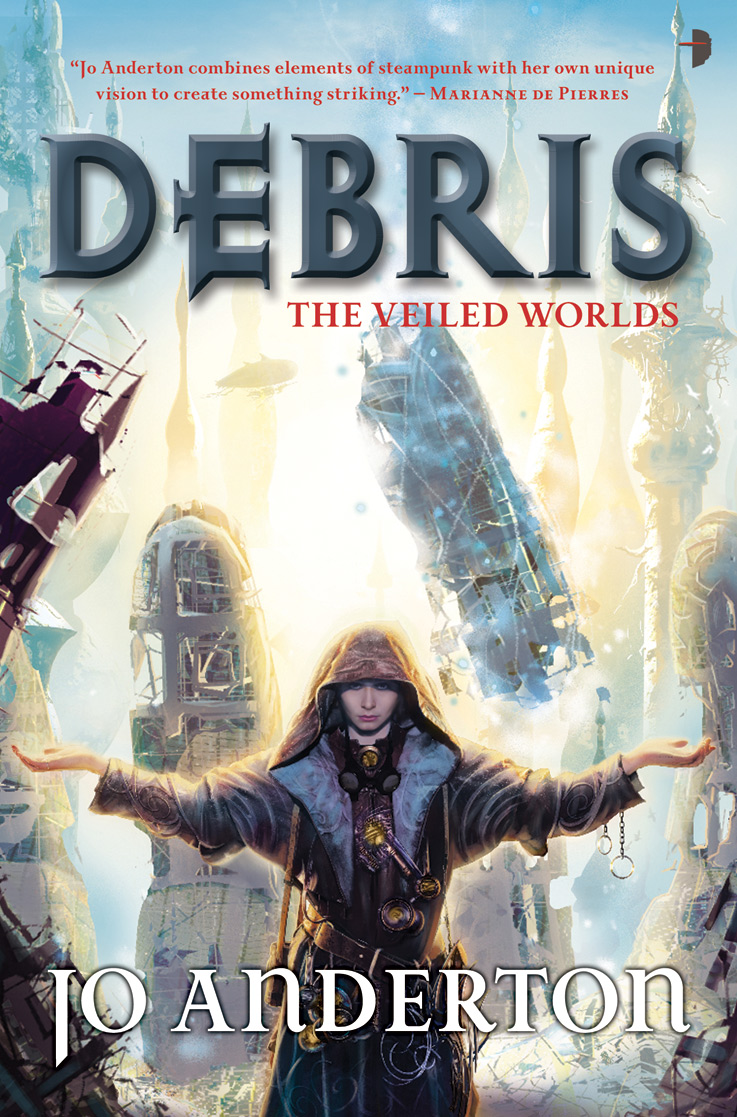 In a far future where technology is all but indistinguishable from magic, Tanyana is one of the elite.
She can control pions, the building blocks of matter, shaping them into new forms using ritual gestures and techniques. The rewards are great, and she is one of most highly regarded people in the city. But that was before the "accident".
Stripped of her powers, bound inside a bizarre powersuit, she finds herself cast down to the very lowest level of society. Powerless, penniless and scarred, Tanyana must adjust to a new life collecting 'debris', the stuff left behind by pions. But as she tries to find who has done all of this to her, she also starts to realize that debris is more important than anyone could guess.
Debris is a stunning new piece of Science Fantasy, which draws in themes from Japanese manga, and classic Western SF and Fantasy to create this unique, engrossing debut from the very exciting young author Jo Anderton.
File Under: Science Fiction [ Sentient Matter | Cast Down | Cruel Betrayals | All Is Lies ]
Book Info:
The First Book in the Veiled Worlds Series
UK Print
Date: October 2011
ISBN: 9780857661531
Format: Small (A-Format) Paperback
R.R.P.: £7.99
North American Print
Date: October 2011
ISBN: 9780857661548
Format: Small (Mass-Market) Paperback
R.R.P.: US$7.99 / CAN$8.99
Ebook
Date: October 2011
ISBN: 9780857661555
Format: Epub & Mobi
R.R.P.: £5.49 / US$6.99
Other Books in This Series:
2. Suited (July 2012)
Buying Info:
UK Print & Ebook
Amazon.co.uk | Book Depository | Waterstones | WHSmith
North American Print & Ebook
Amazon.com | Amazon.ca | BarnesandNoble.com | IndieBound.org
Global DRM-Free Epub Ebook
Robot Trading Companyback to top
Author Info:
Jo Anderton: WWW | Twitter | Facebook
Discuss and Share:
Discuss and Review Debris at Goodreads.com
Read an Extract:

Read, download, share and embed via Issuu.com }
Praise and Reviews:
"Australian first-time novelist Anderton has created a refreshingly original and complex far-future society and uses Tanyana's fall, and subsequent investigation into who was behind it, to examine issues of privilege and poverty, loyalty and betrayal. The first book in The Veiled Worlds trilogy marks an accomplished debut."
– Eric Brown, The Guardian
"Jo Anderton combines elements of steampunk with her own unique vision to create something striking. Debris is a first novel NOT to be missed."
– Marianne de Pierres, award winning author of the Parish Plessis series and the Sentients of Orion series.
"Anderton's debut builds a marvelous world, shakes it to the core with adventure and romance, then wraps the whole thing in one hell of a mystery. I can't wait for the rest."
– Ian Tregillis, author of Bitter Seeds
"Anderton demonstrates a mastery of storytelling and world building in this series opener that is reminiscent of the visionary works of China Miéville. This accomplished debut novel should enjoy a wide readership."
– Library Journal
"Debris is a strong, exciting debut that took me by surprise with its unique setting, interesting main character, and powerful 'fight your way back to the top' narrative."
– Tor.com
"A compelling first novel."
– Locus
"Anderton's debut impressively combines far-future world-building, conspiracies, and a redemption quest. [She] clearly telegraphs the overall plot arc, but keeps it interesting with Tanyana's strong, proud narrative voice and the complex culture built up around the pions and debris."
– Publishers Weekly
"Debris is a fast read, and very well put together. I was immersed in its world at every stage, and fascinated by its characters. Tanyana may be too proud for her own good, but Jo Anderton has written a novel she deserves to take pride in."
– Warpcore SF
"Debris itself deals with losing everything one has, and Anderton isn't afraid to put Tanyana out of her comfort zones every now and again … The author takes a perhaps unique approach to magic in this novel, and combines science-fiction with fantasy pretty well. The magic system is well thought out."
– The Founding Fields
"The Veiled Worlds story is something that's pretty unique out there at the moment, the world building is spectacular with a concept that's amazingly simple yet wonderfully constructed and when added to some decent characterisation it's a title that really does make you think as well as give you something ideal. Add to this an author who really believes in giving their all and this debut is pretty impressive."
– Falcata Times
"I recommend Debris … As far as I'm concerned, I find my appetite adequately whetted for the sequel, Suited."
– Staffer's Musings
"I did enjoy living within this very richly (if minimally) crafted world that the author presents in Debris and the magical system is not only pretty unique but such a great idea too."
– SF Books Review
"If you want a novel that will sweep you up and take you to another world where a kick-ass heroine will do battle to right wrongs and save her planet, then you are going to thoroughly enjoy Debris! I know I did!"
– Popcorn Reads
"This is an eclectic urban fantasy written with verve and style … if you're looking to read outside the typical, this is an excellent choice … There's a lot of promise here, and I look forward to finding out where the series goes."
– Cheryl Morgan, Cheryl's Mewsings
"I would highly recommend Debris to any fan of Sci-Fi or Fantasy. I am eagerly awaiting the release of the next book in the Veiled World Trilogy, Suited."
– Dragon Page