"It's an effortless and engaging read, and fans of
tongue-in-cheek macabre will devour it eagerly."
– Hub Magazine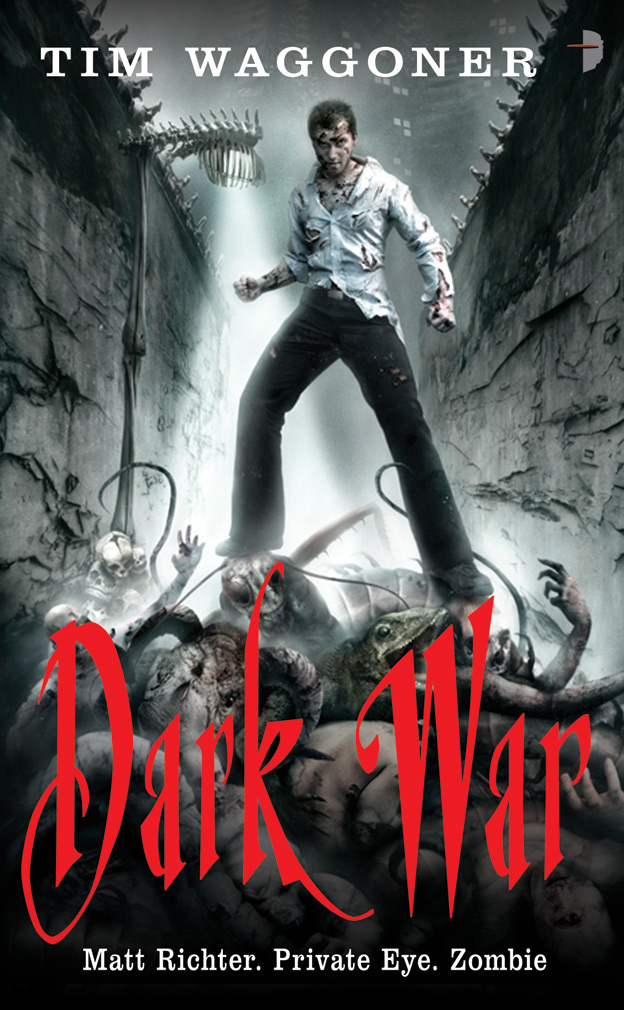 Meet Matt Richter. Private Eye. Zombie.
From his first arrival in the deathless city of Nekropolis, ex-cop Richter has found himself embroiled in disputes with the city's vampiric rulers, shapeshifters, golems and other monstrosities. But Nothing has prepared him for the Dark War.
File Under: Urban Fantasy [ Zombie Detective | Undead City | Dark War | Crime Overlord ]
Cover Art: Vincent Chong
(click the cover for a larger image)
Book Info:
The Third Book in the Nekropolis Series
UK Print
Date: 2nd June 2011
ISBN: 9780857661111
Format: Medium (B-Format) Paperback
R.R.P.: £8.99
North American Print
Date: 2nd June 2011
ISBN: 9780857661128
Format: Small (Mass-Market) Paperback
R.R.P.: US$7.99 / CAN$9.99
Ebook
Date: 2nd June 2011
ISBN: 9780857661135
Format: Epub & Mobi
R.R.P.: £5.49 / US$6.99
Other Books in This Series:
1. Nekropolis (August 2009)
2. Dead Streets (March 2010)
O. The Nekropolis Archives (Omnibus) (May 2012)
More Angry Robot books by Tim Waggoner:
The Shadow Watch
1. Night Terrors (June 2014)
2. Dream Stalkers (April 2015)
Buying Info:
UK Print & Ebook
Amazon.co.uk | Book Depository | Waterstones | WHSmith
North American Print & Ebook
Amazon.com | Amazon.ca | BarnesandNoble.com | IndieBound.org
Global DRM-Free Epub Ebook
Robot Trading Company
Author Info:
Tim Waggoner: www.timwaggoner.com | @timwaggoner on Twitter | Facebook
Discuss and Share:
Discuss and Review Dark War at Goodreads.com
Read an Extract:

Read, download, share and embed via Issuu.com
Praise and Reviews:
"Tim brings to the genre a mystery with some great twists, a wickedly twisted sense of humour and … a cracking world for the character to tread the beat. Great stuff."
– Falcata Times
"It's pretty much like a bungee jump. Exciting from start to finish and almost over as quickly. I love the world building by Tim Waggoner."
– I Will Read Books
"On top of his great storytelling ability, Waggoner has to be commended for his rich use of humor and excellent use of well-timed pop culture references."
– Schrodinger's Stoat
"An easily captivating tale by a guy I'm going to refer to henceforth as the Master of Macabre Fantasy. If you liked what you saw in the previous books, I can safely guarantee that things peak brilliantly in this final instalment to the trilogy. Very highly recommended." – Drunken Dragon Reviews