"Both Kyth and Ellah are likeable characters and it is a joy to follow their stories…
There is a fairly even balance between the emotional aspects of the story and some fast-paced, ninja-style fight scenes, which leads to this being a pleasant, easy read and an entertaining story. A solid start to what looks to be an exciting series."
British Fantasy Society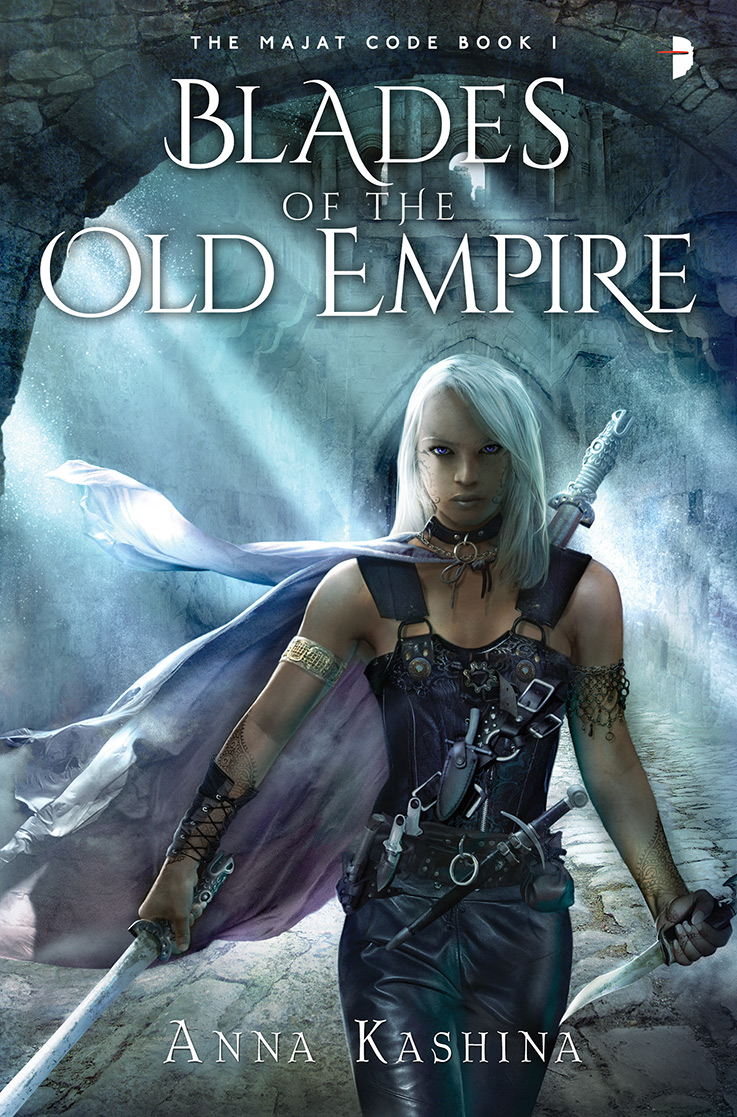 When Prince Kythar falls under attack in his own castle, he has no idea that his enemies are none other than the ancient Kaddim Brotherhood plotting to destroy his royal line. His inborn ability to control the elements is the only power that can stop this plot, but there is one problem. Kyth's fighting skills are no match for the Kaddim, leaving him no time to put his magic to work.
To defeat the Kaddim, Kyth must rely on his bodyguard Kara, a beautiful Diamond-ranked assassin from the elite Majat Guild. But his enemies develop an elaborate plan to remove her from their way. Acting through treachery and scheming, they pitch Kara against the Majat, marking her as a target for the only warrior who can defeat her in battle. With the deadly assassin on their trail, Kythar and Kara must face impossible odds to save the kingdom and their lives.
File Under
:
Fantasy
[ File Under: Friend & Foe/Kingdoms at War/A Secret Gift/Uncomfortable Journeys ]
Cover Art: Alejandro Colucci
(click the cover for a larger image)
Book Info:
The First Book in the Majat Code Series
UK Print
Date: 6th March 2014
ISBN: 9780857665027
Format: Medium (B-Format) Paperback
R.R.P.: £8.99
US/CAN Print
Date: 25th February 2014
ISBN: 9780857664129
Format: Small (Mass-Market) Paperback
R.R.P.: US$7.99 / CAN$9.99
Ebook
Date: 25th February 2014
ISBN: 9780857664136
Format: Epub & Mobi
R.R.P.: £5.49 / US$6.99
Other Books in This Series:
2. Title TBC (July 2014)
Buying Info:
UK Print & Ebook
Amazon.co.uk | Book Depository | Waterstones | WHSmith
North American Print & Ebook
Amazon.com | Amazon.ca | BarnesandNoble.com | IndieBound.org
Global DRM-Free Epub Ebook
On-sale 25th February 2014 from the Robot Trading Company
Author Info:
Anna Kashina: WWW | Twitter | Facebook
Discuss and Share:
Discuss and Review Blades of the Old Empire at Goodreads.com
Read an Extract:
Sample Chapters to follow…
Praise for Blades of the Old Empire
"Escape Rating A- Blades of the Old Empire is the start of a damn fine epic fantasy series…it was pretty damn awesome."
– Reading Reality
"If you're in the mood for a fun fantasy with mercenaries, an evil brotherhood, then, yes, give Blades of the Old Empire a try."
– Tenacious Reader
"Another great book from Angry Robot…I enjoyed this book and would recommend it for anyone who likes a good swashbuckling storyline."
– Every Book Deserves to be Read
"Strong roots and parallels to history keep the reader grounded and enrich the world of this novel while magic and the characters keep it fresh and interest."
– Heather McCorkle
"This book is action packed from the very first page, and is a good start to a series that I will look forward to reading more of."
– Avid Reviews
"You get fast-paced travel with political intrigue and danger, amazing martial arts fights of extreme skill, cultural immersion from around the world, and a little hint of romance without ruining the tough fighter feel… I really cannot express enough times how highly I recommend this story to everyone."
– In Pursuit of My Own Library
"I really enjoyed this book despite not being a huge fan of romance-themed novels. I feel it is for those who want more romance in their fantasy while also getting a hefty dose of action, adventure, and intrigue… It was a good book, and well worth the read. I'll be reading this one again."
– R.J. Blain
"Each scene is very well written. Action and dialog keep the story moving at a fast clip. The fight scenes were especially well written making it easy to see what was happening. Now I want to see what happens in the next book."
– Mixed Book Bag
"Both Kyth and Ellah are likeable characters and it is a joy to follow their stories…A solid start to what looks to be an exciting series." – The British Fantasy Society
Praise for Anna's Previous Novels:
"Kashina's Arabesque novel … will have readers dream of summoning their own djinn."
– Publishers Weekly on The Goddess of Dance
"Truly compelling"
– Booklist on The Princess of Dhagabad