Congratulations to Anna Kashina who has made the finals of the Prism Awards – from Fantasy, Futuristic, and Paranormal Romance Writers – with The Guild of Assassins. The sequel to Blades of the Old Empire, The Guild of Assassins is up against The Mark of the Tala by Jeffe Kennedy and The Stones of Kaldaar by Tameri Etherton in the Fantasy category.
Well done Anna, and best of luck for the Awards Ceremony which takes place July 23 at 8pm EST.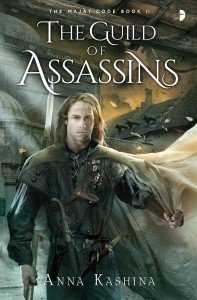 More →
0 comments
The countdown is on for the release of Danielle L. Jensen's Hidden Huntress, the eagerly anticipated sequel to Stolen Songbird. With only a few days to go, we're celebrating with a WORLDWIDE giveaway for Hidden Huntress. For your chance to win 1 of 10 copies, follow the below link to Goodreads. Good luck!
More →

0 comments

With a hip hip hooray, today we are celebrating the US & digital book birthdays of Susan Murray, Rod Duncan, and Ramez Naam. Whether it's a brand new title, the continuation of an award-winning series, or the explosive conclusion of (yet another of our) award-winning series, our May titles have something for everyone. Fear not, UK & ROW readers, your copies will be released this Thursday.

Piqued your interest? Here's the titles we're releasing today with all important buy links:

More →

1 comment

Hot on the heels of the news that Kameron Hurley is short-listed for this year's Locus Fantasy Novel award with The Mirror Empire (see here for full details), we are delighted to announce Book 3 in the Worldbreaker Saga, The Broken Heavens. 

In a World English deal, including translation, with Hannah Bowman of Liza Dawson Agency, The Broken Heavens is the epic conclusion to the Worldbreaker Saga which began with The Mirror Empire and continues with Empire Ascendant, out this October. 

Kameron Hurley: "I'm thrilled to bring readers the third and final volume of the Worldbreaker Saga with Angry Robot Books. They've been eternal champions

More →

2 comments

Some of our more eagle-eyed readers may have already spotted the name, Penny, floating around on blog posts; Penny has been interning with us since February but I am delighted to introduce her now as our newest team member.

Starting immediately for a handover period, Penny has joined as maternity cover for my role as Publicity Manager. I will be finishing up on Friday, 29 May, but until then Penny and I will be promoting all that is strange and wonderful about Angry Robot Books, our authors, and, of course, books!

Penny comes to us from a public relations background and

More →

0 comments

We here at Angry Robot Books, home to Wesley Chu's best-selling Lives of Tao series and forthcoming Rise of Io series, are delighted to announce that we have agreed a two-book deal for Wesley's forthcoming Time Salvager series with Tor. We will be providing eager readers in the UK and Commonwealth with both physical and ebook copies, releasing on Thursday 9 July. For more info on this fast-paced time travel adventure, click through to the book's page here.

More →

0 comments

We are very excited to announce our latest author, Megan E. O'Keefe, signed from Sam Morgan at JABberwocky and her trilogy, The Scorched Continent. The first in this series, Steal the Sky, will be released in January 2016 and in her breathless debut novel, Megan gives us The Lies of Locke Lamora on giant sand dunes with exploding airships!

Our Phil Jourdan led the charge for Megan's book and here's just a snippet of why he loved it: "I cannot be the only one to have a fondness for smart-alecky protagonists, airships, explosions, shape-shifting entities and exotic forms of capital punishment… right? The other thing worth

More →

0 comments

The first Thursday of every month brings great joy to the Angry Robot UK office*: publication day! Today we are celebrating instalments from two of our best series: the second Shadow Watch book from Tim Waggoner, Dream Stalkers, and the stunning conclusion to the Lives of Tao series, The Rebirths of Tao, by Wesley Chu. Here's where you can get your hands on these fantastic books:

More →

0 comments

Angry Robot's Open Door – our occasional unagented submission system – has brought some wonderful authors to our stable such as Wesley Chu, Cassandra Rose Clarke, and Lee Battersby. Today, we are delighted to announce that we have a new Angry Robot author, Peter McLean, who has come to us through these very doors.

Peter's Drake – the first title in the Burned Man series – centres on a demon-summoning hit-man and a murderous, chain-smoking angel who must battle Furies and the Devil himself in a search for redemption. Set in modern-day London, Drake is a tale of spell casting

More →