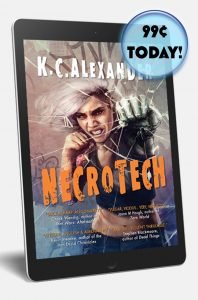 Time to get your head kicked in by splatter specialist, Riko in KC Alexander's brawling cyberpunk thriller, Necrotech! It's just 99p / 99¢ today with Bookbub, which is all the excuse you need.
Bookbub | Kindle US | Kindle CA | Kindle UK | Nook | Kobo | Apple | Angry Robot
"Sci-fi that's slick, sharp and snarky — K C Alexander doesn't 'write' so much as she fires words into your cerebral cortex with an electromagnetic railgun." – Chuck Wendig, NYT Bestselling author of Star Wars: Aftermath and Invasive
---
Street thug Riko has some serious issues- memories wiped, reputation tanked, girlfriend turned into a tech-fueled zombie. And the only people who can help are the mercenaries who think she screwed them over. In an apathetic society devoid of ethics or regulation, where fusing tech and flesh can mean a killing edge or a killer conversion, a massive conspiracy is unfolding that will alter the course of the human condition forever.
With corporate meatheads on her ass and a necro-tech blight between her and salvation, Riko is going to have to fight meaner, work smarter, and push harder than she's ever had to. And that's just to make it through the day.
File Under: Science Fiction [ Viral Hitman | Renegade | Nano Shock | Swear On Your Life ]
---