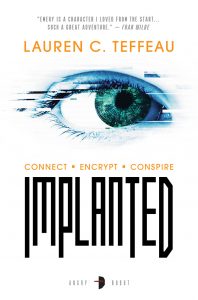 Greetings fleshy wights,
We're releasing our beloved Lauren C Teffeau from her shackles our care this weekend, to attend Page 1 Books in Albuquerque for a DOUBLE BOOK LAUNCH.
Head over to the bookstore for 4PM on Saturday, September 15, for a FREE afternoon of readings, discussion and general sci-fi fun with both Lauren and fellow débutée, and recent Campbell Award-winner, Rebecca Roanhorse
Lauren will be reading from her debut cli-fi thriller, Implanted, an absolutely incredible story of haemo-encryption and mass connection in the future city of New Worth (which, fact fans, is built on the old Fort Worth). Rebecca do the same with her novel, Trail of Lightning, a Native American-inspired urban fantasy which also has climate change at its heart.
Both books will be available on the day for signing, and trust us, you're going to want to buy them both!
You can find more info about the event over on the Alibi website, here.
And here's a handy map, to show you where the store is: