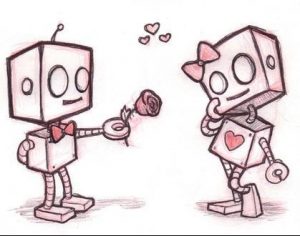 Hate Valentine's Day? Not in the mood to go out and watch couples snogging in a corner? Fancy staying in with an excellent book instead?  Well, let Angry Robot be your cheap date!
For just £1 (or the equivalent) we'll send you a surprise book to curl up with on the 14th.
It might not be able to draw you a hot bath and cover you in chocolate but we can promise you'll traverse universes, see amazing battles, weird creatures and/or magic. We'd take that over Valentine's any day, to be honest.
To get your hot, hot date just click here. All you need to do is tell us one thing about yourself and your favourite colour and we'll do the rest.
So tell the chubby baby with the arrows to do one, you've got a sexy night in with the best SF, F & WTF around.